There are tons of virtual instruments out there that excel at any number of tasks. But one thing I've noticed is that there will always be one plug-in that will start a trend, then there will be hundreds of other plug-ins that will come out immediately after to try to better, or at least compete with the original plug-in.
Microtonic is one of the trendsetters, and in my opinion, is still without even minor competition. To call it just a drum machine would really be insulting, because it's much more than that.
Granted, it's first main function is a pattern-based percussion machine, that can be triggered in real-time as well. But, where most pattern-based drum machines try to look like an old, vintage drum machine, Microtonic makes no attempt whatsoever: it is what it is.
It's second main function is where, in my opinion, it really, really shines. This is the ability to quickly and easily create percussion sounds of your own. You don't even need experience with synthesis, it's laid out in a very, very simple manner with large dials, and pulsing lights.

It really could be more than enough with just what's listed above, a reliable synth-based percussion module, but it goes even farther.
Within the last 2 releases of Microtonic, it is slowly becoming it's own program. And, personally, I think it should have a stand-alone version one day. In the last 2 versions, Microtonic has grown with the ability to have more complex MIDI routings, and accept more kinds of MIDI messages.
Also, there is a new Morph slider that will truly blow your mind. You can actually morph between different drum edits of your set in real-time. This creates a whole new twist on rhythm creation, as the sounds are literally changing as the drums are pounding out. This is extremely cool when mixed with the new Edit All command that allows you to edit functions like distortion across the whole kit.
There's a new Matrix editor as well that lets you edit all 8 drums simultaneously. This is no small addition, as it allows you to quickly knock out patterns without having to switch between different drum channels. Kudos big time on this one.
Also, you can directly copy Patternarium patterns in to Microtonic. But, not only do you get the patterns, you get the sound too! As Patternarium is a constantly evolving drum loop/sound library, you reap the benefits with Microtonic. You can either use these constantly generating loops in your own songs, or modify them until they work perfectly. Alternatively, simply use the drum kits for new patterns, with the added possibility of saving individual sounds from the downloaded kits. It's truly incredible, and so far ahead of it's time that most don't get the coolness.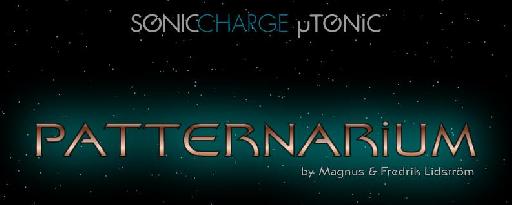 Here's one new feature that I should mention right now for those of you who have never tried Microtonic. There is a new trial system that allows you to use Microtonic unhindered for 3 weeks! The weeks of use are only counted as you use Microtonic, too, so what are you waiting for?
P.S. Microtonic hardly even makes a dent in your processor! It's CPU usage is tiny! You can download it here.
Check out this tutorial on Synthesis.