Es gibt Unmengen von virtuellen Instrumenten aus, dass es bei einer beliebigen Anzahl von Aufgaben Excel. Aber eins muss ich bemerkt habe, ist, dass es immer ein Plug-in, dass ein Trend beginnen wird, dann gibt es Hunderte von anderen Plug-Ins, die kommen wird unmittelbar nach besser versuchen, oder zumindest mit der Konkurrenz werden Original-Plug-in.
Microtonic ist einer der Trendsetter, und meiner Meinung nach, ist immer noch, ohne auch nur geringe Konkurrenz. So rufen es nur eine Drum-Maschine wäre wirklich beleidigend, weil es viel mehr als das ist.
Zugegeben, es zuerst Hauptfunktion ein Muster-basierte Schlagzeug-Maschine, die in Echtzeit ausgelöst werden können, wie gut sein wird. Aber, wo die meisten Pattern-basierte Drum-Maschinen, um wie ein alter, Vintage-Drum-Maschine aussehen zu lassen, macht Microtonic gar keinen Versuch: Es ist was es ist.
It's second main function is where, in my opinion, it really, really shines. This is the ability to quickly and easily create percussion sounds of your own. You don't even need experience with synthesis, it's laid out in a very, very simple manner with large dials, and pulsing lights.

It really could be more than enough with just what's listed above, a reliable synth-based percussion module, but it goes even farther.
Within the last 2 releases of Microtonic, it is slowly becoming it's own program. And, personally, I think it should have a stand-alone version one day. In the last 2 versions, Microtonic has grown with the ability to have more complex MIDI routings, and accept more kinds of MIDI messages.
Also, there is a new Morph slider that will truly blow your mind. You can actually morph between different drum edits of your set in real-time. This creates a whole new twist on rhythm creation, as the sounds are literally changing as the drums are pounding out. This is extremely cool when mixed with the new Edit All command that allows you to edit functions like distortion across the whole kit.
Es gibt eine neue Matrix-Editor auch, dass Sie bearbeiten alle 8 Trommeln gleichzeitig ermöglicht. Das ist kein kleiner Zusatz, da es Ihnen, schnell knock out-Muster, ohne zwischen verschiedenen Drum-Kanäle umschalten können. Kudos große Zeit auf diesen einen.
Also, you can directly copy Patternarium patterns in to Microtonic. But, not only do you get the patterns, you get the sound too! As Patternarium is a constantly evolving drum loop/sound library, you reap the benefits with Microtonic. You can either use these constantly generating loops in your own songs, or modify them until they work perfectly. Alternatively, simply use the drum kits for new patterns, with the added possibility of saving individual sounds from the downloaded kits. It's truly incredible, and so far ahead of it's time that most don't get the coolness.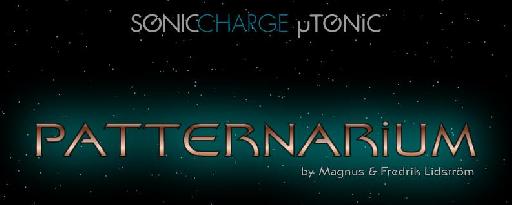 Here's one new feature that I should mention right now for those of you who have never tried Microtonic. There is a new trial system that allows you to use Microtonic unhindered for 3 weeks! The weeks of use are only counted as you use Microtonic, too, so what are you waiting for?
PS Microtonic kaum macht eine Delle in den Prozessor! Es ist die CPU-Auslastung ist winzig! Sie können ihn hier herunterladen .
Schauen Sie sich dieses Tutorial auf Synthesis .