Il ya des tonnes d'instruments virtuels là-bas qui excelle dans un certain nombre de tâches. Mais une chose que j'ai remarqué, c'est qu'il y aura toujours un plug-in qui va commencer une tendance, alors il y aura des centaines d'autres plug-ins qui va sortir immédiatement après pour essayer de mieux, ou au moins rivaliser avec les d'origine du plug-in.
Microtonic est l'un des lanceurs, et à mon avis, est encore sans même la compétition mineure. Pour appeler ce juste un tambour de machine serait vraiment insultant, parce que c'est beaucoup plus que cela.
Certes, c'est d'abord la fonction principale est un modèle basé sur la machine à percussion, qui peuvent être déclenchés en temps réel aussi bien. Mais, là où la plupart des machines basée sur des modèles à tambour essayer de ressembler à une vieille boîte à rythmes vintage, Microtonic ne fait aucune tentative que ce soit: elle est ce qu'elle est.
It's second main function is where, in my opinion, it really, really shines. This is the ability to quickly and easily create percussion sounds of your own. You don't even need experience with synthesis, it's laid out in a very, very simple manner with large dials, and pulsing lights.

It really could be more than enough with just what's listed above, a reliable synth-based percussion module, but it goes even farther.
Within the last 2 releases of Microtonic, it is slowly becoming it's own program. And, personally, I think it should have a stand-alone version one day. In the last 2 versions, Microtonic has grown with the ability to have more complex MIDI routings, and accept more kinds of MIDI messages.
Also, there is a new Morph slider that will truly blow your mind. You can actually morph between different drum edits of your set in real-time. This creates a whole new twist on rhythm creation, as the sounds are literally changing as the drums are pounding out. This is extremely cool when mixed with the new Edit All command that allows you to edit functions like distortion across the whole kit.
Il ya un éditeur de Matrix ainsi qui vous permet d'éditer toutes les 8 fûts simultanément. Ce n'est pas plus petite, car elle vous permet de rapidement assommer les modèles sans avoir à basculer entre les canaux de tambour différent. Kudos grand temps sur celui-ci.
Also, you can directly copy Patternarium patterns in to Microtonic. But, not only do you get the patterns, you get the sound too! As Patternarium is a constantly evolving drum loop/sound library, you reap the benefits with Microtonic. You can either use these constantly generating loops in your own songs, or modify them until they work perfectly. Alternatively, simply use the drum kits for new patterns, with the added possibility of saving individual sounds from the downloaded kits. It's truly incredible, and so far ahead of it's time that most don't get the coolness.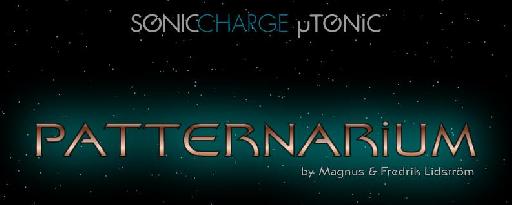 Here's one new feature that I should mention right now for those of you who have never tried Microtonic. There is a new trial system that allows you to use Microtonic unhindered for 3 weeks! The weeks of use are only counted as you use Microtonic, too, so what are you waiting for?
PS Microtonic guère fait même un trou dans votre processeur! L'utilisation du CPU Il est minuscule! Vous pouvez le télécharger ici .
Vérifiez ce tutoriel sur Synthèse .