More then ever, it has become easier to lay down your song ideas while on the move. With GarageBand for iPad, we are also closer then ever to having a full professional recording studio in a very thin package. And at a price of $4.99, who can complain? For those who are just starting out, here's a first tutorial on recording guitar to get you and your iPad rocking.

必要なセットアップと機器
最初のオフにもアプリケーションを起動する前に、あなたは、あなたのアプリにしてギターを録音するために有効にする必要があるハードウェアを取得する必要があります。あなたが考慮する必要がある2つの基本的な入力のタイプがあります。
Guitar Input for Electric Guitar and Bass (IK Multimedia iRig, Apogee Jam, AmpKit Link)
Mic Input for acoustic guitar (IK Multimedia iRig Mic, Blue Yeti Pro -- requires Apple's Camera Connection Kit)
ギターアンプ
Launch GarageBand for iPad and plug your guitar into the iRig. On the left of the screen is a " 1/4" jack" button which lets you add a noise gate. Handy for those distorted tones. Next to it is the guitarist's best friend: the Tuner... no excuses for a flat g-string!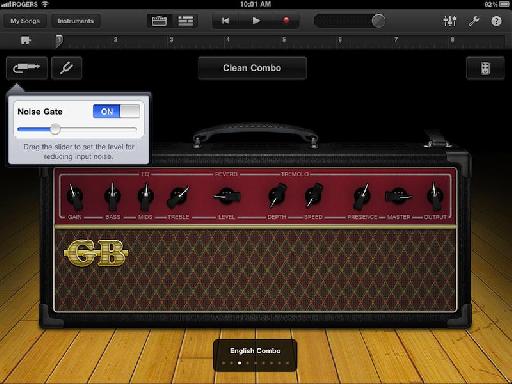 In the middle, you can select from different amp combinations and even save settings of your own. You can also swipe the amps to keep the same preset settings and try these settings on different amps.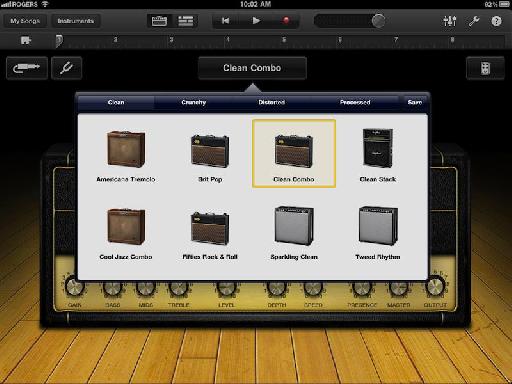 右端の"ペダル"セクションです。ここでは、4ペダルまで追加、その影響のレベルを変更し、ペダルを削除することができます。アンプ部に戻って取得するには、画面の右上に"アンプ"アイコンをタップします。アプリはGBの良いところの一つは、あなたがあなたの部分を録音した後アンペア設定を変更し、さらに将来の録音のための、独自のプリセットを作成できることです。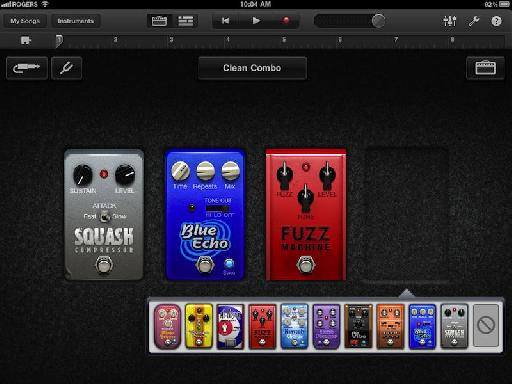 オーディオレコーダー
あなたがアコースティックギターを録音したい場合は、iPadがマイクに組み込まれて使用することができますが、私は録音をプロの光沢を追加するには、ブルーマイクの"イエティプロ"またはApogee社の今後の"マイク"を​​見てお勧めします。最初にオーディオレコーダーを開くと、それはあなたのオーディオ入力レベルを確認するためにあなたのVUメーターを与えます。ノイズゲートは、"1 / 4"プラグ"アイコンをタップすることによっても可能です。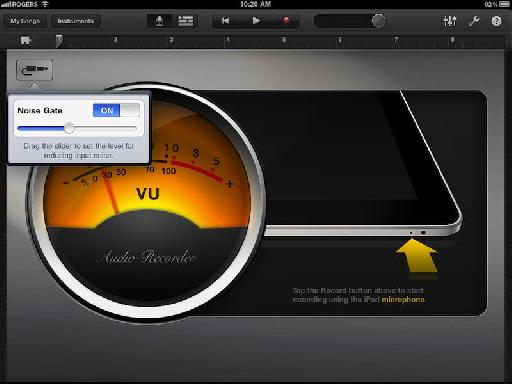 一度あなたが取るの記録は、その後の効果と音声トランスを含むプリセットの選択からの音に処理を追加することができます。効果はまた、圧縮のためにあなたが選択した効果に応じてリバーブ、コーラスなどをスライダーを与える。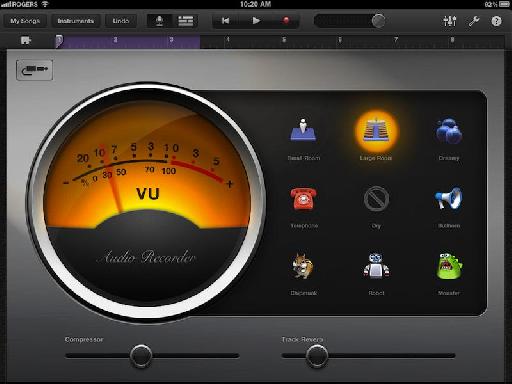 録音のヒント!
まず第一に... PRACTICE! iPad onギガバイトMacでギガバイトのような編集認めておらず、または、Flexの時間のような機能を取得しない、複数はまた、ピッチ補正、などを取る、あなたは誰ものとは異なり、曲のテンポに合わせて部品をプレイしているだろう、歌を遅く、その部分を記録し、それを後にスピードアップ。いくつかの不利益としてこれを見てだろうが、私は音楽的スキルのプラス成長とそれを見て、それが最終的にあなたの曲の理解を深めることができます。結局、よりよい音楽家になることは最後まで生活の長いプロセスではなく手段です。
エレキギターを録音した後にあなたはエレキギターのフィードバックを記録する場合は、あなたのスピーカーへの出力を接続する必要があると後押しするなど、アンプはEQやFXペダルを圧縮するために持っているとして、音色に影響を与えるためにたくさんのオプションを持っているメインボリューム。しかし... ...各アンプ/ギター、それがフィードバックのための独自の特性が作られ、一部はちょうど明白な手に負えない耳をつんざくような悲鳴であるかのように注意してください。レイヤーギターはまた、通常の大きな音を持っていますが、計画が重要であるようにもトラックを食べる。
また、曲のパーツを計画するときに、iPad用のGBは、"セクション"で物事と最大10個までしかセクションがないことを考慮してください。これは大したことのように思えるかもしれないが、あなたは事前にあなたの歌の部分/セクションを理解したいと思うでしょう。例えば、曲のイントロ、詩1、プリコーラス、追加されたギターと詩2、オルガン付きプリコーラス、コーラス、詩3は少ない楽器で、橋、イントロ、コーラス、コーラス2、終了、等はあなたが置くことができますあなたがすなわちレコードイントロと一緒に詩1をする棒のどのような量を与える"自​​動"モードに"セクション"。
アコースティックギターや楽器を録音する場合、ギターとは異なる箇所との距離上のUSBマイクやiPadのマイクでとる別の試してみてください。マイク位置は、まともな音を得るために非常に重要です。例えば、ギターのサウンドホールの近くにマイクを配置することで、不要な低域を追加することができます。 iPadのマイクを持つが、私はこれがベストスポットであることがわかった。
また、録音後に物事を解決できるようにするためにはEQの周波数帯はありません。明るいトーンの場合は、新しい文字列または硬いピックを考慮してください。 iPadのマイクを使用している場合、信号対雑音比が大きいではないとして、それがどんな小さな音を拾うだろうから、お部屋は、できるだけ静かであることを確認してください。
録音のシンセ、ピアノ、などとボーカルでiPadのヒントやチュートリアルのためのより多くのGarageBandをお楽しみに!