More then ever, it has become easier to lay down your song ideas while on the move. With GarageBand for iPad, we are also closer then ever to having a full professional recording studio in a very thin package. And at a price of $4.99, who can complain? For those who are just starting out, here's a first tutorial on recording guitar to get you and your iPad rocking.

Configuración y equipo necesario
En primer lugar, incluso antes de iniciar la aplicación, usted debe conseguir el hardware que necesita para que pueda grabar su guitarra para el IPAD. Hay dos tipos básicos de entrada debe tener en cuenta:
Guitar Input for Electric Guitar and Bass (IK Multimedia iRig, Apogee Jam, AmpKit Link)
Mic Input for acoustic guitar (IK Multimedia iRig Mic, Blue Yeti Pro -- requires Apple's Camera Connection Kit)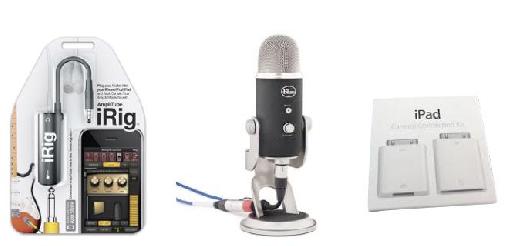 De izquierda a derecha: IRIG IK Multimedia, Blue Yeti micrófono, kit de conexión de la cámara de Apple
Guitar Amp
Launch GarageBand for iPad and plug your guitar into the iRig. On the left of the screen is a " 1/4" jack" button which lets you add a noise gate. Handy for those distorted tones. Next to it is the guitarist's best friend: the Tuner... no excuses for a flat g-string!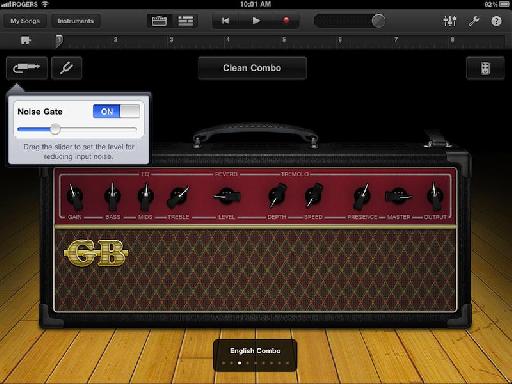 In the middle, you can select from different amp combinations and even save settings of your own. You can also swipe the amps to keep the same preset settings and try these settings on different amps.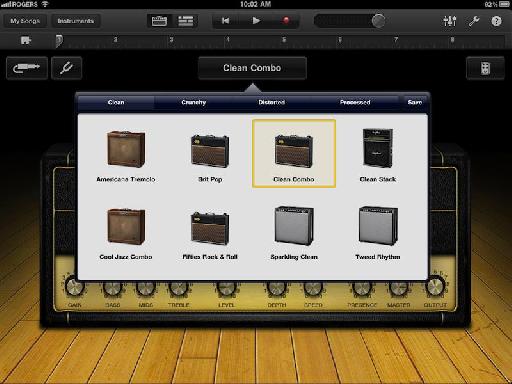 En el extremo derecho es el "pedales" sección. Aquí usted puede agregar hasta 4 pedales, cambiar su nivel de efectos y eliminar los pedales. Para volver a la sección de amplificador, toque en el "Amp" icono a la derecha de la pantalla. Una cosa buena de GB de IPAD es que se puede cambiar la configuración de amperios después de haber grabado su parte e incluso crear sus propios preajustes para futuras grabaciones.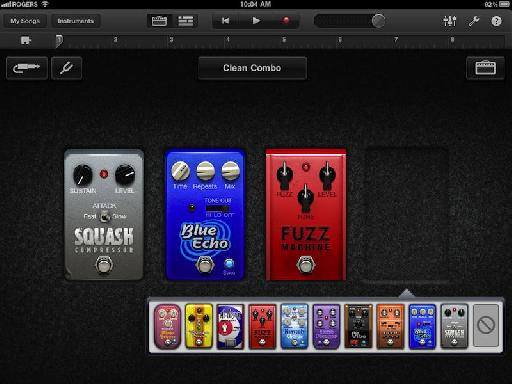 Audio Recorder
Si desea grabar la guitarra acústica, puede utilizar el iPad micrófono incorporado, pero yo recomendaría mirar "Yeti Pro" del micrófono azul o próximos Apogee "Mic" para añadir un brillo profesional a sus grabaciones. Al abrir por primera grabadora de audio que le da un indicador de volumen para ver sus niveles de entrada de audio. Una puerta de ruido también está disponible pulsando en la "1 / 4" enchufe "icono.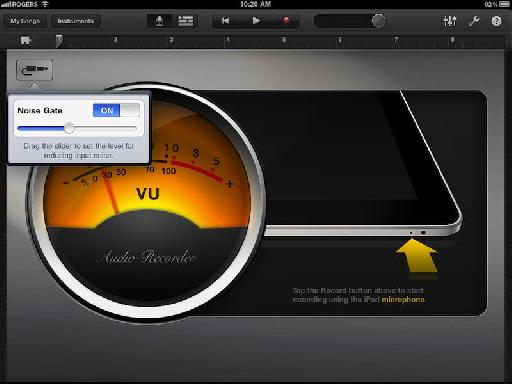 Una vez que graba una toma, puede agregar el procesamiento con el sonido de una selección preestablecidos que incluyen los efectos y los transformadores de voz. Los efectos también se le dará deslizadores para la compresión, reverb, chorus, etc, dependiendo del efecto que usted elija.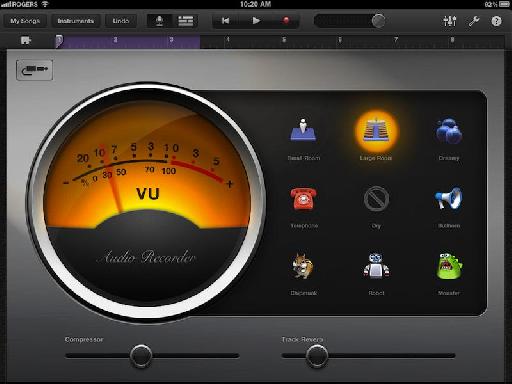 Consejos para la grabación!
En primer lugar ... PRÁCTICA! GB en el IPAD no permite la edición como GB en un Mac y no tienes características como Flex Time, múltiples tomas, la corrección de tono, etc Además, usted tendrá que tocar las partes en el tempo de la canción a diferencia de aquellos que una canción lenta hacia abajo, grabar su parte, y la velocidad a la que después. Mientras que algunos se vería esto como un perjuicio, yo lo veo como un crecimiento positivo de las habilidades musicales y al final te da una mejor comprensión de su canción. Después de todo, ser un mejor músico es un proceso de vida y no un medio para un fin.
Después de grabar una guitarra eléctrica que tiene un montón de opciones para afectar el tono como los amplificadores tienen EQ y FX pedales para comprimir, etc Si desea grabar información en la guitarra eléctrica, tendrá que conectar la salida de los altavoces y el impulso el volumen principal. Pero ... tenga cuidado ya que cada amplificador / guitarra tiene sus propias características para la retroalimentación y algunos son simplemente incontrolables perforación de las orejas-chilla. Capas de guitarras también tiene un gran sonido de costumbre, pero también se alimenta de las pistas de lo que la planificación es fundamental.
Además, en la planificación de las partes de su canción, tener en cuenta que GB de IPAD hace las cosas de "secciones" y las secciones de sólo hasta 10. Si bien esto puede no parecer gran cosa, tendrá que averiguar las partes / secciones de la canción de antemano. Por ejemplo, la canción de intro, estrofa 1, pre-coro, verso 2 con la guitarra añadido, pre-coro con el órgano, coro, verso 3, con menos instrumentos, puente, intro, coro, coro 2, final, etc Usted puede poner el "Secciones" en "Automático" que le da cualquier cantidad de bares que desea es decir, Registro de introducción y el versículo 1 juntos.
Al grabar una guitarra acústica o un instrumento, no deje de probar diferentes tomas con el micrófono o un micrófono USB iPad en diferentes lugares y distancias de la guitarra. La colocación del micrófono es muy importante para conseguir un sonido decente. Por ejemplo, colocar un micrófono cerca de la salida de sonido de la guitarra puede agregar las frecuencias no deseadas bajo. Aunque con el micrófono iPad Me pareció que para ser el mejor lugar.
Además, no hay bandas de frecuencia EQ que le permite arreglar las cosas después de la grabación. Para un tono más brillante, considere nuevas cadenas o una selección más difícil. Si se utiliza micrófono del iPad, asegúrese de que su habitación sea lo más silencioso posible, ya que va a retomar todos los sonidos poco como la relación señal a ruido no es muy grande.
Manténgase atento a GarageBand para iPad consejos y tutoriales sobre sintetizadores de grabación, pianos, etc y la voz!