More then ever, it has become easier to lay down your song ideas while on the move. With GarageBand for iPad, we are also closer then ever to having a full professional recording studio in a very thin package. And at a price of $4.99, who can complain? For those who are just starting out, here's a first tutorial on recording guitar to get you and your iPad rocking.

Instalação e equipamentos necessários
Primeiramente fora antes mesmo de iniciar o aplicativo, você deve obter o hardware que você precisa para permitir-lhe gravar sua guitarra no seu iPhone. Existem dois tipos básicos de entrada que você precisa considerar:
Guitar Input for Electric Guitar and Bass (IK Multimedia iRig, Apogee Jam, AmpKit Link)
Mic Input for acoustic guitar (IK Multimedia iRig Mic, Blue Yeti Pro -- requires Apple's Camera Connection Kit)
Guitar Amp
Launch GarageBand for iPad and plug your guitar into the iRig. On the left of the screen is a " 1/4" jack" button which lets you add a noise gate. Handy for those distorted tones. Next to it is the guitarist's best friend: the Tuner... no excuses for a flat g-string!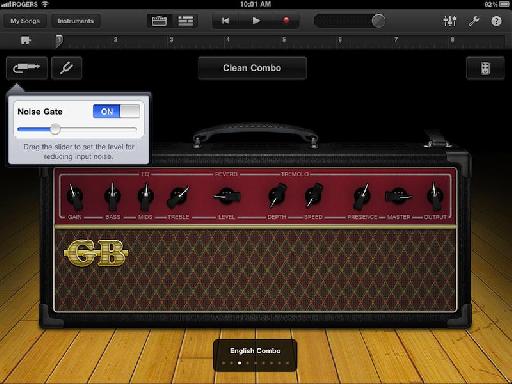 In the middle, you can select from different amp combinations and even save settings of your own. You can also swipe the amps to keep the same preset settings and try these settings on different amps.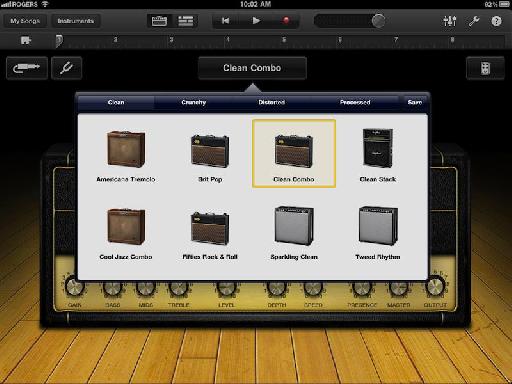 Na extrema direita é o "pedais" seção. Aqui você pode adicionar até 4 pedais, alterar seu nível de efeitos e remover pedais. Para voltar para a seção de amplificação, toque o "Amp" ícone do lado direito da tela. Uma coisa agradável sobre GB para o IPAD é que você pode alterar as configurações ampères depois que você gravou a sua parte e até mesmo criar suas próprias predefinições para gravações futuras.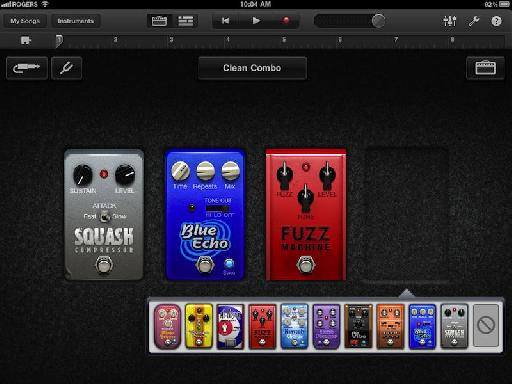 Gravador de áudio
Se você deseja gravar violão acústico, você pode usar o IPAD microfone embutido, mas eu recomendaria a olhar para Microfone Blue "Yeti Pro" ou "Mic" Apogee próximos para adicionar um brilho profissional para suas gravações. Quando você abrir o Gravador de áudio que lhe dá um medidor VU para verificar os seus níveis de entrada de áudio. Um portão de ruído também está disponível clicando no ícone "plug 1 / 4" ".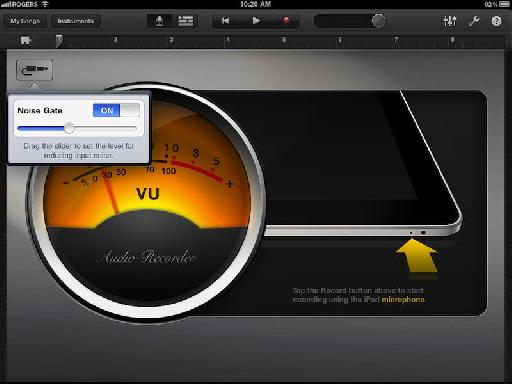 Uma vez que você grava um take, você pode adicionar de processamento para o som de uma seleção pré-definidos que incluem efeitos de voz e transformadores. Os efeitos também dar-lhe sliders para a compressão, reverb, chorus, etc, dependendo do efeito que você escolher.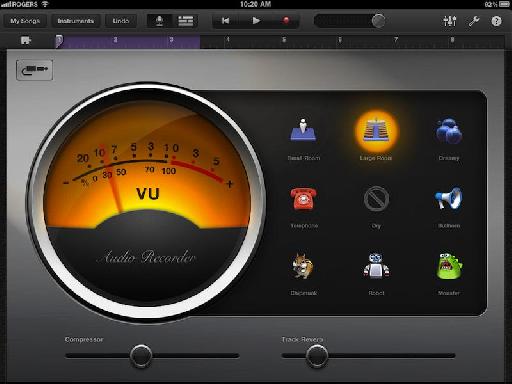 Dicas de gravação!
Em primeiro lugar ... PRÁTICA! GB no IPAD não permite edição, como GB em um Mac e você não tem recursos como Tempo Flex, várias tomadas, correção de pitch, etc Além disso, você terá que jogar as peças no tempo da música ao contrário daqueles que uma música lenta para baixo, gravar sua parte, e acelerá-lo depois. Enquanto alguns poderiam olhar para isso como um prejuízo, eu olhar para ele como um crescimento positivo de habilidades musicais e em última análise, dá-lhe uma melhor compreensão da sua música. Afinal, se tornar um melhor músico é um processo de longa vida e não um meio para um fim.
Depois de gravar uma guitarra elétrica que você tem muitas opções para afetar o tom de como os amplificadores têm EQ e FX pedais para comprimir, etc Se você quer gravar feedback sobre a guitarra elétrica, você vai precisar para conectar a saída para os alto-falantes e aumentar a o volume principal. Mas ... ter cuidado, pois cada amp / guitarra tem características próprias para feedback e alguns são simplesmente incontroláveis ​​estridentes gritos. Camadas guitarras também tem o som habitual grande, mas também come up faixas para o planejamento é crucial.
Além disso, quando o planejamento partes a sua música, levar em conta que GB para iPad faz as coisas de "seções" e apenas até 10 seções. Enquanto isto pode não parecer grande coisa, você vai querer descobrir as partes / seções da sua música de antemão. Por exemplo, a canção intro, verso 1, pré-refrão, verso 2 com guitarra acrescentado, chorus pré-com o órgão, coro, versículo 3, com instrumentos menos, ponte, intro, Chorus, Chorus 2, End, etc Você pode colocar o "Seções" no modo "Automatic", que lhe dá qualquer quantidade de bares ou seja, você quer Gravar introdução e versículo 1 juntos.
Ao gravar um violão ou outro instrumento, não deixe de experimentar diferentes leva com o seu microfone USB mic ou iPad, em diferentes locais e as distâncias a partir da guitarra. Colocação de microfone é muito importante para obter um som decente. Por exemplo, colocando um fim mic para o buraco som da guitarra pode adicionar frequências graves indesejados. Embora com o microfone iPad Eu encontrei este para ser o melhor local.
Além disso, não existem bandas de freqüência EQ para que você possa consertar as coisas depois da gravação. Para uma tonalidade mais brilhante, considere mais novas ou mais difícil escolher. Se estiver usando mic do IPAD, certifique-se seu quarto é o mais quieto possível, porque ele vai pegar todos os sons pouco como a relação sinal-ruído não é grande.
Fique ligado para mais GarageBand para dicas e tutoriais sobre iPad synths gravação, pianos, etc e vocais!