Ive sido um grande fã de FabFilters plug-ins desde que foi introduzido pela primeira vez com eles há alguns anos. Não é só o som, mas o projeto original e fluxo de trabalho que realmente faz isso por mim. Assim, qualquer chance de obter hands-on com o mais recente lançamento é sempre bem-vindo. O Pro-MB é um plug-in multibanda compressão / expansão para todos os principais formatos e compatível, tanto para trás como o Windows XP e Mac OS X 10.5, ao mesmo tempo, apoiar os mais recentes sistemas de 64 bits também. Seu preço de EUR 169, USD 229 ou EUR 139 e atualizar e ofertas bundle também estão disponíveis.
Compressão multibanda pode ser uma ferramenta extremamente útil, pois funciona em freqüências específicas e não uma só em todo o espectro. Esta, porém, pode torná-lo mais complexo usar eficazmente. Alguns compressores multibanda exigem que você aderir a pontos de cruzamento, o que significa que você pode afetar involuntariamente partes do sinal que você não tinha a intenção. Não é assim com Pro-MB, que permite a colocação gratuita de bandas em qualquer lugar no espectro de freqüência.
"Pro-MB allows free placement of bands anywhere in the frequency spectrum."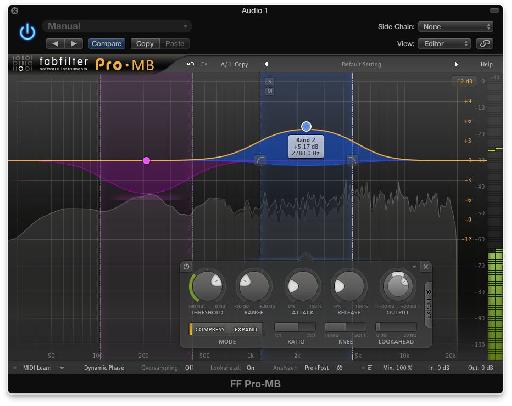 Adicione até seis bandas e atribuí-los livremente. Note-se que as duas faixas mostradas aqui são muito mais independente do espectro de frequências foi deixado descompactado.
Pensamento Cadastrado up
Clique para adicionar até seis bandas, que pode ficar desligados ou qualquer um dos que podem ser unidas para formar um crossover mais convencional, se quiser. Você pode até escolher o ponto de cruzamento e usar a roda do mouse para mudar a forma da curva de passagem, recebendo qualquer coisa de uma transição brusca de uma curva longa e suave. Na verdade isso pode ser colocado em qualquer lugar a partir de 6 outubro dB / 48 dB / outubro
Selecione qualquer banda e uma janela de controle aparece e segue a sua seleção. Este contém muitas configurações, incluindo um interruptor para comprimir ou expandir modo, o limiar, o intervalo, ataque, liberação e saída. Há também relação, joelho e controles de verificação à frente, bem como cadeia lateral e configurações de link estéreo no modo Expert, e um interruptor meio / lateral. Se você segurar a tecla Alt enquanto arrasta uma banda que você pode mudar toda a banda para a esquerda ou direita ou dividi-lo para adicionar um novo.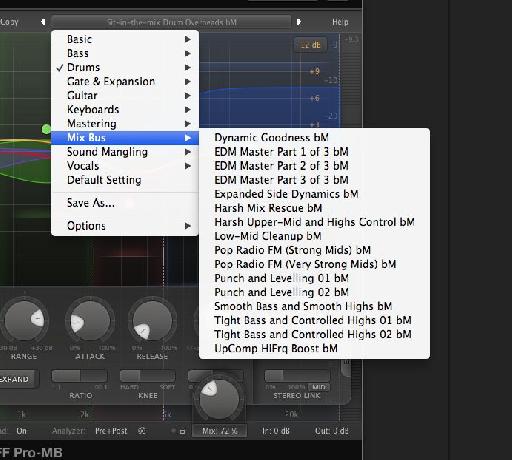 Alguns grandes presets irá ajudar a começar e incrementar seus sons.
Olhar e sentir
Graficamente, Pro-MB é lindo, liso e sua interface de translúcido uma alegria para trabalhar. As dicas de ajuda flutuantes explicar tudo o que faz e seções aparecem e desaparecem automaticamente assim não há nenhuma desordem. A exibição espectral mostra exatamente o que está acontecendo e como compressão muito ou expansão está sendo aplicada em que freqüências. Hit CPU parece pequeno, e os gráficos são tão costuma tomar quaisquer recursos longe de processamento de áudio alimentado por GPU. Há três modos de processamento fase: Dinâmico, lineares e mínimos, que alteram as características da compressão.
"Graphically, Pro-MB is gorgeous, its slick and translucent interface a joy to work with."
Os presets incluído estão realmente excelente e, instantaneamente, animar ou controle tudo o que parece que você aplicá-las a. Youll ajustar as configurações do curso, mas isso é muito fácil e intuitivo de fazer. A seco / úmido controle mestre ainda vai até 200% para que você possa aplicar algum efeito muito intenso, e há o processamento interno de 64 bits.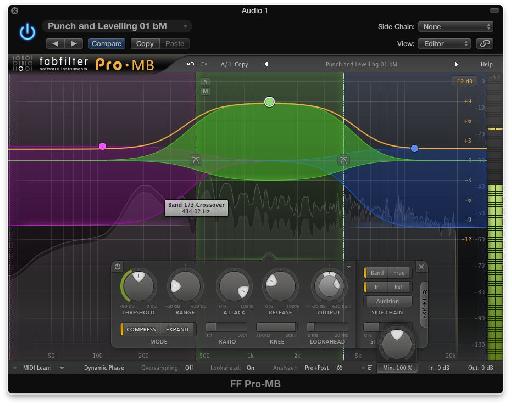 O efeito em ação, com feedback gráfica que mostra o que está sendo comprimido, e onde.
Um verdadeiro profissional
"Pro-MB is the most intuitive and powerful multiband compressor I have ever used."
Pro-MB é o compressor multibanda mais intuitiva e poderosa que eu já usei. Eu sou um fã de compressão multibanda, porque eu gosto do controle que lhe dá mais de sons complexos, como ônibus ou tambor durante masterização, mas pode ser complicadas de se trabalhar. Aqui é um alegria para usar, capaz de tudo, de domesticação suave para extremo de bombeamento. Eu encontrei-me voltar para projetos existentes e aplicar esse efeito para algumas das faixas, e os resultados foram incríveis. Você realmente não posso dizer mais justo do que isso.
Web: