Ive ein großer Fan von FabFilters-Plug-Ins, da ich zum ersten Mal, um sie vor einigen Jahren eingeführt. Es ist nicht nur der Klang, sondern das einzigartige Design und Workflow, die wirklich für mich. So eine Chance, hands-on bekommen mit der neuesten Version ist immer willkommen. Die Pro-MB ist ein Multiband-Kompression / Expansion-Plug-in für alle gängigen Formate und kompatible so weit zurück wie Windows XP und OS X 10.5, während auch die Unterstützung der neuesten 64-Bit-Systeme. Die EUR 169, USD oder GBP 229 139 Preisen und Upgrade-und Bundle-Angebote sind ebenfalls erhältlich.
Multiband-Kompression kann ein äußerst nützliches Werkzeug sein, da es auf gezielte Frequenzen nicht nur über das gesamte Spektrum. Dies kann jedoch zu komplex, um es effektiv zu nutzen. Einige Multiband-Kompressoren benötigen Sie, um zu Kreuzungspunkten halten, was bedeutet, dass man ungewollt beeinflussen Teile des Signals Sie hadnt gemeint. Nicht so mit Pro-MB, die freie Platzierung der Bands irgendwo im Frequenzspektrum ermöglicht.
"Pro-MB allows free placement of bands anywhere in the frequency spectrum."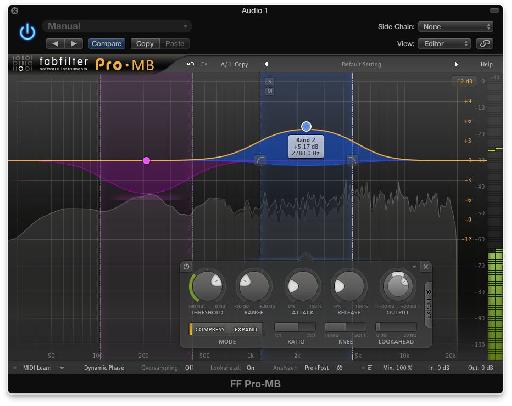 Fügen Sie bis zu sechs Bands und ordnen sie frei. Beachten Sie, dass die beiden hier gezeigten Bands unabhängig viel des Frequenzspektrums hat unkomprimiert gelassen.
Bis Registriert Denken
Klicken Sie auf bis zu sechs Bands hinzufügen, die unverbunden oder jeder von denen kann miteinander zu einem eher konventionellen Crossover bilden, wenn Sie mögen bleiben können. Sie können sogar wählen Sie den Kreuzungspunkt und verwenden Sie das Mausrad, um die Form des Crossover-Kurve zu verändern, immer etwas von einem scharfen Übergang zu einem langen, sanften Kurve. In der Tat können diese überall von 6 Oktober dB / 48 dB / Oktave eingestellt werden.
Wählen Sie eine Band und ein Kontrollfenster erscheint und folgt Ihre Auswahl. Diese enthält viele Einstellungen mit einem Schalter zum komprimieren oder erweitern Modus Schwelle, Reichweite, Attack-, Release-und Ausgang. Es gibt auch Verhältnis, Knie-und Lookahead-Steuerungen sowie Sidechain-und Stereo-Link-Einstellungen im Expertenmodus und ein Mid / Side-Schalter. Wenn Sie die Alt-Taste gedrückt halten, während Sie eine Band, die man verschieben kann die ganze Band nach links oder rechts, oder teilen Sie einen neuen hinzufügen.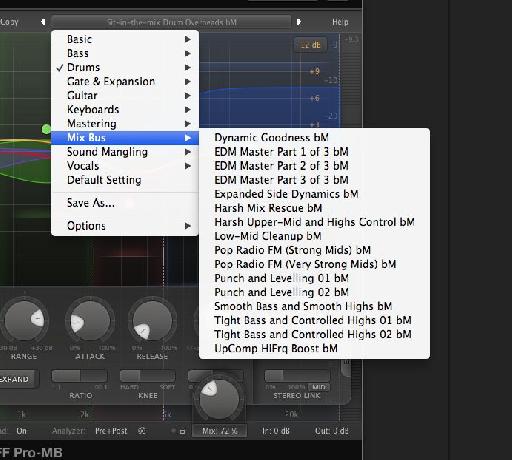 Einige gute Presets werden Sie loslegen und runter, um Ihre Sounds.
Look and Feel
Grafisch ist Pro-MB herrlich, seiner glatten und durchscheinend Schnittstelle eine Freude, mit zu arbeiten. Die Schwimmhilfe-Tipps erklären, was alles tut und Abschnitte erscheinen und verschwinden automatisch, so theres keine Unordnung. Die spektrale Display zeigt Ihnen genau, was passiert und wie viel Kompression oder Expansion wird auf welchen Frequenzen angewendet. CPU-Hit scheint klein, und die Grafiken sind GPU-angetriebene so pflegt alle Ressourcen weg von Audio-Verarbeitung. Es gibt drei Phasenverarbeitung: Dynamische lineare und Minimum, die die Eigenschaften der Druck verändern.
"Graphically, Pro-MB is gorgeous, its slick and translucent interface a joy to work with."
Die gebündelten Presets sind wirklich ausgezeichnet und peppen oder Kontrolle, was klingt Sie sie gelten sofort. Youll optimieren die Einstellungen natürlich, aber das ist sehr einfach und intuitiv zu tun. Der Master Dry / Wet-Regelung geht sogar bis zu 200%, so dass Sie einige wirklich intensive Wirkung kann sich bewerben, und Theres 64-Bit-Verarbeitung.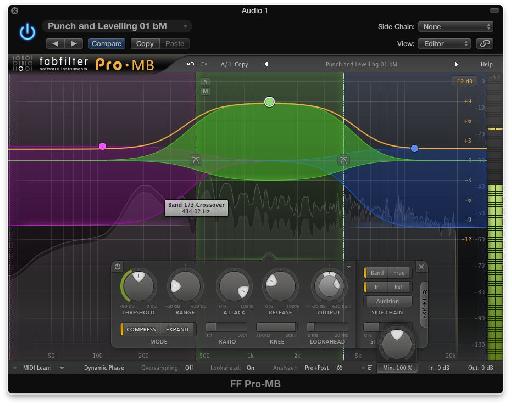 Der Effekt in Aktion, mit grafische Rückmeldung zeigt, was komprimiert wird, und wo.
Ein echter Profi
"Pro-MB is the most intuitive and powerful multiband compressor I have ever used."
Pro-MB ist die intuitive und leistungsfähige Multiband-Kompressor, die ich je benutzt habe. Im ein Fan von Multiband-Kompression, weil Ich mag die Steuer es gibt Ihnen über komplexe Sounds wie Drum-Bussen oder beim Mastern, aber es kann knifflig, mit zu arbeiten. Hier ist es ein Freude zu bedienen, in der Lage, alles aus sanften Zähmung extremen Pump. Ich fand mich wieder in bestehende Projekte und zu der Anwendung dieser Effekt, einige der Tracks, und die Ergebnisse waren super. Sie kann nicht wirklich sagen, fairer als die.
Web: