Ive sido un gran fan de FabFilters plug-ins, ya tuve mi primer contacto con ellos hace unos años. No es sólo el sonido, pero el diseño único y flujo de trabajo que realmente lo hace por mí. Así que cualquier oportunidad de obtener experiencias prácticas con la última versión siempre es bienvenida. El Pro-MB es un plug-in de varias bandas de compresión / expansión para todos los principales formatos compatibles y ya en Windows XP y OS X 10.5, mientras que también el apoyo a los más modernos sistemas de 64 bits también. Su precio de 169 EUR, USD 229 o EUR 139 y actualicen y ofertas de paquete también están disponibles.
Compresión multibanda puede ser una herramienta muy útil, ya que funciona en frecuencias específicas en lugar de sólo a través de todo el espectro. Sin embargo, esto puede hacer que sea más complejo de utilizar con eficacia. Algunos compresores multibanda requieren que se adhieren a los puntos de cruce, lo que significa que usted puede afectar involuntariamente partes de la señal que se divertían querías. No es así con Pro-MB, lo que permite la colocación libre de las bandas en cualquier parte del espectro de frecuencias.
"Pro-MB allows free placement of bands anywhere in the frequency spectrum."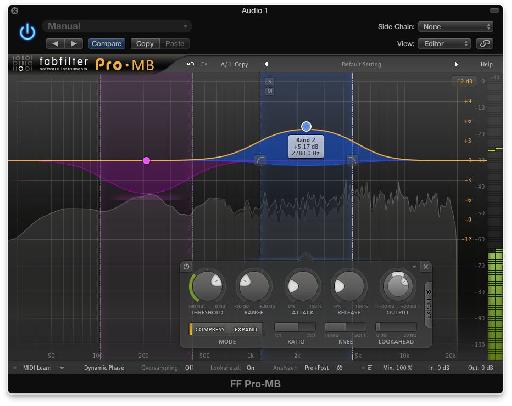 Agregue hasta seis bandas y asignarlos libremente. Tenga en cuenta que las dos bandas que se muestran aquí son mucho independiente del espectro de frecuencias se ha dejado sin comprimir.
Registrado por el pensamiento
Haga clic para agregar hasta seis bandas, que pueden permanecer sin conectar o cualquiera de los que se pueden unir entre sí para formar un crossover más convencional, si quieres. Incluso puede seleccionar el punto de cruce y el uso de la rueda del ratón para cambiar la forma de la curva de cruce, conseguir cualquier cosa de una transición brusca a una larga y suave curva. De hecho, estos se pueden ajustar en cualquier lugar entre el 6 octubre dB / 48 dB / oct.
Seleccione cualquier banda y aparece una ventana de control y sigue a su selección. Contiene muchos entornos, incluyendo un interruptor para comprimir o expandir el modo, el umbral, rango, ataque, release y de salida. También hay ratio, codo y los controles de búsqueda hacia delante, así como de la cadena lateral y ajustes de enlace estéreo en modo experto, y un interruptor medio / lateral. Si mantiene presionada la tecla Alt mientras arrastra una banda que puede cambiar toda la banda izquierda o hacia la derecha o la dividió para agregar uno nuevo.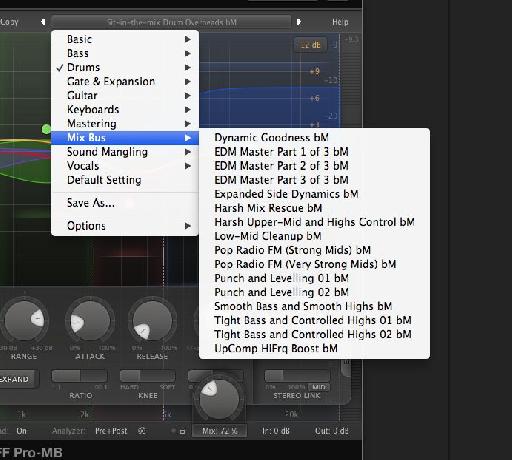 Algunos grandes presets le ayudará a empezar y darle vida a sus sonidos.
Ver y sentir
Gráficamente, Pro-MB es precioso, su resbaladiza y la interfaz translúcida un placer trabajar con ella. Los consejos de ayuda flotantes explican todo lo que hace y las secciones aparecen y desaparecen de forma automática para theres ningún desorden. La visualización espectral muestra exactamente qué está sucediendo y qué cantidad de compresión o la expansión se está aplicando en qué frecuencias. CPU éxito parece pequeño, y los gráficos son GPU-accionado de manera no tomará ningún recursos de procesamiento de audio. Hay tres modos de procesamiento de fase: Dinámico, lineales y mínimos, que alteran las características de la compresión.
"Graphically, Pro-MB is gorgeous, its slick and translucent interface a joy to work with."
Los presets incluido están realmente excelente y al instante Pep encima o control lo sonidos que aplicarlos a. Youll ajustar la configuración, por supuesto, pero esto es muy fácil e intuitivo de hacer. El control Dry / Wet maestro va incluso hasta el 200% para que pueda aplicar algún efecto muy intenso, y theres procesamiento interno de 64 bits.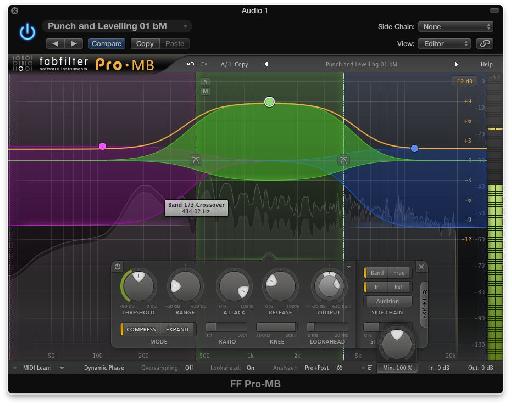 El efecto en la acción, con información gráfica que muestra cuál está comprimiendo, y dónde.
Un verdadero profesional
"Pro-MB is the most intuitive and powerful multiband compressor I have ever used."
Pro-MB es el compresor multibanda más intuitiva y potente que he utilizado siempre. Soy un fan de la compresión multibanda porque me gusta el control que te da más de los sonidos complejos como los autobuses de tambor o durante la masterización, pero puede ser más incómoda para trabajar. Aquí es un placer de usar, capaz de todo, desde la doma suave para el bombeo extremo. Me encontré a mí mismo que se remonta a los proyectos existentes y aplicar este efecto a algunas de las pistas, y los resultados fueron impresionantes. Usted no puede realmente decir más justo que eso.
Web: