Ive stato un grande fan di FabFilters plug-in da quando è stato introdotto a loro alcuni anni fa. La sua non solo il suono, ma il design unico e del flusso di lavoro che fa davvero per me. Quindi, qualsiasi possibilità di ottenere hands-on con l'ultima release è sempre il benvenuto. Il Pro-MB è un plug-in multibanda compressione / espansione per tutti i principali formati e compatibili fin da Windows XP e OS X 10.5, pur sostenendo anche i più recenti sistemi a 64 bit pure. Il suo prezzo di EUR 169, USD 229 o GBP 139 e aggiornamento e le offerte di bundle sono inoltre disponibili.
Compressione multibanda può essere uno strumento estremamente utile poiché funziona su frequenze mirate piuttosto che attraverso l'intero spettro. Questo però può rendere più complesso da usare efficacemente. Alcuni compressori multibanda richiedono di aderire ai punti di crossover, che significa che è possibile influenzare involontariamente parti del segnale che si hadnt vuole. Non così con Pro-MB, che permette il libero posizionamento delle bande dovunque nello spettro di frequenza.
"Pro-MB allows free placement of bands anywhere in the frequency spectrum."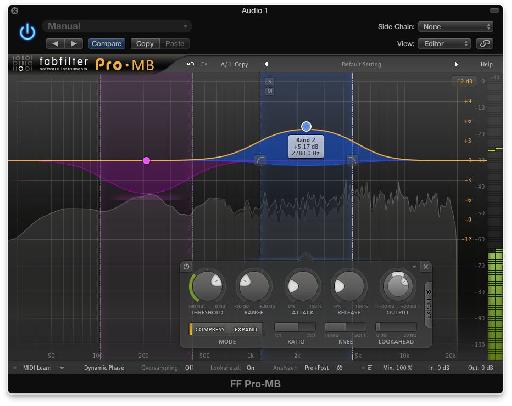 Aggiungi fino a sei bande e assegnare liberamente. Si noti che le due bande mostrate qui sono molto indipendente dello spettro di frequenza è stato lasciato non compresso.
Iscritto up pensiero
Fare clic per aggiungere fino a sei bande, che può rimanere estraneo o di cui possono essere uniti insieme per formare un crossover più convenzionale, se volete. È anche possibile selezionare il punto di crossover e utilizzare la rotellina del mouse per cambiare la forma della curva di crossover, ottenendo qualsiasi cosa, da un passaggio brusco ad una lunga, curva dolce. In realtà questi possono essere impostati ovunque da 6 dB / ottobre a 48 dB / ottobre
Selezionare qualsiasi band e viene visualizzata una finestra di controllo e segue la selezione. Contiene molte impostazioni tra cui un interruttore per comprimere o espandere modalità di soglia, serie, attacco, rilascio e output. Ci sono anche il rapporto, ginocchio e controlli lookahead così come sidechain e le impostazioni di collegamento stereo in modalità Expert, e un interruttore mid / side. Se si tiene premuto il tasto Alt mentre si trascina una band è possibile spostare l'intera banda di sinistra o di destra o dividere per aggiungere uno nuovo.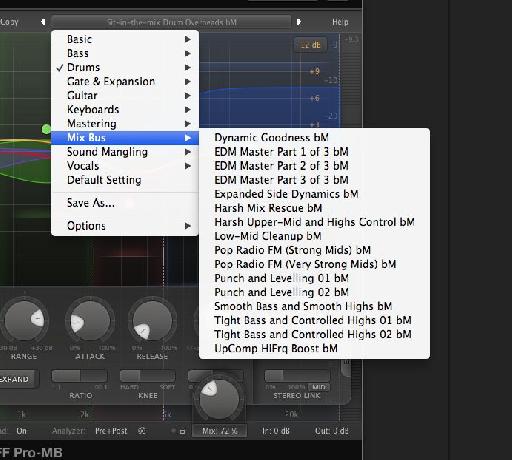 Alcuni grandi preset permette di iniziare e rendere i vostri suoni.
Aspetto e
Graficamente, Pro-MB è stupendo, la sua chiazza di petrolio e l'interfaccia traslucida una gioia lavorare con. I suggerimenti di aiuto galleggianti spiegare tutto ciò che fa e le sezioni appaiono e scompaiono automaticamente in modo non c'è nessun disordine. La visualizzazione spettrale mostra esattamente che cosa sta accadendo e quanto la compressione o l'espansione viene applicato a ciò che le frequenze. Hit CPU sembra piccolo, e la grafica è-GPU alimentato in modo non prenderà alcuna risorsa dalla elaborazione audio. Ci sono tre modalità di trasformazione di fase: dinamico, lineare e minime, che alterano le caratteristiche della compressione.
"Graphically, Pro-MB is gorgeous, its slick and translucent interface a joy to work with."
I preset in bundle sono davvero eccellenti e immediatamente pep up o controllo qualunque cosa suoni si applica a loro. Youll modificare le impostazioni, naturalmente, ma questo è molto facile e intuitivo da fare. Il secco / umido controllo Master va anche fino al 200% in modo da poter applicare qualche effetto davvero intenso, e c'è elaborazione interna a 64 bit.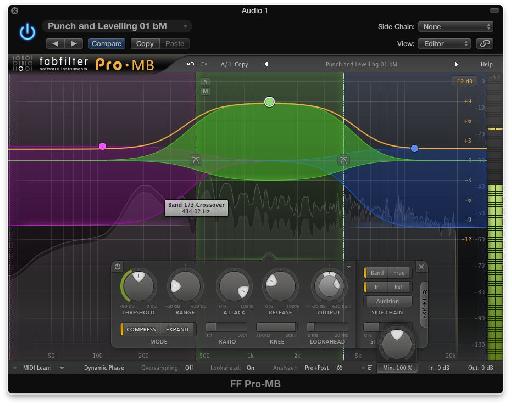 L'effetto in azione, con feedback grafico che mostra cosa viene compresso, e dove.
Un vero professionista
"Pro-MB is the most intuitive and powerful multiband compressor I have ever used."
Pro-MB è il compressore multibanda più intuitivo e potente che abbia mai usato. Sono una fan di compressione multibanda perché mi piace il controllo ti dà sui suoni complessi come drum bus o durante il mastering, ma può essere complicato da lavorare. Ecco la sua una gioia da usare, capace di tutto, dal dolce addomesticamento all'estremo pompaggio. Mi ritrovai a tornare a progetti esistenti e l'applicazione di questo effetto per alcuni dei brani, ei risultati sono stati impressionanti. Non potete davvero più che accettabile.
Web: