Spectrasonics Omnisphere es conocido como uno de los más poderosos y mejor suenan sintetizadores de software en el mercado. Se acaba de recibir un nuevo impulso a la estratosfera de producción de audio con su extensa actualización 2.0, que atrae a nuevos usuarios y fans por su calidad y diseño de sonido. Ello
Dicho esto, el propósito de este artículo es explorar los fundamentos de la creación de parches de sintetizador personalizado utilizando el potente y fácil de usar interfaz de Omnisphere. No sólo es el diseño de la interfaz intuitiva, pero también la complejidad de lo
En este artículo, voy a dar una visión general de cómo empezar a programar parches de sintetizador y muy rápidamente encontrar sonidos únicos e inspiradores. yo
In the Beginning: The Default Patch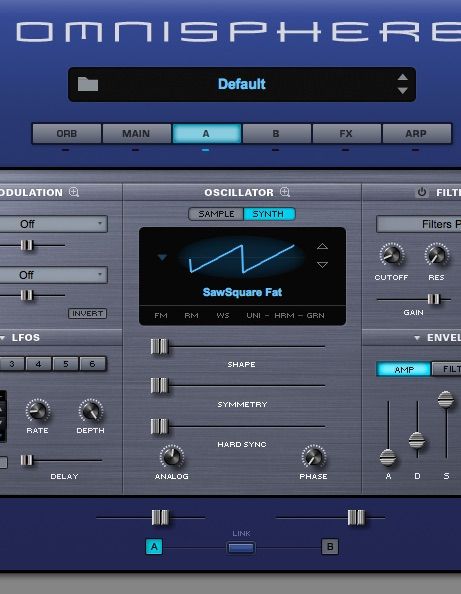 Figura 1
Al cargar hasta Omnisphere en su DAW, el parche por defecto se carga con un
More Fun in the Oscillator Section
En la sección de oscilador ampliado usted tiene la opción de añadir la síntesis adicional incluyendo FM (Frecuencia Modulada), Anillo de modulación, Waveshaper y elegir entre Unison, Harmonia y Granular. Ellos todo cambio en el sonido de distintas maneras, dependiendo de la forma de onda de partida así que yo sugeriría alojarse en esta zona por un buen rato y explorar las opciones dentro de cada sección. Por mi onda triangular simple, he optado por utilizar la sección de Unison para engordar el sonido un poco. La función Unison hace copias ligeramente desafinadas de la forma de onda original y capas que les permite crear el sonido más grande. El control deslizante propagación amplía el campo estéreo maravillosamente.
Synth Diseño Ejemplo 1
Playing with Modulation
De vuelta en el panorama sección A, decidí jugar un poco con la forma, simetría y duro Sync controles deslizantes en la sección de oscilador para traer más carácter al sonido. También experimenté con la modulación de cada uno de estos parámetros a través de diferentes LFO que operan a velocidades ligeramente diferentes, lentos. Rápidamente descubrí que me estaba empezando a crear un sonido Pad interesados ​​con la evolución de carácter. En este punto también me fui a mi sección Amp Envelope y ajusté el ataque y la liberación de modo que era suave en ambos extremos al cambiar entre los acordes.
Synth Diseño Ejemplo 2
La ventana de la matriz sección de modulación es un gran lugar para probar diferentes fuentes y destinos. Cualquier cosa en la sección de oscilador puede modularse con LFO, envolventes y asignado a los controladores como ruedas de modulación. Me sentí más cómodo navegar por esta sección de la MOD en particular, en comparación con otros sintetizadores de software que
Save and Tag your Custom Patch
Uno de los pasos más importantes en la creación de parches Synth es para guardar y etiquetar su nuevo sonido para que no se pierde todo su trabajo duro y el tiempo. Usted puede encontrar algunas variaciones diferentes de un parche durante su proceso de síntesis que justifiquen el ahorro, denominación y el etiquetado para diferentes propósitos musicales. El primer paso consiste en guardar su sonido en el
Fun with Effects and Arpeggiation
Después de haber completado el sonido de un pad, lo usé como punto de partida para diseñar otro sonido utilizable. Yo no
Synth Diseño Ejemplo 3
A World of Possibilities… Guided by You!
El mundo de la programación de sintetizador está abierto a todos los productores y músicos, independientemente de la experiencia. Sintetizadores de software en particular, se están volviendo tan accesible que cualquiera puede empezar a crear sonidos únicos rápidamente. Como descubrí en mi viaje, mis parches personalizados comenzaron con una onda triangular simple y se vuelven mucho más con unos pocos ajustes a varios parámetros. Si usted utiliza Omnisphere o