Spectrasonics Omnisphere é conhecido como um dos sintetizadores de software mais poderosos e melhor soando no mercado. Ele acaba de receber um novo impulso para a estratosfera produção de áudio com a sua extensa atualização 2.0, atraindo novos usuários e fãs para a sua qualidade de som e design. isto
Dito isto, o objetivo deste artigo é explorar os conceitos básicos de synth costume criação patch usando o poderoso e fácil de usar interface em Omnisphere. Não é só o design de interface intuitiva, mas também a complexidade do que
Neste artigo, vou dar uma visão geral de como começar a programar synth patches e muito rapidamente encontrar sons únicos e inspiradores. Eu
In the Beginning: The Default Patch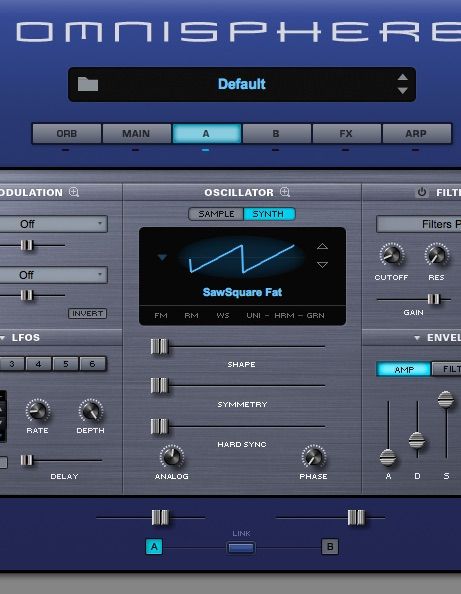 figura 1
Quando você carregar Omnisphere em sua DAW, o patch padrão é carregado com uma
More Fun in the Oscillator Section
Na seção oscilador expandiu você tem a opção de adicionar adicional síntese incluindo FM (Frequency Modulation), Anel de Modulation, waveshaper e escolher entre Unison, Harmonia e Granular. Eles toda a mudança no som de maneiras diferentes, dependendo da sua forma de onda de partida para que eu gostaria de sugerir se hospedar nesta área por um bom tempo e explorar as opções dentro de cada seção. Para a minha onda triângulo simples, eu escolhi para usar a seção Unison para engordar o som um pouco. A função Unison faz cópias ligeiramente detuned da forma de onda original e camadas-los para criar o maior som. O controle deslizante propagação alarga o campo estéreo lindamente.
Synth Projeto Exemplo 1
Playing with Modulation
De volta à visão geral A seção, decidi brincar com a forma, a simetria e Hard sincronização controles deslizantes na seção oscilador para trazer mais qualidade ao som. Eu também experimentei com modulação de cada um destes parâmetros através de diferentes LFOs que operam a um nível ligeiramente diferentes velocidades, lento. Eu descobri rapidamente que eu estava começando a criar um som Pad interessado com caráter evolutivo. Nesse ponto, eu também fui para minha seção Amp Envelope e ajustou o ataque e liberação de modo que era bom em ambas as extremidades ao mudar entre acordes.
Synth Projeto Exemplo 2
A janela matriz seção Modulation é um ótimo lugar para experimentar diferentes origens e destinos. Qualquer coisa na seção do oscilador pode ser modulada com LFOs, envelopes e atribuído aos controladores como rodas mod. Eu me senti mais confortável navegar nesta seção Mod em especial em comparação com outros sintetizadores de software I
Save and Tag your Custom Patch
Um dos passos mais importantes na criação Synth patch é para salvar e marcar o seu novo som, assim você não perder todo seu trabalho duro e tempo. Você pode encontrar algumas variações diferentes de um patch durante o seu processo de síntese que justifiquem a poupança, nomeando e marcação para diferentes fins musicais. O primeiro passo é salvar o seu som no
Fun with Effects and Arpeggiation
Tendo concluído som uma almofada, eu usei-o como ponto de partida para projetar um outro som utilizável. eu não
Synth Projeto Exemplo 3
A World of Possibilities… Guided by You!
O mundo da programação synth está aberto a todos os produtores e músicos, independentemente da experiência. Sintetizadores de software, em particular, estão se tornando tão acessível que qualquer um pode começar a criar sons únicos rapidamente. Como descobri em minha viagem, meus patches personalizados começou com uma onda triângulo simples e tornar-se muito mais com apenas alguns ajustes para vários parâmetros. Se você usa ou Omnisphere