Spectrasonics Omnisphere è conosciuto come uno dei più potenti e meglio suono sintetizzatori software presenti sul mercato. Ha appena ricevuto un altro impulso nella stratosfera produzione audio con la sua vasta aggiornamento 2.0, attirare nuovi utenti e fan per la sua qualità del suono e del design. Esso
Detto questo, lo scopo di questo articolo è quello di esplorare le basi della creazione di patch synth personalizzato utilizzando il potente e facile da usare l'interfaccia in Omnisphere. Non solo il design dell'interfaccia intuitiva, ma anche la complessità di quello
In questo articolo, vi darò una panoramica di come cominciare a programmare le patch di synth e trovare suoni unici e stimolanti molto rapidamente. io
In the Beginning: The Default Patch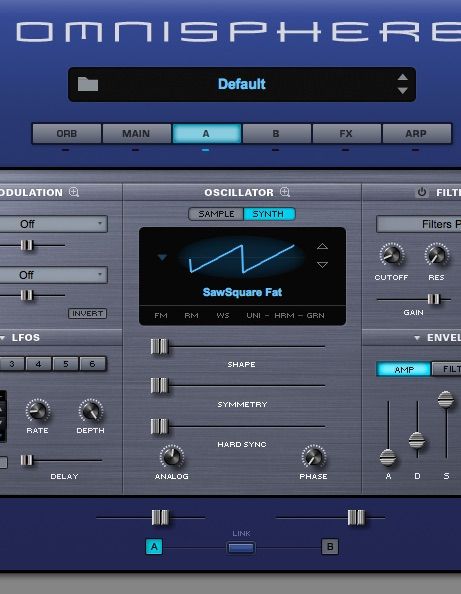 Figura 1
Quando si carica su Omnisphere nella vostra DAW, la patch di default è caricato con una
More Fun in the Oscillator Section
Nella sezione oscillatore espansa si ha la possibilità di aggiungere la sintesi aggiuntive, tra cui FM (Frequency Modulation), Ring Modulation, Waveshaper e scegliere tra Unison, Harmonia e granulare. Hanno tutti i cambiamenti nel suono in modi diversi a seconda della forma d'onda di partenza quindi vi consiglio di soggiornare in questa zona per un bel po 'ed esplorare le opzioni all'interno di ogni sezione. Per il mio semplice onda triangolare, ho scelto di utilizzare la sezione Unison per ingrassare il suono un po '. La funzione Unison fa copie leggermente discordante forma d'onda originale e gli strati loro di creare il suono più grande. Il cursore diffusione amplia il campo stereo splendidamente.
Synth Progettazione Esempio 1
Playing with Modulation
Indietro nella panoramica sezione A, ho deciso di giocare con la forma, Simmetria e Hard Sync cursori nella sezione Oscillator per portare più carattere al suono. Ho anche sperimentato con modulazione ciascuno di questi parametri attraverso diversi LFO che operano a leggermente differenti, ritmi lenti. Ho subito scoperto che stavo iniziando a creare un suono Pad interessato con l'evoluzione dei caratteri. A questo punto ho anche andato alla mia sezione Amp Busta e regolato il attacco e rilascio in modo che fosse liscia su entrambi i lati quando si passa da accordi.
Synth Progettazione Esempio 2
La finestra di matrice sezione Modulation è un ottimo posto per provare diverse origini e destinazioni. Tutto ciò nella sezione Oscillator può essere modulato con LFO, buste e assegnato al controller come le ruote mod. Mi sono sentito più a suo agio navigando questa sezione Mod in particolare rispetto ad altri sintetizzatori software I
Save and Tag your Custom Patch
Uno dei passi più importanti nella creazione patch synth è quello di salvare e taggare il tuo nuovo sound in modo da non perdere tutti i vostri duro lavoro e il tempo. Si possono trovare alcune varianti di una patch durante il processo di sintesi che garantiscono il risparmio, la denominazione e la codifica per diversi scopi musicali. Il primo passo è quello di salvare il vostro suono nella
Fun with Effects and Arpeggiation
Avendo completato il suono un pad, l'ho usato come punto di partenza per la progettazione di un altro suono utilizzabile. I didn
Synth Progettazione Esempio 3
A World of Possibilities… Guided by You!
Il mondo della programmazione synth è aperto a tutti i produttori e musicisti, indipendentemente dalla esperienza. Synth software, in particolare, stanno diventando così accessibile che chiunque può iniziare a creare suoni unici rapidamente. Come ho scoperto il mio viaggio, la mia patch personalizzate iniziato con una semplice onda triangolare e diventano così molto di più con pochi adattamenti vari parametri. Se si utilizza Omnisphere o