The vintage Minimoog Model D being raffled is serial number 6572, and was built at Moog Music's Williamsville, NY factory during the mid 1970s. This synthesizer has an estimated value of over $9,500, and due to the highly coveted nature of this archetypal synthesizer, and its iconic signature from Bob Moog, it will only go up in value.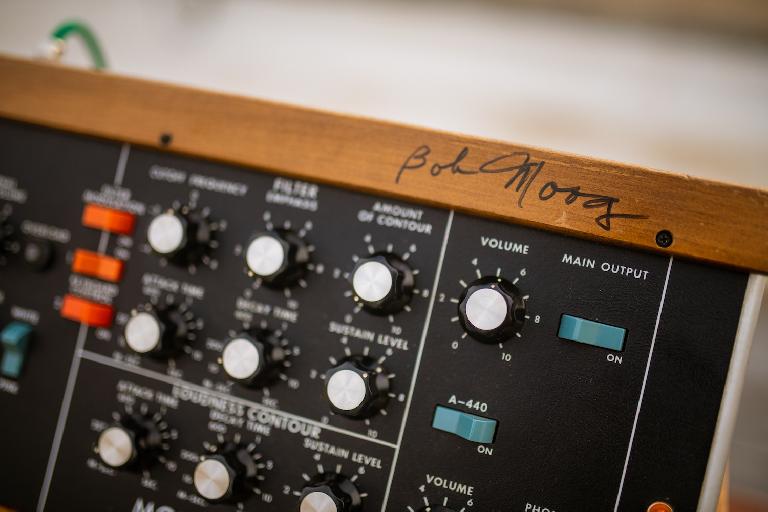 Meticulously restored
This Minimoog has been meticulously restored by venerated synthesizer technician Wes Taggart of Analogics, and is in excellent technical and physical condition, with minor flaws that are normal with the age of the instrument.
Funds raised from the raffle will be used to continue growing the Foundation's hallmark educational project, Dr. Bob's SoundSchool, currently inspiring over 3,000 elementary school students per year through the science of sound, and poised to grow nationwide in 2022. The raffle will also help support the Moogseum, an immersive, experiential facility located in Asheville, NC, which brings Bob Moog's pioneering legacy and the science of sound and synthesis alive for people of all ages. The Moogseum opened in late May of 2019, and has welcomed tens of thousands of visitors from all over the world.
Click here to win!
"The Bob Moog Foundation is excited to offer this extraordinarily special Minimoog synthesizer with Bob's distinct signature in concert with our upcoming 15th anniversary later this month," remarked Executive Director, Michelle Moog-Koussa. "The Foundation formally launched on August 21, 2006, exactly one year after Bob's passing. Since that time, his legacy and spirit have been the inspiration that fuels our work in education, archive preservation, and the creation of our beloved Moogseum. We hope that the winner of this Minimoog will also be deeply inspired by Bob's spirit."