Spectrasonics Omnisphere gilt als einer der stärksten und am besten klingenden Software-Synthesizer auf dem Markt bekannt. Es hat gerade einen weiteren Schub in die Audio-Produktion Stratosphäre erhielt mit seinem umfangreichen 2.0-Update, die Gewinnung neuer Mitglieder und Fans für seine Klangqualität und Design. Es
Das heißt, das Ziel dieses Artikels ist es, die Grundlagen des benutzerdefinierten Synth Patch Schöpfung zu erforschen mit dem leistungsfähigen und einfach zu bedienende Schnittstelle in Omnisphere verwenden. Nicht nur ist das Schnittstellendesign intuitiv, sondern auch die Komplexität des
In diesem Artikel werde ich einen Überblick über, wie man beginnen, Synth-Patches zu programmieren und sehr schnell zu finden einzigartige und inspirierende Sounds. ich
In the Beginning: The Default Patch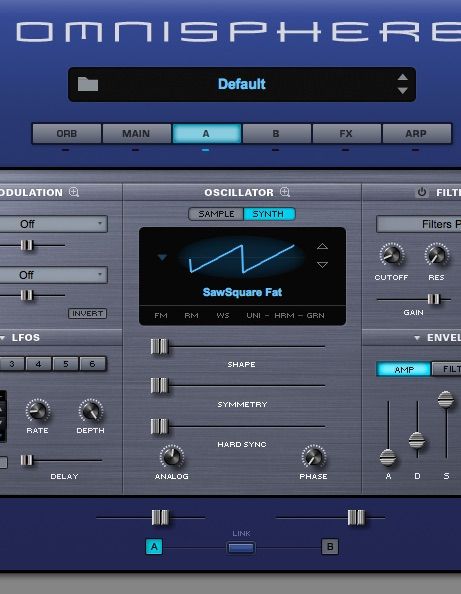 Abbildung 1
Wenn Sie Omnisphere geladen in Ihre DAW, ist die Standard-Patch mit einer geladenen
More Fun in the Oscillator Section
In der erweiterten Oszillator-Sektion haben Sie die Möglichkeit, zusätzliche Synthese einschließlich FM (Frequenzmodulation), Ringmodulation, Waveshaper hinzufügen, und wählen Sie zwischen Unison, Harmonia und Granular. Alle Änderung der Klang auf unterschiedliche Weise je nach Ausgangswellenform, so würde ich vorschlagen, der Aufenthalt in diesem Bereich für eine ganze Weile und erkunden Sie die Optionen in jedem Abschnitt. Für meine einfache Dreieckwelle, entschied ich mich, die Unison Abschnitt verwenden, um zu mästen den Sound ein wenig. Die Unison-Funktion macht leicht verstimmte Kopien der ursprünglichen Wellenform und Schichten sie, um die größeren Klang zu erzeugen. Die Ausbreitung Slider erweitert das Stereofeld wunderschön.
Synth Design-Beispiel 1
Playing with Modulation
Zurück in der A Abschnitt Überblick, entschied ich mich zu spielen, um mit der Form, Symmetrie und Hard Sync Regler im Oszillator-Bereich, mehr Charakter zu verleihen zu bringen. Ich experimentierte auch mit modulierender jeden dieser Parameter durch unterschiedliche LFOs, die bei etwas anderen, langsamen Geschwindigkeiten. Ich entdeckte schnell, dass ich begann, ein Interesse Pad Sound mit sich entwickelnden Charakter erstellen. An diesem Punkt ging ich auch zu meinem Amp Envelope Schnitt und justiert die Attack und Release, so dass es glatt war an beiden Enden beim Wechsel zwischen Akkorden.
Synth Design-Beispiel 2
Die Matrix-Fenster Modulation Abschnitt ist ein großartiger Ort, um verschiedene Quellen und Ziele zu versuchen. Alles, was in der Oszillator-Bereich können mit LFOs, Hüllkurven moduliert und Controller wie mod Rädern zugeordnet werden. Ich bequemer Navigation dieser Mod Schnitt insbesondere im Vergleich zu anderen Software-Synthesizer fühlte ich
Save and Tag your Custom Patch
Einer der wichtigsten Schritte bei der Synth Patch Schöpfung ist, um zu speichern und markieren Sie Ihre neuen Sound, so dass Sie alle Ihre harte Arbeit und Zeit nicht verlieren. Sie können ein paar verschiedene Variationen eines Patches während des Syntheseprozesses, die Spar Warrant, Benennung und Kennzeichnung für verschiedene musikalische Zwecke zu finden. Der erste Schritt ist, um Ihren Sound in den Save
Fun with Effects and Arpeggiation
Nach Abschluss einer Pad-Sound, habe ich es als Ausgangspunkt, um eine andere brauchbare Sounddesign. I didn
Synth Design-Beispiel 3
A World of Possibilities… Guided by You!
Die Welt der Synthesizer-Programmierung ist offen für alle Produzenten und Musikern unabhängig von seiner Erfahrung. Software Synths insbesondere werden immer so zugänglich, dass jeder kann beginnen, einzigartige Sounds schnell erstellen. Da entdeckte ich auf meiner Reise, begann mein eigener Patches mit einem einfachen Dreieckwelle und vieles mehr mit nur wenigen Anpassungen, um verschiedene Parameter zu werden. Egal, ob Sie Omnisphere oder verwenden