Spectrasonics Omnisphere est connu comme l'un des synthétiseurs logiciels les plus puissants et les mieux sonnant sur le marché. Il vient de recevoir un autre coup de pouce dans la stratosphère de production audio avec son vaste mise à jour 2.0, attirer de nouveaux utilisateurs et les fans pour sa qualité sonore et de design. Ce
Cela dit, le but de cet article est d'explorer les bases de la création de patch de synthé personnalisé à l'aide du puissant et facile à utiliser l'interface dans Omnisphere. Non seulement la conception de l'interface intuitive, mais aussi la complexité de ce
Dans cet article, je vais vous donner un aperçu de la façon de commencer à programmer des synthés et très rapidement trouver des sons uniques et inspirants. je
In the Beginning: The Default Patch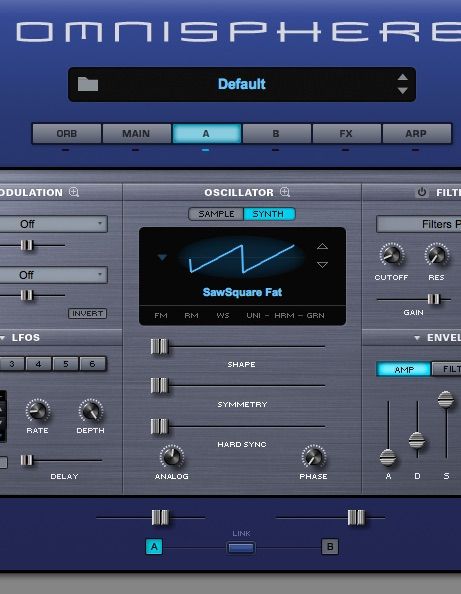 Figure 1
Lorsque vous chargez Omnisphere dans votre DAW, le patch par défaut est chargé avec une
More Fun in the Oscillator Section
Dans la section de l'oscillateur élargi vous avez la possibilité d'ajouter la synthèse supplémentaires, y compris FM (modulation de fréquence), modulation en anneau, Waveshaper et choisir entre Unison, Harmonia et granulaire. Ils ont tous le changement dans le son de différentes manières en fonction de votre forme d'onde de départ donc je vous conseille d'aller dans ce domaine depuis un certain temps et d'explorer les options au sein de chaque section. Pour ma onde simple triangle, je choisi d'utiliser la section Unison pour engraisser un peu le son. La fonction Unison fait des copies légèrement désaccordées de la forme d'onde d'origine et les couches pour créer le plus gros son. Le curseur de la propagation élargit le champ stéréo magnifiquement.
Synth Conception Exemple 1
Playing with Modulation
Retour dans la liste de la section A, je décidai de jouer avec la forme, la symétrie et Hard Sync curseurs dans la section de l'oscillateur pour apporter plus de caractère au son. Je également expérimenté avec la modulation de chacun de ces paramètres à travers différents LFO fonctionnant à légèrement différentes, des rythmes lents. Je me suis vite découvert que je commençais à créer un son de Pad intéressés à l'évolution des personnages. À ce point, je suis aussi allé à ma section Amp Envelope et ajusté l'attaque et de relâchement de sorte qu'il était lisse sur les deux extrémités lors du changement entre les cordes.
Synth Conception Exemple 2
La fenêtre de la matrice de section Modulation est un excellent endroit pour essayer différentes sources et cibles. Tout dans la section de l'oscillateur peut être modulée avec LFO, enveloppes et assigné à des contrôleurs comme les roues mod. Je me sentais plus à l'aise de naviguer cette section Mod en particulier par rapport à d'autres synthés virtuels, je
Save and Tag your Custom Patch
Une des étapes les plus importantes dans la création de patch Synth est de sauver et de marquer votre nouveau son de sorte que vous ne perdez pas tout votre dur travail et de temps. Vous pouvez trouver quelques différentes variations d'un patch lors de votre processus de synthèse qui méritent d'économie, de nommage et de marquage à des fins différentes de musique. La première étape est d'enregistrer votre son dans la
Fun with Effects and Arpeggiation
Ayant achevé son d'un pad, je l'ai utilisé comme un point de départ pour concevoir un autre son utilisable. Je n ai pas
Synth Conception Exemple 3
A World of Possibilities… Guided by You!
Le monde de la programmation synthé est ouvert à tous les producteurs et musiciens indépendamment de l'expérience. Synthés logiciels, en particulier, sont de plus en si accessible que tout le monde peut commencer à créer des sons uniques rapidement. Comme je l'ai découvert sur mon parcours, mes patchs personnalisés commencé avec une vague de triangle simple et deviennent beaucoup plus avec seulement quelques ajustements à divers paramètres. Que vous utilisiez ou Omnisphere