The new Studio One has had quite an overhaul with an enormous amount of new features. Many of these aimed at improving your music compositions and workflow. Let's take a look at some of the standout features that have been added to the new version and their benefits.
The New Browser
First, let's start by looking at the changes to the interface. The color has been slightly darkened and helps make the different sections stand out. But other than the new color change there isn't a huge difference to the layout. The other difference is the update to the browser window. For PreSonus's bundled effects and instruments, there are now icons to represent them along with the name. This is a useful feature because as you get familiar with the look of these effects you can quickly grab the icon and drag and drop it to add them to your track.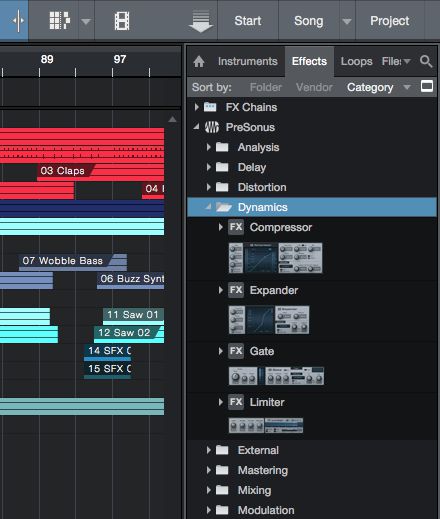 Another cool thing about the new browser panel is that you can now add tags to your audio loop content. What's great about this is that you can use this as an organizational tool. So you can use the tags to narrow down your searching when looking for audio loop content for your song.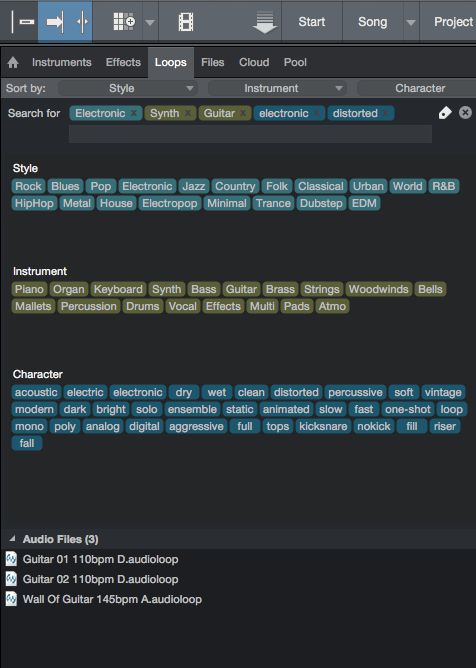 The Arranger and Scratch Pad
The biggest new addition is the Arranger and its counterpart the Scratch Pad. The arranger is a new lane that you can open above your tracks, and in here you can draw in different arrangement parts for your song such as Intro, Verse and Chorus. The beauty of this feature is that once you can draw up your arrangement, you can easily change them by dragging these parts around, and the associated clips will move as well'"making it quick and easy to change up your song.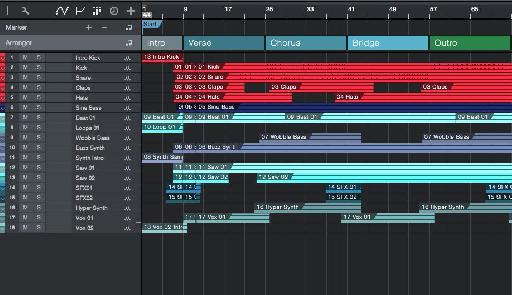 This feature works well with the new Scratch Pad feature. This splits up your Arrange area into two timelines so you can have a different arrangement in each split. You can hash out ideas and then when you're happy with them, you can drag them across to the main arrange area. And vice versa: you can drag arrangement parts or tracks from your song into the Scratch Pad, work on them and then when you're finished, drag them back to your main arrange area. So your tracks remain intact with their respective effects and instruments, but you can work out new ideas and then move them back. It also works really well for testing out alternate versions of your songs arrangement. Maybe you want to do a radio mix of your song. Drag the parts across to the Scratch Pad and test it out with the arrangement changes.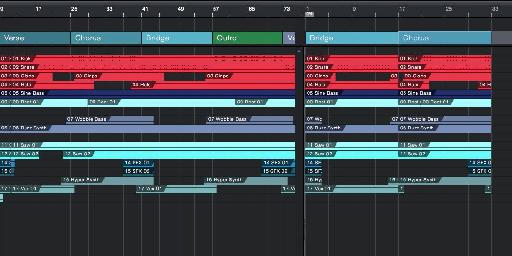 You can have multiple Scratch Pads. So another way to work with them is that you can use them as alternate versions of your songs. And then when you save your song, these sketchpads are saved with them. So you don't have to save alternate versions of each reiteration of your song.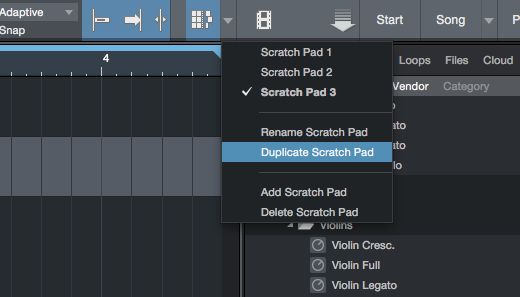 This is an innovative and unique idea on PreSonus' part. They are definitely catering for the songwriter. It will be interesting to notice how users take advantage of this feature and how it'll be expanded in the future.
The New FX Chains
Studio One v3 now has an extended version of its effects chains. You can now create complex effect chain routings. What's cool is that you can insert splitters into your effect chains, and this way you can create series or parallel chains for your effects. This allows you to really build up complex effect routings. And it's very easy to build up these chains as you can drag and drop effects into the chain or onto the splitters. And it can be combinations of VST or AU units, so you can make use of all your effects and 3rd-party plugins in these chains.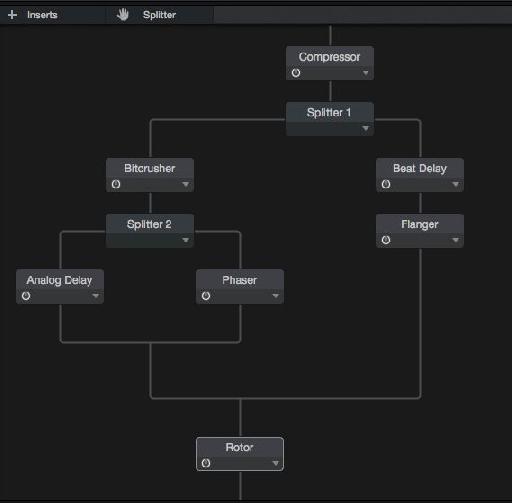 Multi-Instruments
Taking influence of this extended FX chains, you can now also build up multi-instruments using this same feature set. Drag another instrument onto a current instrument track and it'll ask you if you want to combine the instruments. It then create a multi instrument, where you can set up key ranges for each instrument, plus even adjust the volumes and pan parameter for each instrument. This works really well to create some interesting instrument combinations that you can use in your songs. You can then save each multi-instrument as a preset to recall in your future songs.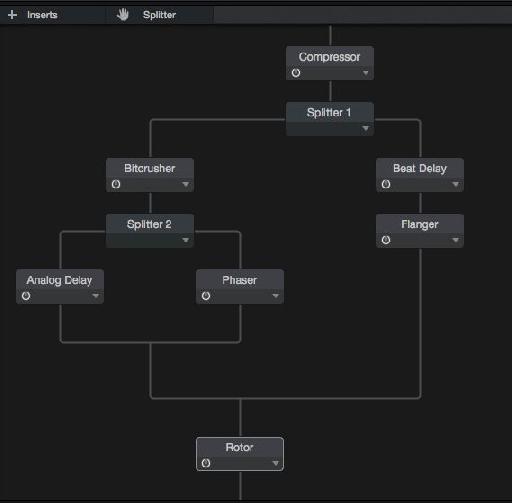 Added Instruments
On the instrument front, there have been two new additions. Mai Tai is a polyphonic analog modeling synth. With its oscillators and multimode filters, you can produce a great combination of classic analog synths sounds, through to interesting electronic soundscapes. And by using its modular matrix you can get deep into this synth and produce some complex sound design in your songs. It also comes bundled with some great presets so you can quickly get some analog modeled sounds. I really like the selection of bell and lead presets that come with this synth. But it also comes with a selection of bass, pad, and FX presets.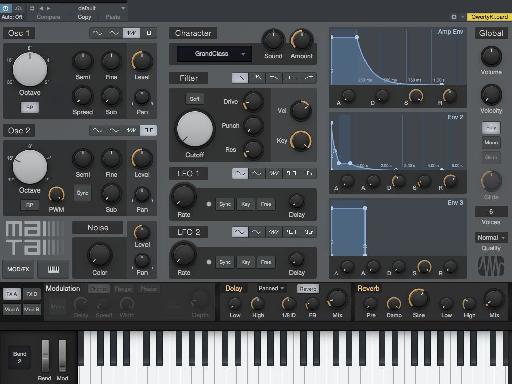 The other addition is the upgrade on the Presence sampler, which has now been rebranded as Presence XT with a whole bundle of new features. The audio engine has been redesigned so you'll notice a difference in the audio quality when you load up your presets. A new scripting engine has been added to give more realism to some of the analog modeled sounds such as the guitar and bass preset samples by adding in such things as fret noise through the audio scripting engine. The strings samples are also very good with a realism quality. I really liked the violin patches. Also the samples load up very quickly and you can see easily on the keyboard in what range the samples playback from.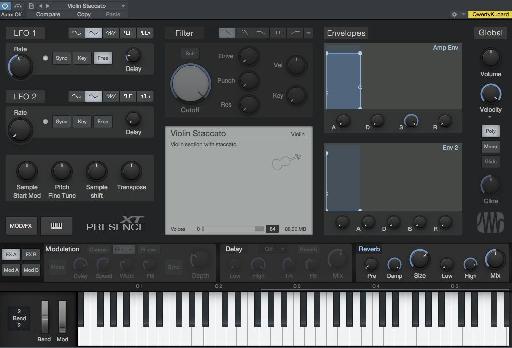 New MIDI Effects
On the MIDI front, there has been the addition of the MIDI effects that can be applied to your Instruments and MIDI tracks. My two favorites are the Arpeggiator and Repeater. Let's first take a look at the Arpeggiator. This effect allows you to create classic arpeggiation patterns with a modern twist with your MIDI instruments. You've got a choice of different arp patterns. And you can set different velocity and gate settings on the 32-step pattern. So using this you can create unique rhythmic patterns in your songs.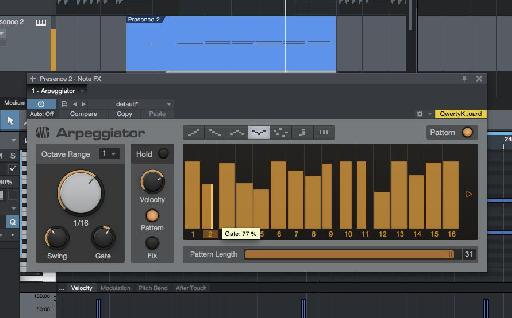 The Repeater is a very simple MIDI echo effect where it repeats the MIDI note, and you can choose how many repeats there are, and their subdivision, velocity and gate settings on the repeats. This is useful when looking to create elements like fast MIDI echos and glissandos. This is super handy in any sound design aspect.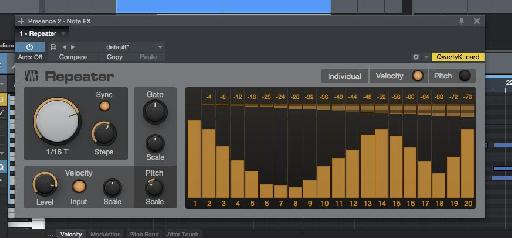 On the MIDI front, I would have liked to see some more advancements with the MIDI tool set to use in the MIDI editor. But hopefully, that will be updated in a future release.
Conclusion
There has been an enormous amount of updates to the new Studio One and each has really helped improve the workflow and musical creativity with Studio One, especially on the musical compositional side. The new look is improved, especially when working on long sessions, but it's not too drastic a change as to put off long-time users. And there has been a slew of audio, and instrument updates. My favorites have been the Scratch Pad and the Mai Tai synth. So it's definitely worth the upgrade, and if you're looking for a new DAW option Studio One covers this as it comes packed with features and audio content.
Price: $150 for Studio One Artist, and $400 for Studio One Professional. Upgrade and Crossgrade prices are also available.

Pros: Enormous amount of new features. Standouts are the Arranger and Scratch Pad, and Mai Tai Synth.

Cons: I would have liked to see more new features for the MIDI editing functionality.