iZotope a publié RX 5 Audio Editor, une amélioration significative de leur boîte à outils bien garnie de modules logiciels de réparation audio (précédemment à v4). RX 5 ajoute un certain nombre de nouveaux modules de réparation, et apporte des améliorations considérables à beaucoup de ses outils, ainsi que des fonctionnalités supplémentaires qui offrent une plus grande efficacité et une meilleure intégration avec les logiciels audionumériques.
Comme avant, RX 5 disponible en deux versions
En plus d'être disponible en achat individuel, RX5 avancée est disponible dans le cadre d'iZotope
L'un des principaux domaines de l'amélioration de l'efficacité a été flux de travail
Naturellement, tous les modules des versions précédentes de
No Waiting
Bien sûr, RX 5 comprend les modules traitement spectral (et de déconstruire), qui vous permettent de sélectionner graphiquement et d'extraire les sons indésirables des ondes audio, comme un grincement de la pédale dans un morceau de musique ou un passage sirène sur un dialogue d'enregistrement. Maintenant ici
Exemple 1 Audio
[id audio = "36801"]
Je trouvais que cela pourrait vraiment accélérer les choses, surtout avec des problèmes répétitifs, une fois que vous
Chain of tools
RX 5
Les modules de la chaîne ont leurs propres paramètres uniques pour cette chaîne, indépendants des derniers réglages (par défaut) utilisés pour eux quand ils ont été ouverts dans la liste principale sur la droite. Comme avec traitement immédiat, cela peut être un gain de temps considérable pour les modifications récurrentes, particulièrement utile pour le montage de dialogue, où un certain nombre de questions de dialogue typiques (POP, respirations,
Muzzle that vocal
Deux des questions les plus persistantes, quand il vient à des enregistrements vocaux et de dialogue, sont sifflantes (dure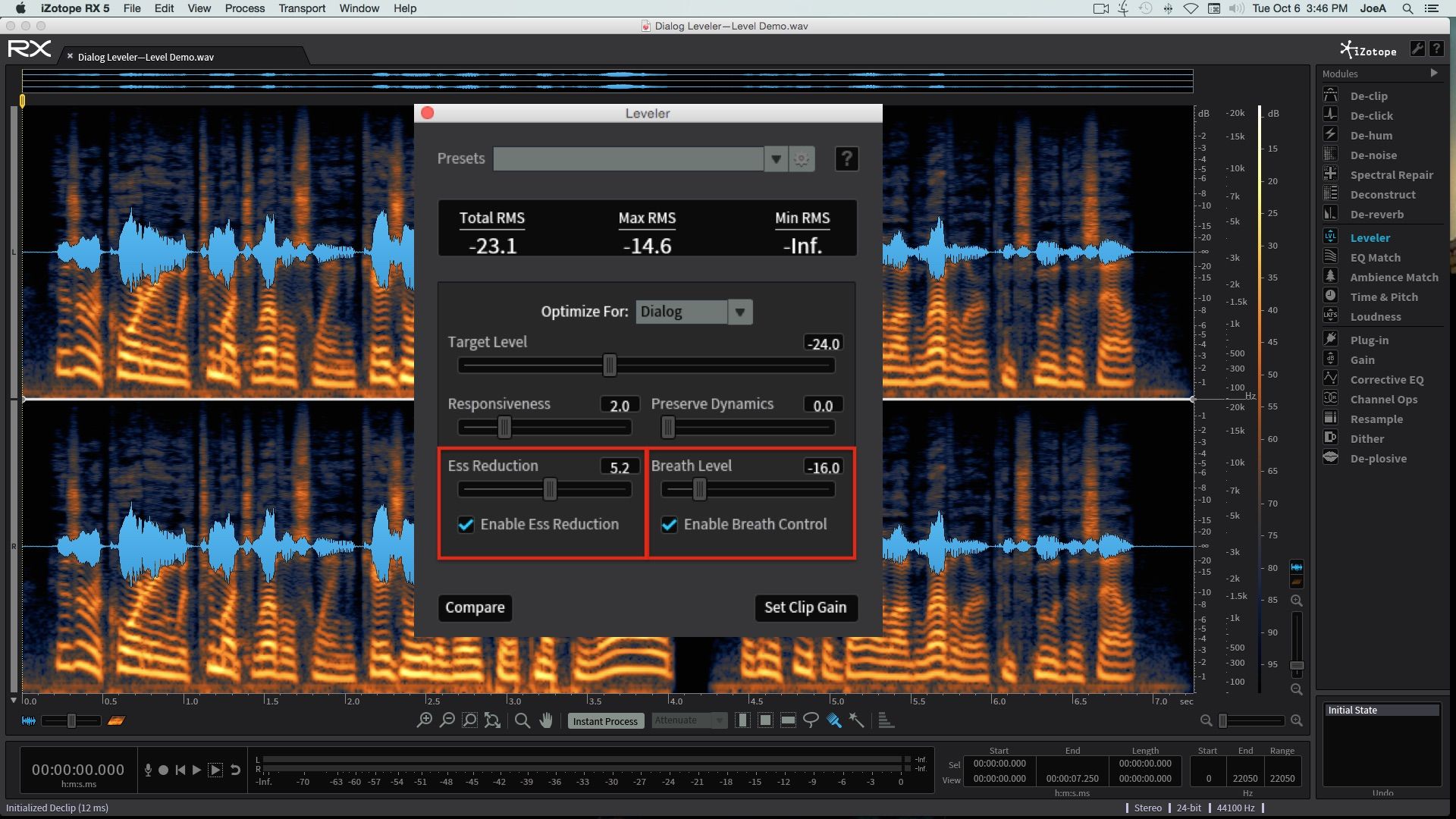 Fig 4 Le dialogue Leveler, mis à fixer l'intensité des sifflantes (de réduction Ess) et les sons de souffle (de contrôle de la respiration).
Pop goes the module
Un
Exemple 2 Audio
[id audio = "36802"]
Wrap-up
Il ya beaucoup d'autres améliorations dans RX 5 et RX 5 avancée, mais que
Prix: RX 5: 349 $; RX 5 avancée: 1199 $; RX Post Production Suite (y compris RX 5 Adv): 1,499 $
Plus: Une suite incroyablement complète et efficace de processeurs de réparation audio qui peuvent répondre à presque toutes les tâches.
Moins: la version avancée est un peu cher, mais il inclut un certain nombre d'extras très utiles.
Web: https://www.izotope.com/en/products/post-production/rx-5-audio-editor/
Cours de la vidéo:
Voici une vidéo du cours,