iZotope ha rilasciato RX 5 Audio Editor, un importante aggiornamento della propria cassetta degli attrezzi ben fornita di audio moduli software di riparazione (precedentemente al v4). RX 5 aggiunge una serie di nuovi moduli di riparazione, e porta notevoli miglioramenti a molti dei suoi strumenti, insieme a funzionalità aggiuntive che offrono una maggiore efficienza e una migliore integrazione con DAW.
Come prima, RX 5 è disponibile in due versioni
Oltre ad essere disponibile come acquisto singolo, RX5 Advanced è disponibile come parte di iZotope
Una delle principali aree di miglioramento è stato in efficienza del workflow
Naturalmente, tutti i moduli delle versioni precedenti di
No Waiting
Naturalmente, RX 5 include i moduli di elaborazione spettrale (e Deconstruct), che consentono di selezionare e graficamente estrarre suoni indesiderati da onde audio, come uno squittio pedale in un brano musicale, o una sirena di passaggio su un dialogo di registrazione. Ora lì
Audio Esempio 1
[id audio = "36801"]
Ho trovato che questo potrebbe davvero velocizzare le cose, soprattutto con i problemi ripetitivi, una volta che si
Chain of tools
RX 5
I moduli di una catena hanno le proprie impostazioni univoche per quella catena, indipendenti dalle impostazioni ultimi (default) utilizzati per loro quando sono stati aperti dalla lista principale sulla destra. Come con la lavorazione immediata, questo può essere un grande risparmio di tempo per le modifiche ricorrenti, particolarmente utile per la modifica di dialogo, dove un certo numero di problematiche tipiche di dialogo (POP, respiri,
Muzzle that vocal
Due dei problemi più persistenti, quando si tratta di registrazioni vocali e di dialogo, sono le sibilanti (dure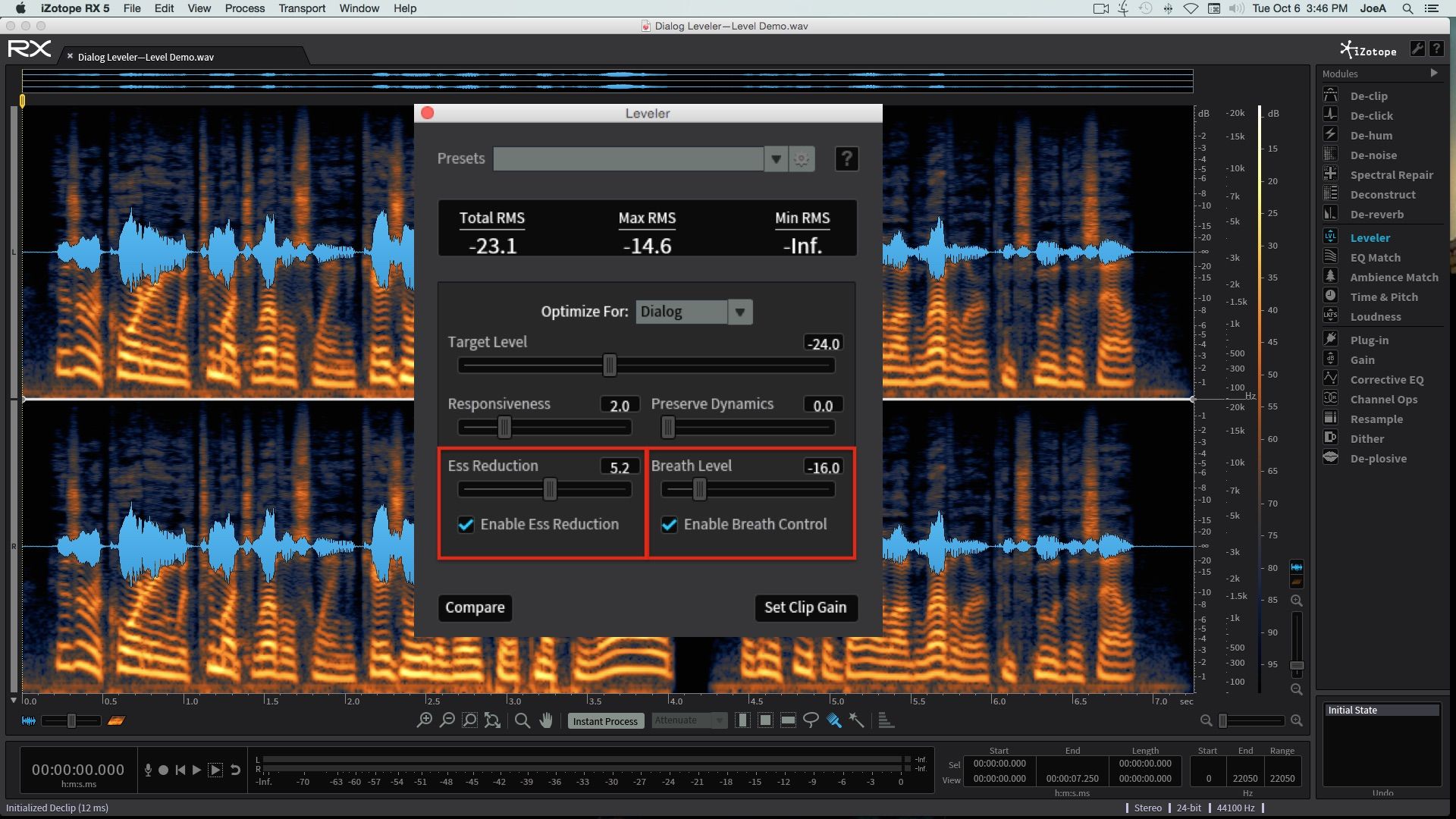 Fig 4 Il Dialog livellatore, impostare per risolvere le sibilanti eccessive (Riduzione Ess) ed i suoni del respiro (controllo del respiro).
Pop goes the module
Uno
Audio Esempio 2
[id audio = "36802"]
Wrap-up
Ci sono un sacco di altri miglioramenti in RX 5 e RX 5 avanzato, ma che
Prezzo: RX 5: $ 349; RX 5 avanzata: $ 1,199; RX Post Produzione Suite (incl RX 5 Adv): 1.499 $
Pro: Una suite incredibilmente completa ed efficace dei processori di riparazione audio in grado di soddisfare quasi tutta l'operazione.
Contro: la versione Advanced è un po 'caro, anche se include un numero di extra molto utili.
Web: https://www.izotope.com/en/products/post-production/rx-5-audio-editor/
Video Corso:
Ecco un video dal corso,