iZotope ha lanzado RX 5 Audio Editor, una importante actualización de su caja de herramientas bien surtida de módulos de software de reparación de audio (previamente en v4). RX 5 añade una serie de nuevos módulos de reparación, y trae mejoras considerables a muchas de sus herramientas, junto con características adicionales que ofrecen una mayor eficiencia y una mejor integración con aplicaciones musicales.
Al igual que antes, RX 5 se presenta en dos versiones
Además de estar disponible como una compra individual, RX5 avanzada está disponible como parte de iZotope
Una de las principales áreas de mejora ha sido en la eficiencia del flujo de trabajo
Naturalmente, todos los módulos de versiones anteriores de
No Waiting
Por supuesto, RX 5 incluye los módulos de procesamiento espectral (y deconstruir), que le permiten seleccionar gráficamente y extraer sonido no deseado de las ondas de sonido, como un chillido pedal en una pista de música, o una sirena de la transmisión de un diálogo de grabación. Ahora hay
Audio Ejemplo 1
[id de audio = "36801"]
He descubierto que esto realmente podría acelerar las cosas, especialmente con problemas repetitivos, una vez que
Chain of tools
RX 5
Los módulos en una cadena tienen sus propias configuraciones únicas para esa cadena, independientes de los últimos ajustes (por defecto) utilizados por ellos cuando se abrieron de la lista principal a la derecha. Al igual que con el procesamiento instantáneo, esto puede ser un gran ahorro de tiempo para los cambios recurrentes, especialmente útil para la edición de diálogo, donde una serie de cuestiones de diálogo típicos (estallidos, respiraciones,
Muzzle that vocal
Dos de los problemas más persistentes, cuando se trata de grabaciones de voz y de diálogo, son sibilancias (dura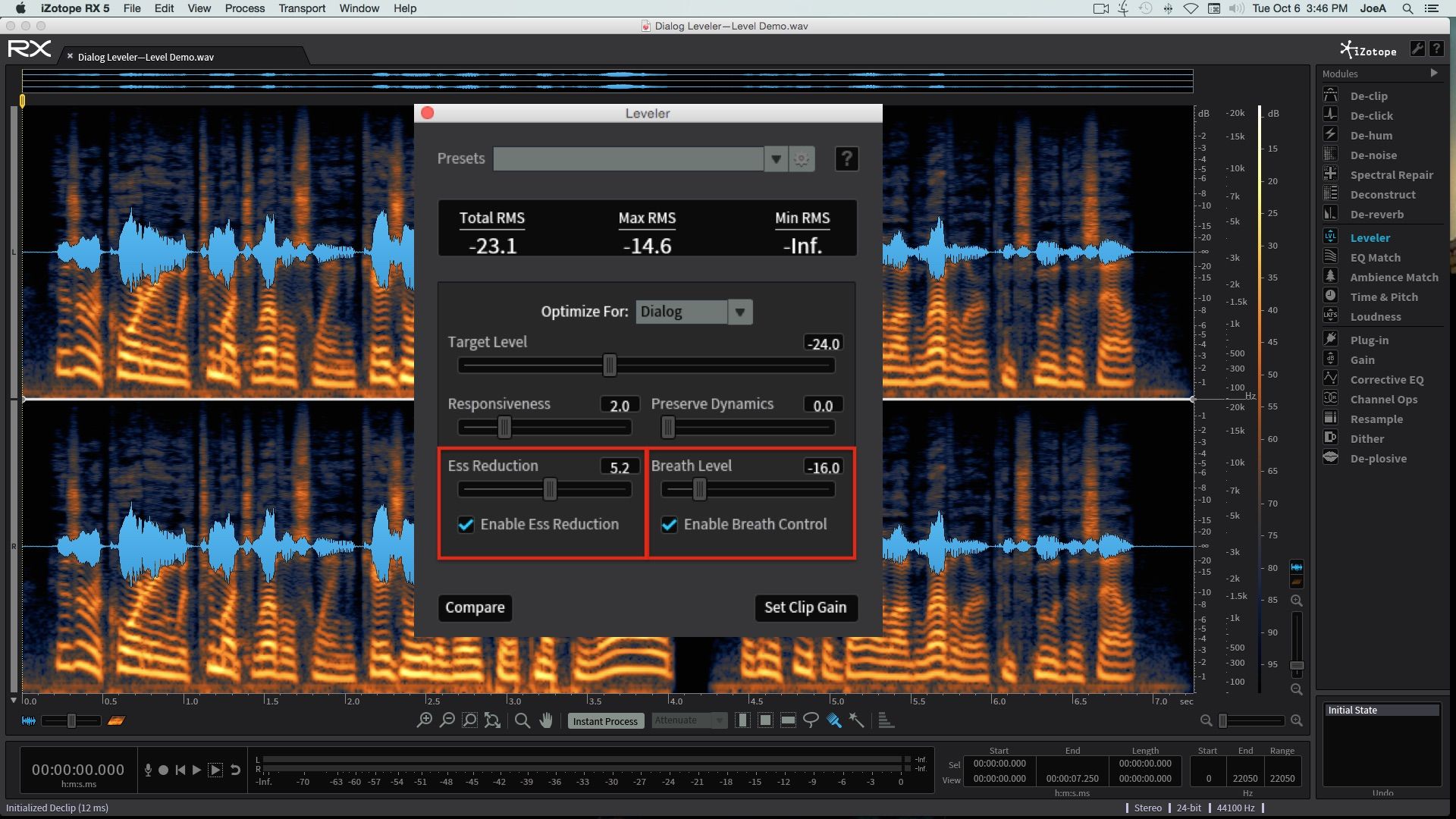 Figura 4 El diálogo Nivelador, ajuste para fijar la sibilancia excesiva (Reducción Ess) y sonidos respiratorios (control de la respiración).
Pop goes the module
Uno
Audio Ejemplo 2
[id de audio = "36802"]
Wrap-up
Hay un montón de otras mejoras en RX 5 y RX 5 avanzada, pero que
Precio: RX 5: $ 349; RX 5 avanzada: $ 1.199; RX Postproducción Suite (incl RX 5 Adv): $ 1499
Pros: Un conjunto muy completo y eficaz de los procesadores de reparación de audio que pueden hacer frente a casi cualquier tarea.
Contras: Versión avanzada es un poco caro, aunque sí incluye una serie de extras muy útiles.
Web: https://www.izotope.com/en/products/post-production/rx-5-audio-editor/
Curso vídeo:
He aquí un video del curso,