iZotope hat freigegeben RX 5 Audio-Editor, ein bedeutendes Upgrade, um ihre gut sortierten Werkzeugkasten von Audio-Reparatur-Software-Modulen (zuvor bei v4). RX 5 fügt eine Reihe von neuen Reparaturmodule und bringt erhebliche Verbesserungen für viele seiner Werkzeuge, zusammen mit zusätzlichen Funktionen, die größere Effizienz und eine bessere Integration mit DAWs bieten.
Nach wie vor RX 5 kommt in zwei Versionen
Abgesehen davon, als Einzelperson erworben werden, ist RX5 Erweiterte verfügbar als Teil iZotope
Einer der wichtigsten Bereiche der Verbesserung wurde in die Workflow-Effizienz gewesen
Natürlich alle Module aus früheren Versionen von
No Waiting
Natürlich RX 5 umfasst die Spectral Processing (und Deconstruct) Module, die Sie grafisch auswählen und extrahieren unerwünschten Ton von Audio-Wellen, wie ein Pedal Quietschen in einem Musikstück, oder eine Weitergabe Sirene auf einen Dialog der Aufnahme lassen. Nun
Audio Beispiel 1
[Audio-id = "36801"]
Ich fand, dass dies wirklich die Dinge zu beschleunigen, vor allem mit sich wiederholenden Problemen, wenn Sie
Chain of tools
RX 5
Die Module in der Kette haben ihre eigenen einzigartigen Einstellungen für diese Kette, unabhängig von der letzten (Standard) Einstellungen für die sie verwendet werden, wenn sie sich aus der Hauptliste auf der rechten Seite geöffnet. Wie bei Instant-Verarbeitung, kann dies eine große Zeitersparnis für wiederkehrende Bearbeitungen, besonders nützlich für die Dialogbearbeitung, wo eine Reihe von typischen Dialogfragen (pops, Atem zu sein,
Muzzle that vocal
Zwei der hartnäckigsten Probleme, wenn es um Gesang und Dialog Aufnahmen kommt, sind Zischlaute (raue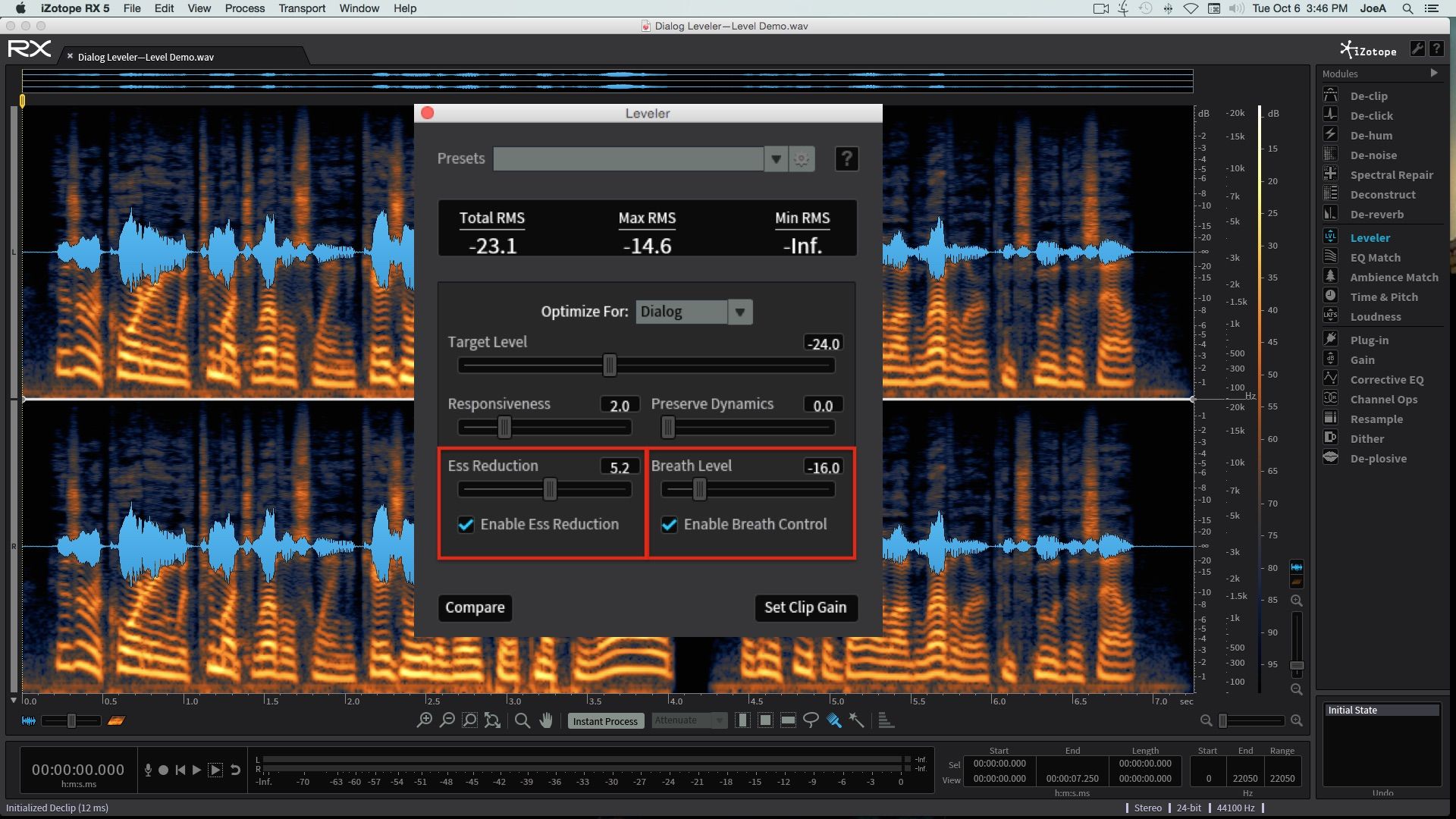 Bild 4 Der Dialog Leveler, eingestellt, um störende Zischlaute (Ess Reduction) und Atemgeräusche (Breath Control) zu beheben.
Pop goes the module
Ein
Audio Beispiel 2
[Audio-id = "36802"]
Wrap-up
Es gibt viele andere Verbesserungen in RX und RX-5 5 Advanced, aber das
Preis: RX 5: $ 349; RX 5 Advanced: $ 1199; RX Post Production Suite (inkl RX 5 Adv): 1.499 $
Vorteile: Ein unglaublich umfassende und wirksame Suite von Audio-Reparaturprozessoren, die fast jede Aufgabe ansprechen.
Nachteile: Erweiterte Version ist ein bisschen teuer, aber es enthält eine Reihe von sehr nützlichen Extras.
Web: https://www.izotope.com/en/products/post-production/rx-5-audio-editor/
Videokurs:
Hier ist ein Video von dem Kurs,