When it comes to organizing complex (and even simple) arrangements in Logic, folders can make your life a lot easier. If you've ever found yourself scrolling and zooming around to find "that" track and feeling like your project is a tangled mess, then folders can potentially save you time and help keep you sane. And let's face it, the last thing anyone wants when creating their next master piece is to spend precious seconds doing anything but creating music!

When recording audio into Logic you'll undoubtedly have become familiar with Take Folders, in which you can store different takes recorded on one track and select and/or comp them to create your ideal performance. Regular folders are different, however, as they allow you to pack multiple tracks (and the regions on those tracks) safely within a Folder track, thus saving you screen real estate by displaying a single track instead of the one's you just packed. This equals a cleaner, less cluttered Arrange area. Genius.
Nel suo ultimo tutorial per macProVideo.com , David Earl (aka. sflogicninja su YouTube) scava più profondo e rivela il suo workflow di produzione con cartelle e come utilizzare in modo efficace per risparmiare tempo e spazio. Ma egli va oltre la chiamata del dovere in questo titolo, portandovi attraverso alcuni accordi e rimescolamento tecniche che semplicemente non sono facili da raggiungere senza l'utilizzo di cartelle. E 'letteralmente pieno di suggerimenti ... Gioco di parole!
Diamo uno sguardo alle basi del lavoro con le cartelle:
Fase 1 - Selezione delle regioni
Seleziona tutte le regioni sulle piste che si desidera mettere in valigia in una nuova cartella. È possibile trascinare una casella di selezione attorno alle regioni o Shift-Click l'intestazione traccia per selezionare tutte le regioni sulla traccia.
In questo esempio ho scelto di imballare il Drums, Bass Shaker e le tracce in una cartella. Notate come ho la più in alto di quelle intestazioni traccia selezionata (Batteria).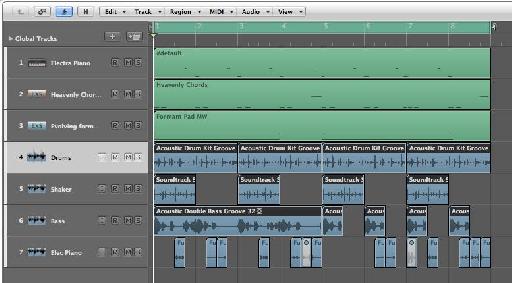 Fase 2 - Pack It In
Quindi, scegliere Regione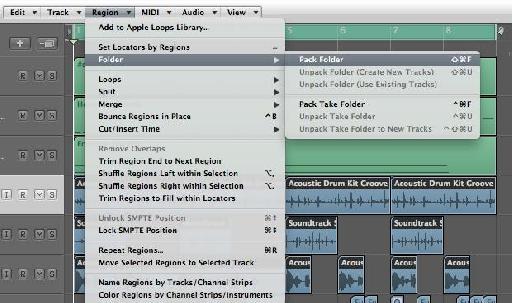 Dai un'occhiata a queste scorciatoie utili per l'imballaggio / disimballaggio cartelle nella finestra Comandi chiave:
Pack Folder
Unpack Folder to New Tracks
Unpack Folder to Existing Tracks
Fase 3 - Tracce cartella Rinominare
Dovreste vedere che tutte le regioni da altre tracce scompaiono dalla vista e una nuova traccia chiamata "Cartella" è collocato sopra la traccia che hai selezionato. La pista cartella contiene una nuova regione con l'icona delle cartelle nell'angolo in alto a sinistra.
Double-click on the Folder track header name to rename the Folder track. I like to name folder tracks so I know what material I'll find inside. e.g. "Drums NLG".
(To create the NLG symbol, hold down Option and hit "f" on your keyboard).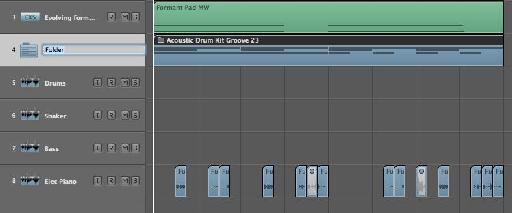 Fase 4 - Rid of Me
Purtroppo, l'originale 3 intestazioni pista abbiamo imballato sono ancora visualizzati nella zona Arrange. Noi in realtà non hanno bisogno di questi di essere visualizzati come sono ora dentro la cartella mini-zona Arrange. (Più avanti).
Per rimuovere queste tracce è possibile selezionare l'intestazione traccia e premere il tasto Canc o scegliere: Track
Ancora una volta, non essere interessati - i brani sono al sicuro!
Fase 5 - In e Out di cartelle
E 'divertente e utile per poter entrare in una pista cartella per visualizzarne il contenuto.
Fare doppio clic sulla regione cartella nella zona Arrange e solo il 3 tracce, con tutte le regioni intatto, verrà visualizzato nella zona Arrange. La finestra Mixer (impostato su "Organizza" modalità di visualizzazione) sarà inoltre possibile aggiornare per mostrare solo le tracce in Disponi troppo - che è un modo utile per sub-mix senza distrazioni extra.

Quindi, come possiamo tornare al 'main' Disponi zona? Fare doppio clic su un'area vuota del Disporre sfondo o clicca su "Cartella Lascia" sopra l'elenco delle tracce intestazione del Arrange.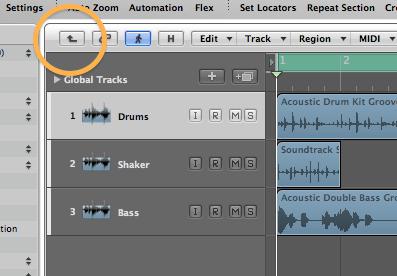 Considerazioni finali
Abbiamo appena grattato la molto, molto basi di cartelle in Logic. Potete imballare le cartelle all'interno di cartelle, registrare all'interno di una cartella, muto e solo e modificare le regioni all'interno di una cartella, tagliare e incollare parti di cartelle, li riorganizzare, loop, creare remix alternativi e le modalità ... e, naturalmente, si può decomprimere una cartella per ripristinare la finestra Arrange al suo stato originale!
Se volete approfondire, mi raccomando entrare Davide Conte come egli vi guiderà attraverso tutte le cartelle essenziali a base di suggerimenti e trucchi di produzione avrete bisogno di sapere in Logic 407: Produrre Con cartelle . Buon divertimento!