Logic Pro 10.7 is here! Will it revolutionize the way we record and mix?
Logic 10.7 has landed and mixing in Spatial Audio is the star of this release along with a bunch of powerful new features, plugins and enhancements.
An Audio Revolution?
Logic 10.7 is revolutionary. Why? Because Dolby Atmos and Spatial Audio is now built into Logic Pro.
First there was mono. Then stereo. And now there is Spatial Audio with Dolby Atmos. This means you no longer need to go to an expensive "pro" studio or even own an expensive multi-speaker system to achieve a professional surround mix. You can now create a binaural mix with headphones that's compatible with many surround formats. This is made possible with the new built-in Dolby Atmos plugin and Logic's new Surround and Object panners.
There are13 new and reimagined Logic plugins to process and meter your surround tracks and mixes.
What makes Dolby Atmos so powerful is its ability to scale from binaural all the way up to 7.1.4. This means that you can do a binaural headphone mix that will be compatible with setups that have multiple speaker configurations. Best of all you can export your project as Spatial Audio that's compatible with Apple Music and allows for a whole new immersive experience in music.
Lots More Sounds
We love new Logic releases because that means tons of new sounds and loops. Logic 10.7 doesn't disappoint! It includes:
2800 new loops in a variety of genres and from some of the world's top producers, including Boys Noize, Mark Lettieri, Mark Ronson, Oak Felder, Soulection, Take A Daytrip, Tom Misch, and TRAKGIRL.

100+ new instrument patches.
50 vintage and modern drum kits.
Sound packs include slap house; modern ambient; and a collection of 808 drum kits, bass samples and loops.
A Refined New Look
With Big Sur Apple introduced a new spacious look and feel. Logic Pro 10.7 has adopted these design cues to make for easier navigation and putting more control at your finger tips. Take a close look at the mixer and see how the buttons and knobs seem to subtlety extend from the UI giving them more definition and clarity. Everything from the curvature of window corners to the palette of colors and materials have been refined.
Major Step Sequencer Refinements
Expanded tools for Step Sequencer that enable live step recording, melodic drum pattern editing, and more. Logic Pro 10.7 adds a host of new features including the ability to change the pitch of a note on a single row perfect for melodic bass drum patterns or hats and snares that pitch up and down throughout a beat. Other Step Sequencer features include:
Live recording right into patterns.
Real-time step input to add notes.
Key and scale global selection now front and center.
Transform MIDI regions into pattern regions.
Recording of automation into rows/steps.
When using Drum Machine designer, note mode editing changes the pitches of a single row/ individual kit piece. This also follows pattern key and scale settings.
Live Record in the Step Sequencer follows Mono Mode / Monophonic input.
Add custom editable names to rows.
Mono Mode to simplify editing monophonic patterns like bass lines.
…and much more
Check out this FREE 10 video course at macProVideo.com
There's just one more thing... an Easter Egg in the Track Inspector!
Look close and you'll now see a MIDI port and channel selector in the Track Inspector! For those of us simultaneously using multiple hardware controllers like sequencers, drum pads and keyboards this is huge! Because now you can EASILY route MIDI from multiple controllers (and the IAC bus) directly to individual tracks by selecting their ports in the Track Inspector. In effect, different controllers can be "normalled" to different tracks by selecting the port and MIDI channel. This allows recording several MIDI controller tracks live at the same time.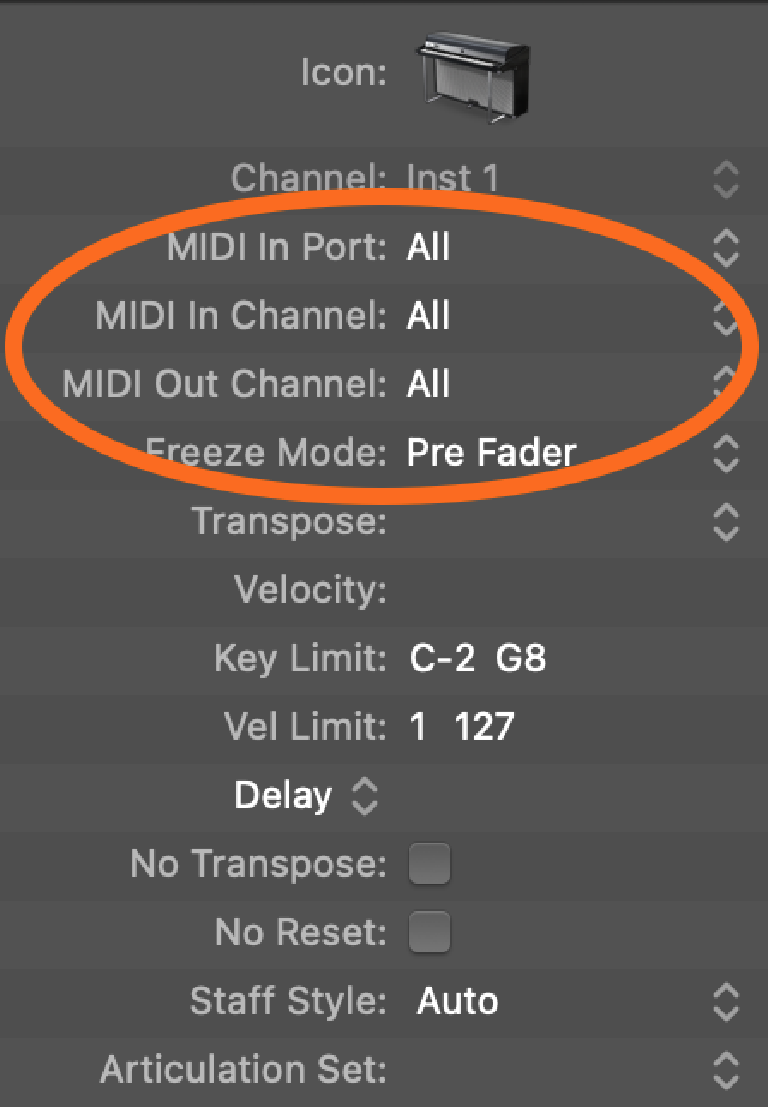 So dive into this FREE Logic Pro 10.7 course and get introduced to all these new features!