When it comes to organizing complex (and even simple) arrangements in Logic, folders can make your life a lot easier. If you've ever found yourself scrolling and zooming around to find "that" track and feeling like your project is a tangled mess, then folders can potentially save you time and help keep you sane. And let's face it, the last thing anyone wants when creating their next master piece is to spend precious seconds doing anything but creating music!

When recording audio into Logic you'll undoubtedly have become familiar with Take Folders, in which you can store different takes recorded on one track and select and/or comp them to create your ideal performance. Regular folders are different, however, as they allow you to pack multiple tracks (and the regions on those tracks) safely within a Folder track, thus saving you screen real estate by displaying a single track instead of the one's you just packed. This equals a cleaner, less cluttered Arrange area. Genius.
Dans son dernier tutoriel pour macProVideo.com , David Earl (alias sflogicninja sur YouTube) va plus loin et révèle son flux de production avec des dossiers et la façon de les utiliser efficacement pour gagner du temps et l'espace. Mais il va au-delà de l'appel du devoir dans ce titre en vous faisant grâce à un arrangement et re-mélanger les techniques qui ne sont tout simplement pas facile à réaliser sans l'utilisation de dossiers. Il est littéralement rempli de conseils ... Jeu de mots!
Prenons un oeil à l'essentiel de travailler avec des dossiers:
Étape 1 - Sélection des régions
Sélectionnez toutes les régions sur les pistes que vous souhaitez emballer dans un nouveau dossier. Vous pouvez soit faire glisser une boîte de sélection autour des régions ou Maj-Cliquer sur l'entête de la piste pour sélectionner toutes les régions sur cette piste.
Dans cet exemple j'ai choisi d'emballer les Tambours, Shaker et pistes de basse dans un dossier. Remarquez comment j'ai le plus haut de ces têtes de piste sélectionné (Batterie).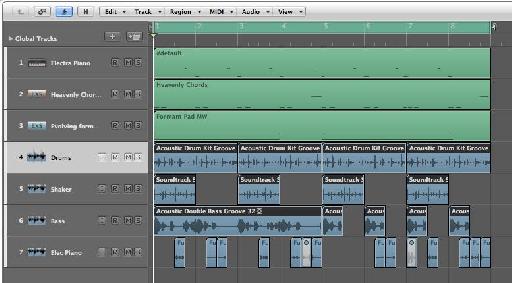 Étape 2 - Pack It En
Ensuite, choisissez la région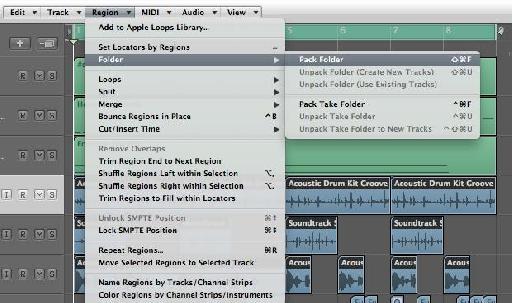 Consultez ces raccourcis utiles pour l'emballage / déballage des dossiers dans la fenêtre Key Commands:
Pack Folder
Unpack Folder to New Tracks
Unpack Folder to Existing Tracks
Étape 3 - Pistes Dossier Renommer
Vous devriez voir que toutes les régions à partir des pistes d'autres disparaissent de la vue et une nouvelle piste appelée "Folder" est placé au-dessus de la piste que vous aviez sélectionné. La piste dossier contient une nouvelle région avec une icône de dossier dans son coin supérieur gauche.
Double-click on the Folder track header name to rename the Folder track. I like to name folder tracks so I know what material I'll find inside. e.g. "Drums NLG".
(To create the NLG symbol, hold down Option and hit "f" on your keyboard).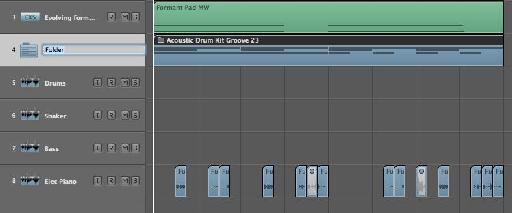 Étape 4 - Rid of Me
Malheureusement, les trois têtes de piste originale nous avons emballé sont toujours affichés dans la zone Arrangement. Nous n'avons pas réellement besoin de ces doit être affiché comme ils sont maintenant à l'intérieur des mini-Organiser le dossier de zone. (Plus sur cela plus tard).
Pour supprimer ces pistes, vous pouvez soit choisir la tête de piste et appuyez sur la touche Suppr ou choisissez: Track
Encore une fois, ne vous inquiétez pas - vos pistes sont sûrs!
Étape 5 - In et Out de Dossiers
C'est amusant et utile d'être capable d'entrer dans une piste répertoire pour voir son contenu.
Double-cliquez sur la région de dossier dans la zone Arrangement et seuls les 3 pistes, avec toutes les régions intactes, seront affichés dans la zone Arrangement. La fenêtre de mixage (fixé à «arranger» le mode d'affichage) seront également mise à jour pour afficher uniquement les pistes dans l'Arrange aussi - ce qui est un moyen utile pour les sous-mix sans aucune distraction supplémentaire.

Alors, comment pouvons-nous revenir à la «principale» Organiser région? Soit double-cliquer sur une zone vide de la Disposer de fond ou de cliquer sur le "dossier Laisser" bouton ci-dessus la liste des tête de la piste de l'Arrangement.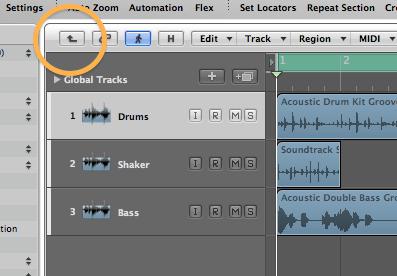 Final Thoughts
Nous avons à peine effleuré la très, très rudiments de dossiers dans Logic. Vous pouvez emballer des sous-dossiers, enregistrer dans un dossier, Mute et Solo et éditer des régions dans un dossier, copier et coller des sections de dossiers, de les réorganiser, en boucle entre eux, créer des remix de remplacement et les arrangements ... et bien sûr vous pouvez décompresser un dossier pour restaurer votre fenêtre d'arrangement à son état d'origine!
Si vous souhaitez approfondir, je vous recommande vivement de rejoindre David Earl comme il vous guide à travers toutes les astuces essentielles de production à base de dossiers et astuces dont vous aurez besoin de savoir dans Logic 407: Produire avec les dossiers . Amusez-vous!