When it comes to organizing complex (and even simple) arrangements in Logic, folders can make your life a lot easier. If you've ever found yourself scrolling and zooming around to find "that" track and feeling like your project is a tangled mess, then folders can potentially save you time and help keep you sane. And let's face it, the last thing anyone wants when creating their next master piece is to spend precious seconds doing anything but creating music!

When recording audio into Logic you'll undoubtedly have become familiar with Take Folders, in which you can store different takes recorded on one track and select and/or comp them to create your ideal performance. Regular folders are different, however, as they allow you to pack multiple tracks (and the regions on those tracks) safely within a Folder track, thus saving you screen real estate by displaying a single track instead of the one's you just packed. This equals a cleaner, less cluttered Arrange area. Genius.
En su último tutorial para macProVideo.com , David Conde (también conocido como sflogicninja en YouTube) profundiza y revela su trabajo de producción con las carpetas y cómo utilizarlos de manera efectiva para ahorrar tiempo y espacio. Pero él va más allá del llamado del deber en este título que le llevará a través de algún tipo de acuerdo y volver a mezclar las técnicas que simplemente no son fáciles de alcanzar sin el uso de carpetas. Es, literalmente, lleno de consejos ... Juego de palabras!
Vamos a echar un vistazo a los fundamentos del trabajo con las carpetas:
Paso 1 - Selección de las Regiones
Seleccione todas las regiones en las pistas que desea hacer las maletas en una carpeta nueva. Puede arrastrar un cuadro de selección alrededor de las regiones o Shift-clic en la cabecera de pista para seleccionar todas las regiones en la pista.
En este ejemplo he optado por paquete de la batería, Shaker y pistas de bajo en una carpeta. Observe cómo tengo la mayoría de la parte superior de las cabeceras de la pista seleccionada (Batería).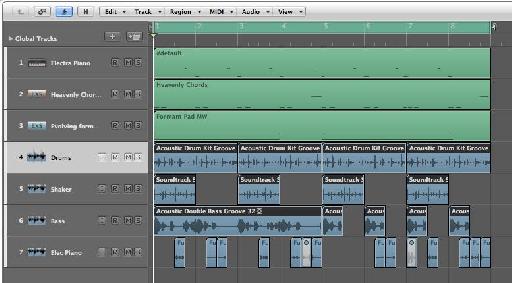 Paso 2 - Pack It In
A continuación, seleccione Región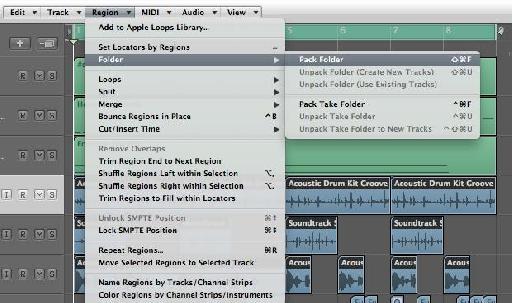 Echa un vistazo a estos atajos útiles para compresión / descompresión carpetas en la ventana de comandos de teclado:
Pack Folder
Unpack Folder to New Tracks
Unpack Folder to Existing Tracks
Paso 3 - Cambiar el nombre de la carpeta Tracks
Usted debe ver que todas las regiones de las otras pistas desaparecen de la vista y una nueva pista llamada "Carpeta" se coloca por encima de la pista que había seleccionado. La pista de carpeta contiene una nueva región con un icono de carpeta en su esquina superior izquierda.
Double-click on the Folder track header name to rename the Folder track. I like to name folder tracks so I know what material I'll find inside. e.g. "Drums NLG".
(To create the NLG symbol, hold down Option and hit "f" on your keyboard).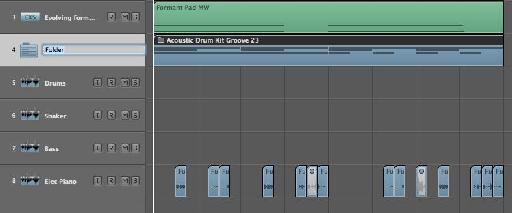 Paso 4 - Rid of Me
Por desgracia, el original de 3 encabezados pista que nos llena aún se muestran en el área Organizar. En realidad no necesitan estos para que se muestre como lo son ahora en el interior mini-área Organizar la carpeta. (Más sobre esto más adelante).
Para eliminar estas pistas se puede seleccionar la cabecera de pista y pulsa la tecla Supr o seleccione: Pista
Una vez más, no se preocupe - las pistas están a salvo!
Paso 5 - dentro y fuera de las carpetas
Es divertido y útil para poder entrar en una pista de carpeta para ver su contenido.
Haga doble clic en la región de carpetas en el área Organizar y sólo el 3 pistas, con todas las regiones intactas, se mostrará en el área Organizar. La ventana del mezclador (en "Organizar" el modo de visualización) también se actualiza para mostrar sólo las pistas de la Organizar también - que es una forma útil para sub-mezcla sin ninguna distracción extra.

Así que, ¿cómo podemos volver a la 'principal' Organizar la zona? Haga doble clic en un área vacía de la Disponer de fondo o haga clic en "Agregar carpeta" situado sobre la lista de la cabecera de la pista de arreglos.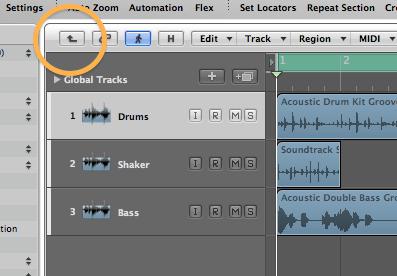 Consideraciones finales
Acabamos de rayado lo básico, muy de carpetas en la lógica. Usted puede embalar carpetas dentro de carpetas, registro dentro de una carpeta, mute y solo y editar las regiones dentro de una carpeta, cortar y pegar secciones de las carpetas, cambiar su posición, bucle, crear remixes alternativos y arreglos ... y por supuesto se puede descomprimir una carpeta para restaurar la ventana Organizar a su estado original!
Si desea profundizar más, me gustaría recomendar encarecidamente unirse a David Earl como él le guía a través de consejos de la producción de todos los elementos esenciales basados ​​en carpetas y trucos que necesita saber en Lógica 407: Con las carpetas de producción . Disfrute!