When it comes to organizing complex (and even simple) arrangements in Logic, folders can make your life a lot easier. If you've ever found yourself scrolling and zooming around to find "that" track and feeling like your project is a tangled mess, then folders can potentially save you time and help keep you sane. And let's face it, the last thing anyone wants when creating their next master piece is to spend precious seconds doing anything but creating music!

When recording audio into Logic you'll undoubtedly have become familiar with Take Folders, in which you can store different takes recorded on one track and select and/or comp them to create your ideal performance. Regular folders are different, however, as they allow you to pack multiple tracks (and the regions on those tracks) safely within a Folder track, thus saving you screen real estate by displaying a single track instead of the one's you just packed. This equals a cleaner, less cluttered Arrange area. Genius.
In seinem neuesten Tutorial für macProVideo.com , David Earl gräbt (aka. sflogicninja auf YouTube) tiefer und offenbart seine Produktions-Workflows mit Ordnern und wie man sie effektiv zu nutzen, um Zeit und Platz zu sparen. Aber er geht über die Call of Duty in diesem Titel, indem Sie durch einige Anordnung und re-Mischtechniken, die einfach nicht leicht, ohne den Einsatz von Ordnern zu erreichen. Es ist buchstäblich mit Tipps verpackt ... Wortspiel beabsichtigt!
Werfen wir einen Blick auf die Grundlagen der Arbeit mit Ordnern:
Schritt 1 - Auswahl der Regionen
Wählen Sie alle Bereiche auf der Spuren, die Sie wollen in einen neuen Ordner zu packen. Sie können entweder ziehen Sie einen Auswahlrahmen um die Regionen oder Umschalt-Klicken Sie auf die Kopfzeile der Spur, um in allen Regionen auf dieser Spur zu wählen.
In diesem Beispiel habe ich gewählt, um die Drums, Shaker und Bass-Tracks in einen Ordner zu packen. Beachten Sie, wie ich oben die meisten dieser Track-Header ausgewählt (Drums) haben.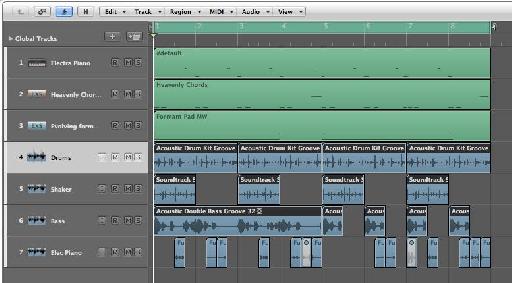 Schritt 2 - Pack It In
Als nächstes wählen Sie Region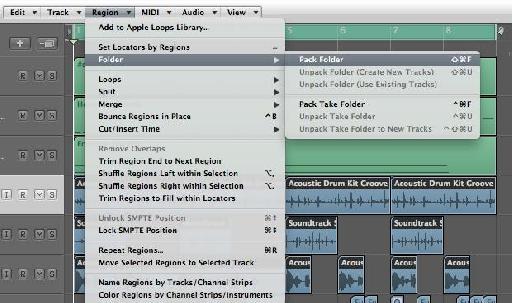 Schauen Sie sich diese nützliche Shortcuts für die Verpackung / Auspacken Ordner im Tastaturbefehle-Fenster:
Pack Folder
Unpack Folder to New Tracks
Unpack Folder to Existing Tracks
Schritt 3 - Umbenennen Ordner Tracks
Sie sollten sehen, dass alle Regionen von den anderen Tracks aus dem Blickfeld verschwinden und einem neuen Track namens "Folder" ist über der Spur, die Sie ausgewählt hatten platziert. Der Ordner-Spur enthält eine neue Region mit einem Ordner-Symbol in der linken oberen Ecke.
Double-click on the Folder track header name to rename the Folder track. I like to name folder tracks so I know what material I'll find inside. e.g. "Drums NLG".
(To create the NLG symbol, hold down Option and hit "f" on your keyboard).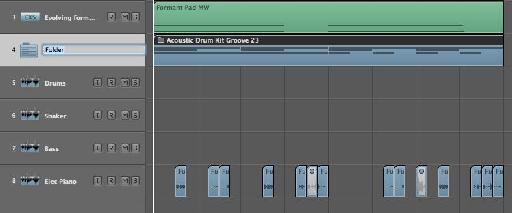 Schritt 4 - Rid of Me
Leider sind die ursprünglichen 3-Spur-Header packten wir noch in der Arrange-Bereich angezeigt. Wir wissen nicht wirklich brauchen diese angezeigt werden sollen, wie sie jetzt in den Ordner Mini-Arrangierbereich sind. (Mehr dazu später).
Zum Entfernen dieser Spuren können Sie entweder die Kopfzeile der Spur und drücken Sie die Entf-Taste oder wählen Sie: Track
Auch hier macht euch keine Sorgen - Ihre Tracks sind sicher!
Schritt 5 - In und Out des Folders
Es macht Spaß und nützlich sein, um einen Ordner track geben, um seinen Inhalt zu sehen.
Auf den Ordner Region Double-Click im Arrangierbereich und nur die 3 Tracks, wobei alle Regionen intakt ist, wird in den Arrange-Bereich angezeigt werden. Das Mixer-Fenster (auf "Anordnen" View-Modus) werden ebenfalls zu aktualisieren, um nur die Titel in der auch anordnen zeigen - was ein sinnvoller Weg ist, um Sub-Mix ohne zusätzliche Ablenkungen.

Also, wie wir das 'main' Arrangierbereich zurückkehren? Entweder auf einen leeren Bereich des Arrange Hintergrund oder klicken Sie auf den "Leave Folder"-Taste über der Kopfzeile der Spur Liste der Arrange Doppelklicken Sie auf.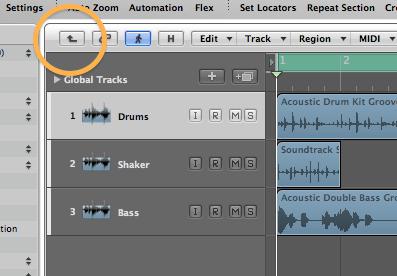 Final Thoughts
Wir haben gerade die sehr, sehr Grundlagen der Ordner in Logic zerkratzt. Sie können Ordner innerhalb von Ordnern, Aufzeichnung in einem Ordner, Mute und Solo-Pack und bearbeiten Regionen innerhalb eines Ordners, geschnitten und Teile der Ordner einfügen, umsortieren, loop sie schaffen alternative Remixe und Arrangements ... und natürlich können Sie entpacken einen Ordner, um Ihre Arrangierfenster in seinen ursprünglichen Zustand wieder herzustellen!
Wenn Sie möchten, zu vertiefen, würde ich empfehlen Beitritt David Earl, als er Sie durch alle wichtigen Ordner-basierte Produktion Tipps und Tricks, die Sie brauchen, um in wissen müssen Logic 407: Produktion mit Ordnern . Viel Spaß!