When it comes to organizing complex (and even simple) arrangements in Logic, folders can make your life a lot easier. If you've ever found yourself scrolling and zooming around to find "that" track and feeling like your project is a tangled mess, then folders can potentially save you time and help keep you sane. And let's face it, the last thing anyone wants when creating their next master piece is to spend precious seconds doing anything but creating music!

When recording audio into Logic you'll undoubtedly have become familiar with Take Folders, in which you can store different takes recorded on one track and select and/or comp them to create your ideal performance. Regular folders are different, however, as they allow you to pack multiple tracks (and the regions on those tracks) safely within a Folder track, thus saving you screen real estate by displaying a single track instead of the one's you just packed. This equals a cleaner, less cluttered Arrange area. Genius.
Em seu mais recente tutorial para macProVideo.com , David Earl (aka. sflogicninja no YouTube) se aprofunda e revela sua produção workflows com pastas e como usá-los de forma eficaz para economizar tempo e espaço. Mas ele vai além da chamada do dever neste título por levá-lo através de alguns arranjos e re-mistura técnicas que simplesmente não são fáceis de alcançar sem o uso de pastas. É literalmente repleto de dicas ... Trocadilhos!
Vamos dar uma olhada no básico de trabalhar com as pastas:
Passo 1 - Seleção das Regiões
Selecione todas as regiões sobre as faixas que você deseja fazer as malas para uma nova pasta. Você pode arrastar uma caixa de seleção ao redor das regiões ou Shift-Clique no cabeçalho da faixa para selecionar todas as regiões nessa faixa.
Neste exemplo eu escolhi para embalar a Bateria, Shaker e faixas de graves em uma pasta. Observe como eu tenho mais a parte superior dos cabeçalhos faixa selecionada (Bateria).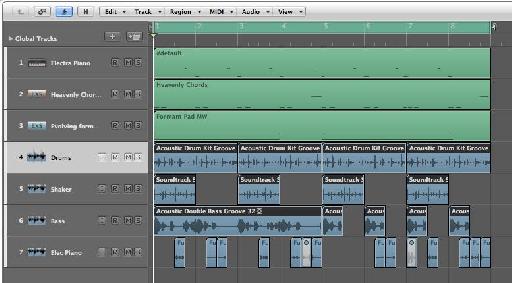 Passo 2 - Pack It In
Em seguida, escolha Região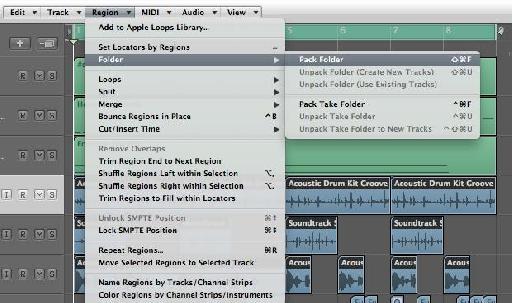 Confira esses atalhos úteis para a embalagem / desembalagem pastas na janela de Comandos-chave:
Pack Folder
Unpack Folder to New Tracks
Unpack Folder to Existing Tracks
Passo 3 - Faixas de pasta Renomear
Você verá que todas as regiões do outras faixas desaparecem de vista e uma faixa nova chamada "pasta" é colocada acima da faixa que você tinha selecionado. A faixa pasta contém uma nova região com um ícone de pasta no seu canto superior esquerdo.
Double-click on the Folder track header name to rename the Folder track. I like to name folder tracks so I know what material I'll find inside. e.g. "Drums NLG".
(To create the NLG symbol, hold down Option and hit "f" on your keyboard).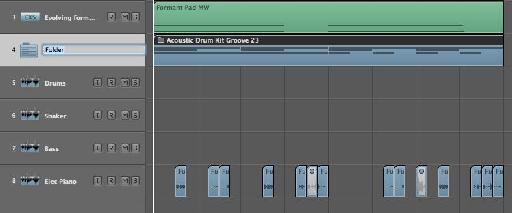 Passo 4 - Rid of Me
Infelizmente, o original 3 cabeçalhos faixa que embalado ainda são exibidos na área Arrange. Nós realmente não precisa que estes sejam exibidos como eles estão agora dentro da área da pasta mini-Arrange. (Mais sobre isso mais tarde).
Para remover essas faixas que você pode selecionar a faixa cabeçalho e pressione a tecla Delete ou escolha: Track
Novamente, não se preocupe - as faixas são seguros!
Passo 5 - Dentro e Fora das pastas
É divertido e útil para ser capaz de entrar em uma pista de pasta para ver seu conteúdo.
Clique duas vezes sobre a região de pasta na área de Organizar e apenas os 3 faixas, com todas as regiões intactas, será exibido na área Arrange. A janela Mixer (definido como "Arrange" modo de visualização) também irá atualizar para mostrar apenas as faixas na Organizar também - que é uma maneira útil de sub-mix sem distrações extra.

Então, como vamos voltar para o 'main' Organizar área? Clique duas vezes em uma área vazia da Organizar fundo ou clique no botão "Leave pasta" botão acima da lista de cabeçalho de trilha da Arrange.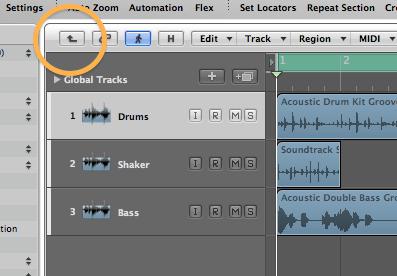 Considerações Finais
Nós apenas arranhamos a muito, muito básico de pastas em Lógica. Você pode embalar pastas dentro de pastas, gravar dentro de uma pasta, mudo e solo e editar regiões dentro de uma pasta, recortar e colar seções de pastas, reorganizá-las, loop-las, criar remixes alternativos e arranjos ... e, claro, você pode descompactar uma pasta para restaurar a janela Organizar a seu estado original!
Se você gostaria de aprofundar, eu recomendo juntar David Earl como ele orienta você através de todas as dicas essenciais pasta-base de produção e truques que você precisa saber Logic 407: Produzindo Com as Pastas . Divirta-se!