L'industria musicale e audio attualmente utilizza la = 440 Hz standard universale regolazione dell'altezza del suono in tutto il mondo. Non è stato
Questo articolo spiega brevemente la storia di messa a punto e di alcuni punti chiave che supportano 432 Hz come l'accordatura scientifica, mettendo in relazione ai rapporti matematici, rapporti armonici e frequenze presenti in natura. Speriamo che questo ispirerà alcune discussioni riflessivo. Ci sono alcuni esempi audio da confrontare messa a punto per l'ascolto critico e una breve spiegazione su come comporre a 432 Hz sintonia in Logic.
A Brief History of Tunings
Un articolo di John Stuart Reid chiamato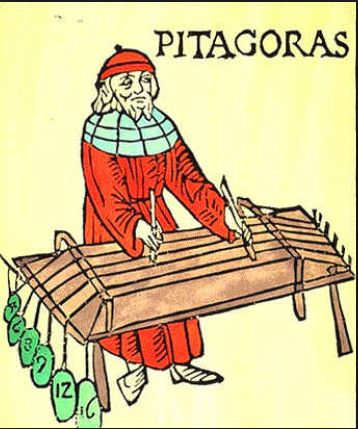 Pitagora con la sua Monochord.
Nei primi anni del 20 ° secolo, vi era la necessità di fare un passo di serie universale utilizzato da tutti a causa di costruttori di strumenti, compositori ed orchestre in tutto il mondo. Anche se 432 Hz è stato pienamente supportato dai compositori francesi e italiani attraverso la maggior parte dei periodi di musica classica, 440 Hz alla fine è diventato lo standard passo universale. Il fisico tedesco Johann Heinrich Scheibler ha inventato un dispositivo chiamato tonometro e fece i primi esperimenti con 440 Hz messa a punto a metà del 1800. Il tonometro consisteva di 54 diapason con una gamma di 220 Hz a 440 Hz distanziati ad intervalli di 4 Hz. Il suo lavoro è diventato ampiamente riconosciuta e una conversazione ha avuto inizio circa un tuning standardizzato.
Dopo un lungo dibattito, gli Stati Uniti adottato 440 Hz come standard nel 1936. Europa, presto seguito con la sua adozione molti anni dopo che è stato proposto per la prima in entrambi i continenti. Ancora oggi, i musicisti credere che la musica suonata in 432 Hz messa a punto ha una migliore risposta del pubblico, ha un effetto calmante e suoni globale più integrata.
Non è ancora del tutto chiaro il motivo per cui è stato scelto 440 Hz. Sembra che gli esperimenti scientifici di Scheibler avuto molta influenza su questa scelta a differenza di quanto messa a punto potrebbe essere stato più in linea con i rapporti armonici e le relazioni presenti in natura. io posso
Mathematics, Nature and Frequency
Il grafico qui sotto mostra come 432 Hz sintonizzazione è derivato sulla base di rapporti armonici pitagorici. Multipli di 2 e 3 costituisce la base del grafico, e la colonna di sinistra mostra tutti i multipli di 2, come la nota C. Nel mezzo, si vedrà che A = 432 Hz. Degna di nota è il numero 108, utilizzato in molte tradizioni spirituali come un numero unificante. Mala rosari sono disponibili in filamenti di 108 e di tradizioni yogiche, 108 saluti sole sono spesso praticate. Il numero 186.624 nel riquadro azzurro è 432 quadrata ed è la frequenza della velocità della luce all'interno centesimi di decimale
La terra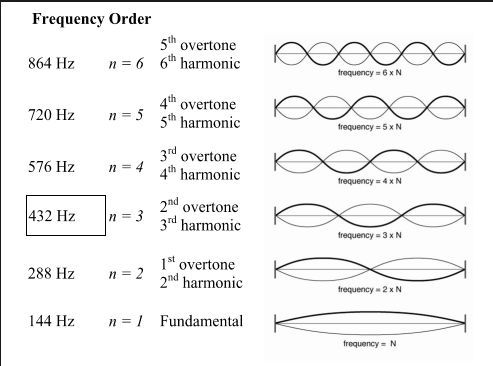 frequenza fondamentale del sole e la sua armonica
i ricercatori hanno anche testato Musica strumenti tradizionali di guarigione, come tibetano ciotole dal Nepal, e ho trovato che sono realizzati in conformità con A = 432 Hz sintonizzazione. Strumenti costruiti per la terapia del suono non devono conformarsi a standard passo universale e stanno diventando sempre più popolare in centri di terapia del suono in tutto il mondo. Possiamo imparare molto da tradizioni culturali della liuteria, legati alle tecniche di essere tramandate di generazione in generazione.
A Note on Equal Temperament VS Pythagorean Temperament
Dobbiamo tenere a mente che il nostro sistema di accordatura universale si basa su 12 toni Temperamento Equal. Significato, tutti gli intervalli o le note adiacenti sono distanziati in modo uniforme l'uno dall'altro in modo che tutte le ottave per lo stesso suono. Nel vero temperamento pitagorico, questo non sarebbe il caso. Pari temperamento è necessario per strumenti come pianoforte, dove le note non può essere piegato. Voci e strumenti a corda tuttavia, sono in grado di piegare le note e cambiare messa a punto più facile da raggiungere le sottili differenze tra le note. Roel Hollander descrive questo in dettaglio sul suo blog,
Audio Examples by Torkom Ji
Torkom Ji, fondatore del Quantum Harmonix suono Healing, ha gentilmente fornito Ask.Audio con 3 esempi musicali a 432 Hz, 440 Hz e 444 Hz. Torkom facilita sessioni di guarigione del suono in tutta l'area di Los Angeles con la sua abitudine Korg Electribe. Lui è un maestro nel creare profondi, i viaggi paesaggio sonoro di risonanza utilizzando solo questo strumento. esso
Occhi interne MP3 432 Hz:
[id audio = "39526"]
Occhi interne MP3 440 Hz:
[id audio = "39524"]
Occhi interne MP3 444 Hz:
[id audio = "39525"]
* Dal Geroglifico Album:
Come si ascolta, porsi queste domande:
Fa un suono più integrata rispetto agli altri?
Si fa a mettere in evidenza una certa gamma di frequenze?
Fa un suono più sottile rispetto agli altri?
Ti senti più rilassato con uno, più agitato con un altro, o neutro a tutti?
Alcune persone credono in risposte specifiche a queste domande, ma la realtà è, sono necessarie ulteriori ricerche in questo settore per convincere le masse in un modo o nell'altro. Dal momento che non ci sono più
Try it Out In Logic
La logica è un grande DAW per provare 432 Hz o un'altra messa a punto. C'è un mondiale finestra delle impostazioni di regolazione si trova nel menu Impostazioni progetto. Impostare la messa a punto qui influisce su tutti gli strumenti software in Logic, esclusi gli strumenti di terze parti. L'accordatura varia da 415,3 Hz (-100 centesimi) a 466,3 Hz (100 centesimi), con 440 Hz come standard passo corrente. Quando si imposta il cursore che ho notato ho potuto impostare a 432,2 Hz o 431,9 Hz, ma non proprio sulla 432 Hz. Il motivo è il cursore funziona off di incrementi cent. Quindi, se passo il vostro registrazioni o singole parti verso il basso, si dovrebbe abbassare l'intonazione di 31 o 32 centesimi per avvicinarsi a 432 Hz. (Nota del redattore:
The Great 432 Hz Debate
Con così gran parte del mondo musicale (acustica ed elettronica) operante a 440 Hz accordatura standard di oggi,
Ulteriori informazioni sulla teoria musicale in Ask.Audio Academy qui .