L'industrie de la musique et de l'audio utilise actuellement le A = 440 Hz norme universelle réglage du ton dans le monde entier. Ce ne était pas
Cet article explique brièvement l'histoire de la mise au point et quelques points clés qui soutiennent 432 Hz que l'accord scientifique, en le rapportant à des relations mathématiques, rapports harmoniques et des fréquences trouvées dans la nature. Espérons que cela va inspirer des discussions réfléchies. Il existe quelques exemples audio à comparer tuning pour une écoute critique et une brève explication sur la façon de composer dans 432 Hz tuning dans Logic.
A Brief History of Tunings
Un article de John Stuart Reid a appelé le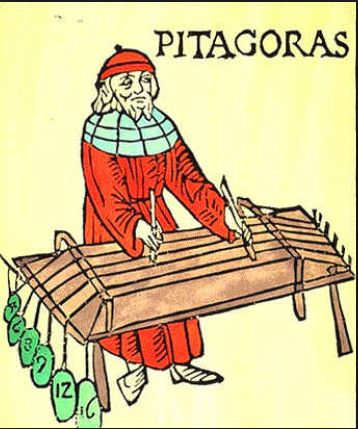 Pythagore avec son monocorde.
Au début du 20 ème siècle, il y avait un besoin de faire une norme de hauteur universel utilisé par tous pour l'amour de luthiers, compositeurs et orchestres partout. Même si 432 Hz a été entièrement pris en charge par les compositeurs français et italiens à travers la plupart des périodes de musique classique, 440 Hz a fini par devenir la norme de hauteur universelle. Physicien allemand Johann Heinrich Scheibler a inventé un appareil appelé le tonomètre et a fait les premières expériences avec 440 Hz tuning dans les milieu des années 1800. Le tonomètre est composée de 54 diapasons avec une gamme de 220 Hz à 440 Hz espacées à intervalles de 4 Hz. Son travail est devenu largement reconnu et une conversation a commencé sur une accordage standard.
Après un long débat, les Etats-Unis adopté 440 Hz comme la norme en 1936. l'Europe bientôt suivi avec son adoption de nombreuses années après il a été proposé d'abord sur les deux continents. Même aujourd'hui, les musiciens croire que la musique jouée en 432 Hz tuning a une meilleure réponse du public, a un effet calmant et des sons globale plus intégrée.
Il est pas encore tout à fait clair pourquoi 440 Hz a été choisie. Il semble que les expériences scientifiques par Scheibler avaient beaucoup d'influence sur ce choix, par opposition à ce que l'accord a pu être plus en ligne avec les rapports harmoniques et les relations dans la nature. je peux
Mathematics, Nature and Frequency
Le tableau ci-dessous montre comment 432 Hz accord est établi à partir de rapports harmoniques de Pythagore. Multiples de 2 et 3 constitue la base de la carte, et la colonne de gauche affiche tous les multiples de 2 que la note C. Au milieu, vous verrez que A = 432 Hz. A noter également le nombre 108, utilisé dans de nombreuses traditions spirituelles comme un certain nombre d'unification. Mala perles de prière viennent en brins de 108 et dans les traditions yogiques, 108 salutations au soleil sont souvent pratiqués. Le nombre 186624 dans la boîte bleue est 432 carré et est la fréquence de la vitesse de la lumière dans les centièmes de décimales
La terre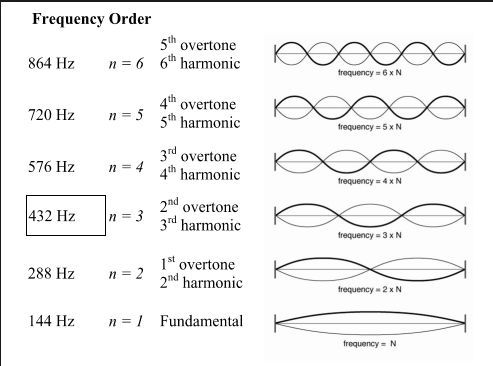 fréquence fondamentale du soleil et son harmonique
chercheurs de musique ont également testé des instruments de guérison traditionnelles, comme les bols tibétains du Népal, et a constaté qu'elles sont faites en conformité avec A = 432 Hz tuning. Instruments faites pour thérapie par le son ne doivent pas se conformer à une norme de terrain universelle et sont de plus en plus populaire dans les centres de thérapie par le son à travers le monde. Nous pouvons apprendre beaucoup de traditions culturelles de la lutherie, liés aux techniques étant transmis à travers les générations.
A Note on Equal Temperament VS Pythagorean Temperament
Nous devons garder à l'esprit que notre système d'accordage universel est basé sur 12 tons tempérament égal. Signification, tous les intervalles ou les notes adjacents sont régulièrement espacés les uns des autres pour que toutes les octaves pour les mêmes sons. En vrai tempérament de Pythagore, ce ne serait pas le cas. Tempérament égal est nécessaire pour les instruments comme le piano où les notes ne peuvent être pliées. Cependant, des voix et des instruments à cordes sont en mesure de plier notes et changer le réglage plus facile à réaliser les différences subtiles entre les notes. Roel Hollander décrit en détail sur son blog,
Audio Examples by Torkom Ji
Torkom Ji, fondateur de Quantum Harmonix sonore de guérison, a gracieusement fourni Ask.Audio avec 3 exemples musicaux à 432 Hz, 440 Hz et 444 Hz. Torkom facilite séances de guérison sonores partout dans la région de Los Angeles avec son habitude Korg Electribe. Il est un maître dans la création profondes, voyages de paysages sonores de résonance en utilisant simplement cet instrument. Il
MP3 Yeux internes 432 __gVirt_NP_NN_NNPS<__ Hz:
[id audio = "39526"]
MP3 Yeux internes 440 __gVirt_NP_NN_NNPS<__ Hz:
[id audio = "39524"]
MP3 Yeux internes 444 __gVirt_NP_NN_NNPS<__ Hz:
[id audio = "39525"]
* De l'album Hieroglyph:
Pendant que vous écoutez, posez-vous ces questions:
Est-ce un son plus intégrée que l'autre?
Doit-on mettre en évidence une certaine gamme de fréquences?
Est-ce un son plus mince que les autres?
Vous sentez-vous plus détendu avec un, plus agitée avec un autre, ou neutre pour tous?
Certaines personnes croient en des réponses précises à ces questions, mais la réalité est, plus de recherche est nécessaire dans ce domaine pour convaincre les masses d'une façon ou d'une autre. Comme il aren
Try it Out In Logic
Logic est un grand DAW pour essayer 432 Hz ou à un autre accord. Il y a une fenêtre de paramètres globaux de réglage située dans le menu Paramètres du projet. Réglage de la mise au point ici affecte tous les instruments logiciels de Logic, à l'exclusion des instruments tiers. Le réglage varie de 415,3 Hz (-100 cents) à 466,3 Hz (100 cents) à 440 Hz comme la norme de hauteur actuelle. Lors du réglage du curseur je remarqué que je pouvais mettre à 432,2 Hz ou 431,9 Hz, mais pas à droite sur 432 Hz. La raison étant le curseur fonctionne hors des incréments d'un centième. Donc, si vous plantez vos enregistrements ou des parties individuelles vers le bas, vous abaisser la hauteur de 31 ou 32 cents pour obtenir près de 432 Hz. (Note de la rédaction:
The Great 432 Hz Debate
Avec tant de choses du monde musical (acoustique et électronique) fonctionnant à 440 Hz d'accordage standard aujourd'hui, il
En savoir plus sur la théorie musicale dans Ask.Audio Academy ici .