A indústria da música e de áudio atualmente usa o A = 440 Hz padrão universal de sintonia campo em todo o mundo. Não era
Este artigo explica brevemente a história da afinação e alguns pontos-chave que suportam 432 Hz como a afinação científica, relacionando-a com relações matemáticas, relações harmónicas e freqüências encontrados na natureza. Esperemos que isto irá inspirar algumas discussões pensativos. Existem alguns exemplos de áudio para comparar ajuste para ouvir críticas e uma breve explicação sobre como compor em 432 Hz sintonizar Logic.
A Brief History of Tunings
Um artigo por John Stuart Reid chamada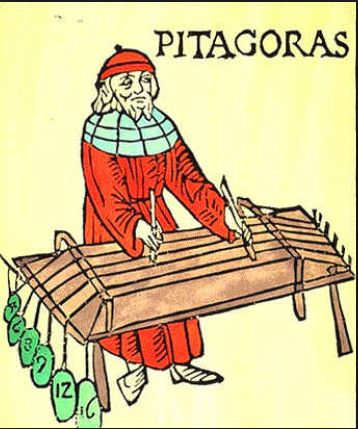 Pitágoras com sua Monochord.
No início do século 20 th, houve a necessidade de fazer um padrão de campo universal usado por todos por causa de fabricantes de instrumentos, compositores e orquestras em todos os lugares. Mesmo que 432 Hz foi totalmente suportado pelos compositores franceses e italianos durante a maior parte dos períodos de música clássica, 440 Hz, eventualmente, tornou-se o padrão de campo universal. O físico alemão Johann Heinrich Scheibler inventou um dispositivo chamado de Tonometer e fez as primeiras experiências com 440 Hz ajuste em meados de 1800. O Tonometer consistiu de 54 diapasões com uma gama de 220 Hz a 440 Hz espaçadas em intervalos de 4 Hz. Seu trabalho tornou-se amplamente reconhecida e uma conversa começou sobre um ajuste padronizado.
Depois de muito debate, os EUA adoptaram 440 Hz como o padrão em 1936. Europa logo em seguida com a sua adopção muitos anos depois que foi proposto pela primeira vez em ambos os continentes. Ainda hoje, os músicos acreditam que a música tocada em 432 Hz ajuste tem uma melhor resposta do público, tem um efeito calmante e sons global mais integrado.
Ainda não está totalmente claro por que 440 Hz foi escolhida. Parece que os experimentos científicos por Scheibler teve uma grande influência sobre essa escolha ao contrário do que a sintonização pode ter sido mais em linha com as relações harmónicas e relacionamentos encontrados na natureza. eu posso
Mathematics, Nature and Frequency
O gráfico abaixo mostra como 432 Hz ajuste é obtido com base em relações harmónicas de Pitágoras. Múltiplos de 2 e 3, constitui a base do gráfico e na coluna da esquerda mostra todos os múltiplos de 2 como o C. nota No meio, você vai ver que A = 432 Hz. Também digno de nota é o número 108, usado em muitas tradições espirituais como um número unificador. Mala contas de oração vêm em fios de 108 e em tradições yogues, 108 saudações ao sol são muitas vezes praticado. O número 186624 na caixa azul é 432 quadrado e é a frequência da velocidade da luz dentro de centésimos de decimal
a Terra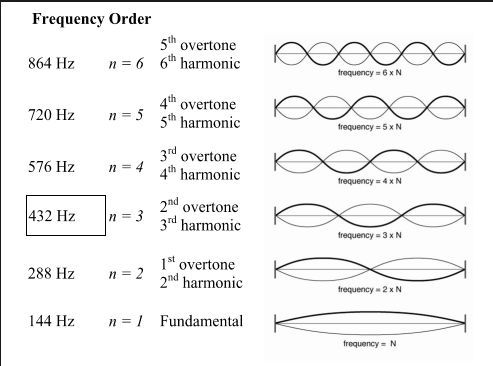 frequência fundamental do sol e sua harmônica
pesquisadores de música também testaram os instrumentos tradicionais de cura, como Taças Tibetanas do Nepal, e descobriu que eles são feitos de acordo com A = 432 Hz tuning. Instrumentos feitos para a terapia de som não têm de obedecer a um padrão de campo universal e estão se tornando mais popular em centros de terapia de som ao redor do mundo. Podemos aprender muito com tradições culturais de tomada de instrumento, ligados a técnicas que estão sendo transmitidas através de gerações.
A Note on Equal Temperament VS Pythagorean Temperament
Temos que ter em mente que o nosso sistema de afinação universal é baseado em 12 tons Temperamento igual. Significado, todos os intervalos ou notas adjacentes são espaçadas uniformemente uns dos outros para que todas as oitavas para o mesmo som. No verdadeiro temperamento de Pitágoras, este não seria o caso. Temperamento igual é necessário para instrumentos como o piano, onde as notas não podem ser dobrados. Vozes e instrumentos de cordas no entanto, são capazes de dobrar notas e mudar o ajuste mais fácil de conseguir as sutis diferenças entre as notas. Roel Hollander descreve isso em detalhes em seu blog,
Audio Examples by Torkom Ji
Torkom Ji, fundador do Quantum Harmonix Cura pelo Som, providenciou graciosamente Ask.Audio com 3 exemplos de música em 432 Hz, 440 Hz e 444 Hz. Torkom facilita sessões de cura de som toda a área de Los Angeles com seu costume Korg NX. Ele é um mestre em criar, viagens paisagem sonora de ressonância profundas usando apenas este instrumento. isto
MP3 Olhos Internos 432 Hz:
[id áudio = "39526"]
MP3 Olhos Internos 440 Hz:
[id áudio = "39524"]
MP3 Olhos Internos 444 Hz:
[id áudio = "39525"]
* A partir do Álbum Hieroglyph:
Como você ouvir, perguntar-se estas perguntas:
Será que um som mais integrada do que o outro?
Será que um trazer uma certa gama de frequências?
Será que um som mais fino do que os outros?
Você se sente mais relaxado com um, mais agitado com outro, ou neutro a todos?
Algumas pessoas acreditam em respostas específicas para estas perguntas, mas a realidade é, é necessária mais investigação nesta área para convencer as massas de uma forma ou de outra. Desde há aren
Try it Out In Logic
A lógica é uma grande DAW para tentar 432 Hz ou de outra sintonia. Há uma janela mundial configurações de ajuste localizado no menu Configurações do projeto. Definindo a afinação aqui afeta todos os instrumentos de software na lógica, exceto os instrumentos de terceiros. A afinação varia de 415,3 Hz (-100 centavos) para 466,3 Hz (100 centésimos) com 440 Hz como o padrão campo atual. Ao configurar o controle deslizante eu percebi que poderia defini-lo para 432,2 Hz ou 431,9 Hz, mas não à direita em 432 Hz. A razão é o controle deslizante funciona fora de incrementos cento. Então, se você lançar suas gravações ou partes individuais para baixo, você iria diminuir o tom por 31 ou 32 centavos para chegar perto de 432 Hz. (Nota do editor:
The Great 432 Hz Debate
Com tanta coisa do mundo musical (acústica e eletrônica) operando a 440 Hz afinação padrão hoje,
Saiba mais sobre a teoria da música em Ask.Audio Academy aqui .