La industria de la música y el audio utiliza actualmente el A = 440 Hz estándar universal afinación de tonos en todo el mundo. No era
En este artículo se explica brevemente la historia de la sintonización y algunos puntos clave que apoyan 432 Hz como la afinación científica, relacionándola con las relaciones matemáticas, relaciones armónicas y frecuencias que se encuentran en la naturaleza. Esperemos que esto inspire a algunos debates reflexivos. Hay algunos ejemplos de audio para comparar vibratoria para la escucha crítica y una breve explicación sobre la manera de componer en sintonía 432 Hz en Logic.
A Brief History of Tunings
Un artículo de John Stuart Reid llamó la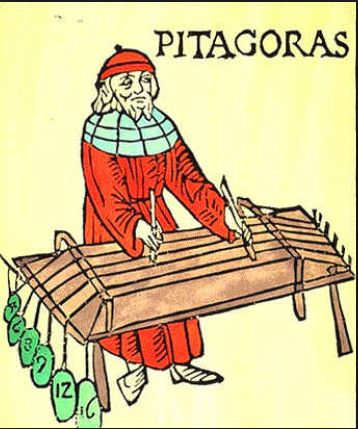 Pitágoras con su monocordio.
A principios del siglo 20, había una necesidad de hacer un estándar de paso universal utilizado de todos por causa de los fabricantes de instrumentos, compositores y orquestas de todo el mundo. A pesar de que 432 Hz fue apoyado plenamente por los compositores franceses e italianos a través de la mayor parte de los periodos de música clásica, 440 Hz con el tiempo se convirtió en el estándar de paso universal. El físico alemán Johann Heinrich Scheibler inventó un dispositivo llamado el tonómetro y realizó los primeros experimentos con 440 Hz de sintonía a mediados de 1800. El tonómetro consistió en 54 diapasones con un rango de 220 Hz a 440 Hz espaciados a intervalos de 4 Hz. Su trabajo llegó a ser ampliamente reconocida y comenzó una conversación sobre una afinación estándar.
Después de mucho debate, los EE.UU. adoptaron 440 Hz como el estándar en 1936. Europa pronto siguió con su adopción muchos años después de que fue propuesto por primera vez en ambos continentes. Incluso hoy en día, los músicos creer que la música interpretada en 432 Hz sintonía tiene una mejor respuesta de la audiencia, tiene un efecto calmante y sonidos global más integrada.
Todavía no está del todo claro por qué se eligió 440 Hz. Parece que los experimentos científicos por Scheibler tuvieron mucha influencia sobre esta elección, a diferencia de lo que puede haber sido puesta a punto más en línea con las proporciones armónicas y las relaciones encontradas en la naturaleza. puedo
Mathematics, Nature and Frequency
La tabla a continuación muestra cómo 432 Hz sintonía se deriva sobre la base de relaciones armónicas pitagóricos. Múltiplos de 2 y 3 es la base de la tabla, y la columna de la izquierda muestra todos los múltiplos de 2 como la nota C. En el medio, se verá que A = 432 Hz. También hay que resaltar el número 108, que se utiliza en muchas tradiciones espirituales como un número unificador. los granos de rezo del mala vienen en hebras de 108 y en el yoga, 108 saludos al sol se practica a menudo. El número 186624 en el cuadro azul es cuadrado y 432 es la frecuencia de la velocidad de la luz en centésimas de punto decimal
La tierra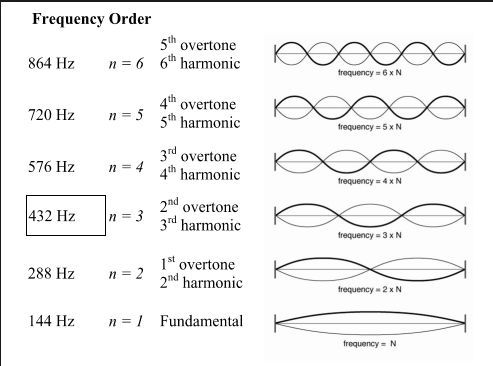 frecuencia fundamental del sol y su armónica
los investigadores de la música también han puesto a prueba los instrumentos tradicionales de curación, como cuencos tibetanos de Nepal, y se encontró que se realizan de acuerdo con A = 432 Hz sintonía. Los instrumentos hechos para la terapia de sonido no tienen que ajustarse a una norma de paso universal y son cada vez más popular en los centros de terapia de sonido de todo el mundo. Podemos aprender mucho de las tradiciones culturales de la fabricación de instrumentos, vinculados a las técnicas que se pasaron de generación en generación.
A Note on Equal Temperament VS Pythagorean Temperament
Hay que tener en cuenta que nuestro sistema de afinación universal se basa en 12 tonos temperamento igual. Esto quiere decir que todos los intervalos o notas adyacentes están espaciados uniformemente entre sí a fin de que todas las octavas que suenan igual. En cierto temperamento de Pitágoras, esto no sería el caso. Se requiere el temperamento igual de instrumentos como el piano, donde las notas no pueden ser dobladas. Las voces y los instrumentos de cuerda sin embargo, son capaces de doblar notas y cambiar la sintonización más fácil de lograr las sutiles diferencias entre las notas. Roel Hollander describe en detalle en su blog,
Audio Examples by Torkom Ji
Torkom Ji, fundador de Quantum Harmonix sonidoterapia, ha proporcionado amablemente Ask.Audio con 3 ejemplos de música en 432 Hz, 440 Hz y 444 Hz. Torkom facilita sesiones de curación de sonido en todo el área de Los Ángeles con su costumbre Korg Electribe. Él es un maestro en la creación de paisajes sonoros, viajes resonantes profundas usando sólo este instrumento. Eso
MP3 Ojos internos 432 Hz:
[Identificación de audio = "39526"]
MP3 Ojos internos 440 Hz:
[Identificación de audio = "39524"]
MP3 Ojos internos 444 Hz:
[Identificación de audio = "39525"]
* Desde el jeroglífico del álbum:
A medida que escucha, hágase las siguientes preguntas:
¿Tiene un sonido más integrado que el otro?
¿Se poner de manifiesto un cierto rango de frecuencias?
¿Tiene un sonido más delgado que los otros?
¿Se siente más relajado con uno, más agitado con otra, o neutral para todos?
Algunas personas creen en respuestas específicas a estas preguntas, pero la realidad es, se necesita más investigación en esta área para convencer a las masas de una manera u otra. Desde allí aren
Try it Out In Logic
La lógica es una gran aplicación de audio para tratar 432 Hz u otra sintonía. Hay una ventana de configuración global de ajuste situado en el menú Configuración del proyecto. Ajuste de la afinación aquí afecta a todos los instrumentos de software de lógica, excepto los instrumentos de terceros. La afinación oscila entre 415,3 Hz (-100 centavos) a 466,3 Hz (100 centavos) con 440 Hz como el estándar de tono actual. Al ajustar el control deslizante Me di cuenta que podía ponerlo a 432,2 Hz o 431,9 Hz, pero no a la derecha en 432 Hz. La razón es que el regulador trabaja fuera de incrementos de centésimas. Por lo tanto, si se trata de vender sus grabaciones o partes individuales abajo, que le baje el terreno de juego por 31 o 32 centavos de acercarse a 432 Hz. (Nota del editor:
The Great 432 Hz Debate
Con tanto del mundo musical (acústica y electrónica) que opera a 440 Hz afinación estándar hoy en día,
Más información sobre Teoría de la Música en la Academia Ask.Audio aquí .