Die Musik und Audio-Industrie verwendet derzeit die A = 440 Hz universellen Standard Pitch-Tuning auf der ganzen Welt. es wasn
Dieser Artikel erklärt kurz die Geschichte der Abstimmung und einige wichtige Punkte, die 432 Hz als wissenschaftliche Abstimmung unterstützen, indem sie in der Natur gefunden, es zu mathematischen Beziehungen, harmonische Verhältnisse und Frequenzen. Hoffentlich wird dies einige nachdenkliche Gespräche begeistern. Es gibt einige Audio-Beispiele Tuning für kritisches Hören und einer kurzen Erklärung auf zu vergleichen, wie in 432 Hz-Tuning in Logic zu komponieren.
A Brief History of Tunings
Ein Artikel von John Stuart Reid nannte die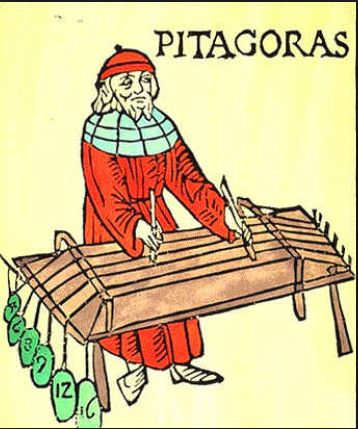 Pythagoras mit seinem Monochord.
Im frühen 20. Jahrhundert gab es eine Notwendigkeit, einen Universalspielfeld Standard durch alle aus Gründen der Instrumentenbauer, Komponisten und Orchestern überall einsetzbar zu machen. Auch wenn 432 Hz vollständig durch die Französisch und Italienisch Komponisten durch die meisten der klassischen Musik Perioden unterstützt wurde, 440 Hz wurde schließlich die universelle Spielfeld Standard. Deutsch Physiker Johann Heinrich Scheibler erfand ein Gerät das Tonometer und machte die ersten Versuche mit 440 Hz-Tuning in der Mitte der 1800er genannt. Das Tonometer bestand aus 54 Stimmgabeln mit einem Bereich von 220 Hz bis 440 Hz bei 4 Hz Intervallen beabstandet. Seine Arbeit wurde weithin anerkannt, und ein Gespräch begann, über eine standardisierte Abstimmung.
Nach langer Debatte verabschiedete der US 440 Hz als Standard im Jahr 1936. Europa bald mit seiner Annahme viele Jahre beobachtet, nachdem es zunächst auf beiden Kontinenten vorgeschlagen wurde. Auch heute noch, Musiker glauben, dass Musik in 432 Hz-Tuning gespielt hat eine bessere Reaktion des Publikums, hat eine beruhigende Wirkung und klingt mehr integrierte Gesamt.
Es ist noch nicht ganz klar, warum 440 Hz gewählt. Es scheint, die wissenschaftliche Experimente durch Scheibler eine Menge Einfluss auf diese Wahl hatte, im Gegensatz zu dem, was Tuning in der Natur im Einklang mit den harmonischen Verhältnisse und Beziehungen mehr gewesen sein. ich kann
Mathematics, Nature and Frequency
Die folgende Grafik zeigt, wie 432 Hz Tuning abgeleitet basiert auf Pythagoreischen harmonischen Verhältnissen. Vielfache von 2 und 3 bildet die Grundlage für die Grafik und die linke Spalte zeigt alle Vielfachen von 2, wie die Note C. In der Mitte, werden Sie, dass A = 432 Hz sehen. Bemerkenswert ist auch die Zahl 108, in vielen spirituellen Traditionen als verbindendes Nummer verwendet. Mala Gebetskette kommen in Stränge von 108 und in Yoga-Traditionen, 108 Sonnengruß oft praktiziert. Die Zahl 186.624 in der blauen Box ist 432 Quadrat und ist die Frequenz der Lichtgeschwindigkeit innerhalb Hundertstel einer Dezimalstelle
Die Erde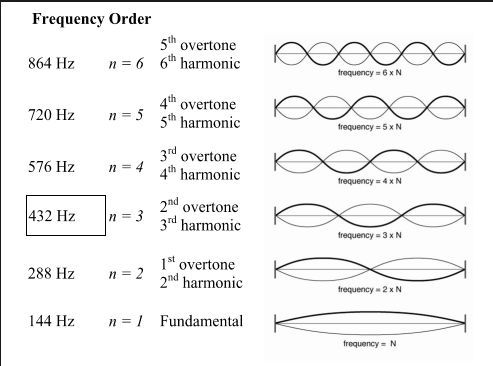 Grundfrequenz der Sonne und ihrer harmonischen
Musik Forscher haben auch traditionelle Heil Instrumente wie Klangschalen aus Nepal getestet und festgestellt, sie werden in Übereinstimmung mit A = 432 Hz Stimmung gemacht. Instrumente zur Klangtherapie gemacht müssen nicht zu einer universellen Pitch-Standard entsprechen und mehr populär in Klangtherapie-Zentren auf der ganzen Welt geworden sind. Wir können viel von den kulturellen Traditionen des Instrumentenbaus, verbunden mit Techniken lernen, die über Generationen weitergegeben werden.
A Note on Equal Temperament VS Pythagorean Temperament
Wir müssen im Hinterkopf behalten, dass unser Universal-Tuning-System auf 12-Ton Equal Temperament basiert. Das heißt, alle Intervalle oder benachbarten Noten sind gleichmäßig voneinander beabstandet, um für alle Oktaven gleich zu klingen. Im wahren Pythagorean Temperament, wäre dies nicht der Fall sein. Equal Temperament ist für Instrumente wie Klavier erforderlich, wenn die Noten nicht gebogen werden kann. Stimmen und Streichinstrumente jedoch sind in der Lage Noten zu biegen und zu ändern, um die feinen Unterschiede zwischen den Noten Abstimmung leichter zu erreichen. Roel Hollander beschreibt dies im Einzelnen auf seinem Blog-Post,
Audio Examples by Torkom Ji
Torkom Ji, der Gründer von Quantum Harmonix Klangheilung hat Ask.Audio gnädig zur Verfügung gestellt mit 3 Musikbeispiele in 432 Hz, 440 Hz und 444 Hz. Torkom erleichtert Klangheilung Sitzungen der ganzen Gegend von Los Angeles mit seiner Gewohnheit Korg Electribe. Er ist ein Meister auf die Schaffung tiefen, resonanten Klangreisen mit nur dieses Instrument. Es
MP3 Interne Augen 432 Hz:
[Audio-id = "39526"]
MP3 Interne Augen 440 Hz:
[Audio-id = "39524"]
MP3 Interne Augen 444 Hz:
[Audio-id = "39525"]
* Aus dem Album Hieroglyphe:
Wie Sie hören, fragen Sie sich folgende Fragen:
Muss man klingen mehr integriert als die andere?
Hat man einen bestimmten Bereich von Frequenzen herausbringen?
Klingt ein dünner als die anderen?
Fühlen Sie sich mehr entspannt mit ein, mehr aufgeregt mit einem anderen, oder neutral zu allen?
Einige Leute glauben, in konkrete Antworten auf diese Fragen, aber die Realität ist, ist mehr Forschung in diesem Bereich notwendig, um die Massen eine oder andere Weise zu überzeugen. Da es aren
Try it Out In Logic
Logic ist ein großer DAW zu versuchen, 432 Hz oder eine andere Abstimmung in. Es gibt eine globale Tuning-Einstellungen-Fenster im Menü Einstellungen Projekt entfernt. Einstellung hier die Stimmung wirkt sich auf alle Software-Instrumente in Logic, ohne Fremdgeräte. Die Abstimmung im Bereich von 415,3 Hz (-100 Cent) bis 466,3 Hz (100 Cent) mit 440 Hz als die aktuelle Steigung Standard. Wenn Sie den Schieberegler einstellen bemerkte ich, dass ich es bis 432,2 Hz einstellen könnte oder 431,9 Hz, aber nicht direkt auf 432 Hz. Der Grund dafür ist der Schieber arbeitet off-Schritten Cent. Also, wenn Sie unten Ihre Aufnahmen oder einzelne Teile aufschlagen, würden Sie die Tonhöhe senken, indem sie 31 oder 32 Cent bis 432 Hz nahe zu kommen. (Anmerkung der Redaktion:
The Great 432 Hz Debate
Bei so viel von der Musikwelt (akustische und elektronische) bei 440 Hz Standard-Stimmung heute betrieben wird, es
Erfahren Sie mehr über Musiktheorie in Ask.Audio Academy hier .