Você provavelmente já viu o novo mesas de mixagem digitais onde a banda se conecta a um patch bay no palco, que é controlado através de um cabo ethernet a uma placa de FOH mistura. Este projeto de um cabo economiza muito em ter que executar uma cobra enorme de cabos para a posição FOH. Mas aqueles mixers pode ficar caro e nem sempre nos dar tudo que queremos para efeitos, compressores, etc Então, o que se poderia fazer a mesma coisa com MainStage, um controlador de hardware (ou seja, Korg nanoKontrol) e dois laptops ligados através de uma ethernet cabo usando qualquer efeitos que nós queremos?
On stage we will have a laptop with a soundcard that has enough inputs to put the band into the PA. I recommend getting at least an 8 XLR input soundcard with Firewire such as those from MOTU or Presonus. These soundcards can also be daisy chained for more inputs. From this stage laptop we are going to connect an ethernet cable to the laptop at the front of house. Whether you use a CAT5 or CAT6 cable is up to you but CAT6 is known to be faster and block out interference especially over long distances.

Passo 1 - Configure o compartilhamento de tela
Precisamos entender como se comunicar com os laptops usando a rede MIDI e compartilhamento de tela. Compartilhamento de tela (em Preferências do Sistema) nos permite ver o laptop estágio do nosso laptop FOH e MIDI de rede permite-nos controlar o laptop palco com o nosso controlador de hardware. No laptop palco, abrir o "System Preferences" e vá em "Compartilhamento". Transformar em "Compartilhamento de Tela" para que possamos usar o laptop FOH para ver a tela do laptop estágio. Nome também Laptop Stage.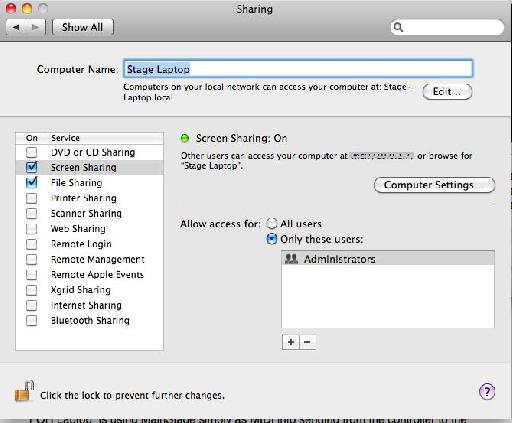 Passo 2 - Audio / MIDI Setup
Agora vá para o "Utilitários" da pasta em ambos os laptops e abra "Configuração de Áudio / MIDI". Clique em "Network". Adicionar uma sessão a cada laptop, se não estiver lá. No laptop estágio, digite "Laptop Stage" em ambos os locais e Bonour Nome e e do tipo Laptop FOH em ​​"FOH Laptop".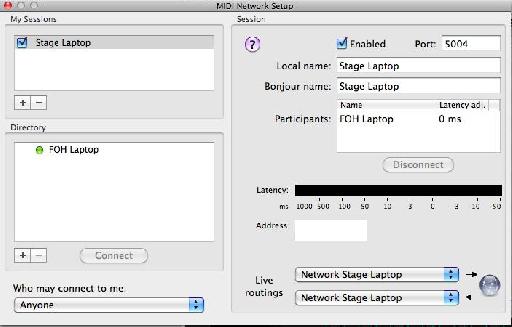 You should also see in the "Directory", your laptop that you can connect to. A green light shows who's on your network and be sure to hit connect. Once connected you will see "Participants".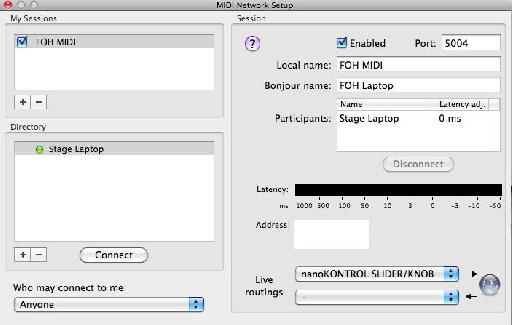 Passo 3 - Saída MIDI. Controlador de cumprir
Ambos os laptops precisam estar executando MainStage. O "Laptop Stage" tem todas as entradas mic normal, efeitos, monitor envia, etc, e deve ser configurado primeiro com a banda, talvez usando o "Mixer" modelo para iniciar. O "FOH Laptop" está usando MainStage simplesmente como MIDI Out envio de dados do controlador de hardware para o "Laptop Stage". O laptop FOH precisa adicionar um canal externo do instrumento para que possamos enviar MIDI para a nossa Laptop Stage. Certifique-se de definir a saída MIDI ao seu controlador!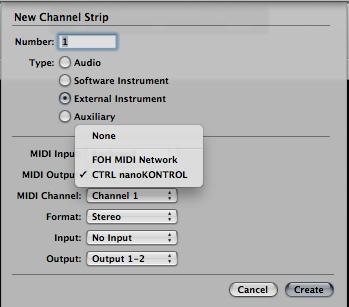 Passo 4 - Fazendo a conexão
Ok ... agora a parte legal! Conectar a partir do laptop FOH para o laptop Stage usando o "Compartilhamento de Tela". Basta abrir uma nova janela do Finder e na coluna da esquerda, você verá o laptop Stage no menu "Shared". Hit "Compartilhar Tela" e, se necessário digitar o login ea senha do laptop Stage você está se conectando ... não o seu laptop FOH.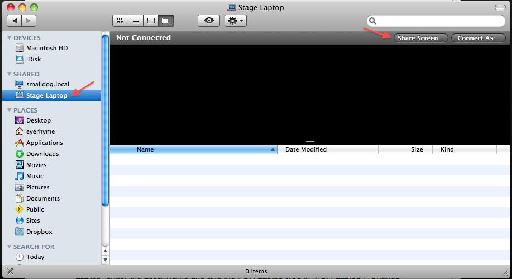 Uma nova janela deve abrir pop e agora você deve ver a tela do laptop Stage e ter o controle de seu cursor. Isto irá permitir que você mude presets, efeitos, etc, se necessário.
Passo 5 - Saiba o layout
No laptop Stage, em Mainstage usar o "Learn" função no "Layout" modo, atribuir todos os seus faders, panelas, etc, para o que você quiser a partir do controlador hardware. Certifique-se de atribuir o "dispositivo" para "Rede Laptop Stage" para que ele se comunicar com seu controlador.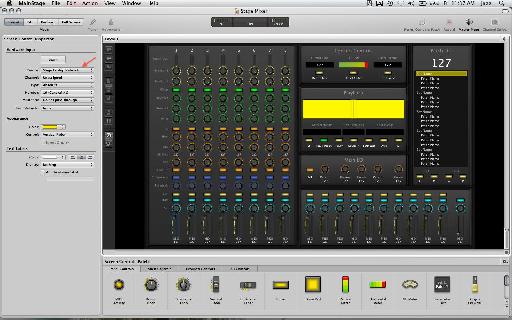 My Korg nano Controller has 4 "Scenes" which allow me to assign different things to the knobs and faders.


Of course bigger controllers will allow more settings. Now you could also do this wirelessly! BUT... do you want to take that chance of losing the wireless connection or somebody with their iPhone trying to "hack" in? Personally, one cable is easy and guarantees a connection.
Divirta-se com esta configuração e pensar em todas as possibilidades de criar você pode conseguir como engenheiro de som com plug-ins efeito, não mais limitado pelo sistema de casa!
Saiba mais sobre como configurar Mainstage para todas suas necessidades viver aqui .