Usted probablemente ha visto los nuevos tableros digitales de mezcla, donde la banda se conecta a una revisión de la bahía en el escenario que se controla mediante un cable Ethernet a un tablero de mezcla FOH. Este diseño de un cable ahorra mucho en tener que ejecutar una enorme serpiente de cables en la posición de FOH. Sin embargo, los mezcladores puede ser caro y no siempre nos dan todo lo que queremos para los efectos, compresores, etc Entonces, ¿qué si pudiéramos hacer lo mismo con MainStage, un controlador de hardware (es decir, Korg nanoKONTROL) y las computadoras portátiles 2 conectado vía ethernet cable por medio de cualquier efecto que quieres?
On stage we will have a laptop with a soundcard that has enough inputs to put the band into the PA. I recommend getting at least an 8 XLR input soundcard with Firewire such as those from MOTU or Presonus. These soundcards can also be daisy chained for more inputs. From this stage laptop we are going to connect an ethernet cable to the laptop at the front of house. Whether you use a CAT5 or CAT6 cable is up to you but CAT6 is known to be faster and block out interference especially over long distances.

Paso 1 - Configuración de la pantalla compartida
Tenemos que entender cómo comunicarse con los ordenadores portátiles utilizando la red MIDI y compartir la pantalla. Screen Sharing (en Preferencias del Sistema) nos permite ver el portátil etapa de nuestro portátil FOH y MIDI red nos permite controlar el ordenador portátil escenario con nuestro controlador de hardware. En la computadora portátil etapa, se abre "Preferencias del Sistema" y vaya a "compartir". Activar "Compartir pantalla" para poder utilizar el portátil de sala para ver la pantalla del portátil de la etapa. Nombre que también Laptop escenario.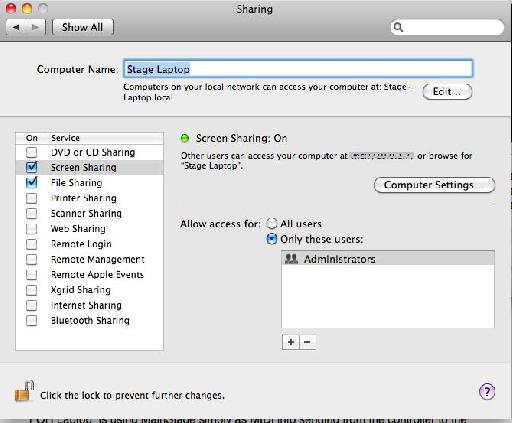 Paso 2 - Audio / MIDI Setup
Ahora ve a tu "Utilidades" carpeta en ambos ordenadores portátiles y abrir "Configuración de Audio / MIDI". Haga clic en "Network". Añadir una sesión para cada portátil, si uno no está ya allí. En la computadora portátil etapa, el tipo de "Laptop etapa" tanto con el nombre local y Bonour y así como el tipo Laptop FOH en "FOH portátil".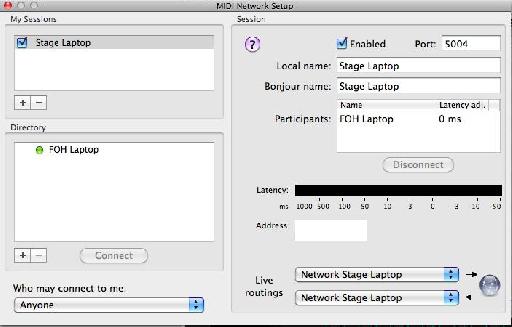 You should also see in the "Directory", your laptop that you can connect to. A green light shows who's on your network and be sure to hit connect. Once connected you will see "Participants".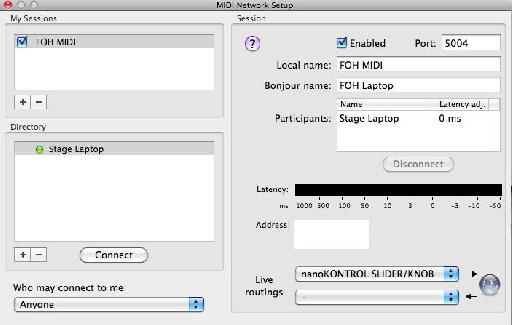 Paso 3 - La salida MIDI. Conoce Controller
Ambas portátiles que estar en ejecución MainStage. El "portátil etapa" tiene todas las entradas de micrófono normales, los efectos, el monitor envía, etc, y debe ser la primera instalación con la banda tal vez usando el "Mixer" plantilla para comenzar. El "FOH Laptop" está utilizando MainStage simplemente como MIDI Out envía datos desde el controlador de hardware para el "portátil Etapa". El portátil FOH debe agregar un canal de instrumento externo para poder enviar MIDI a nuestro portátil escenario. Asegúrese de ajustar la salida MIDI de su controlador!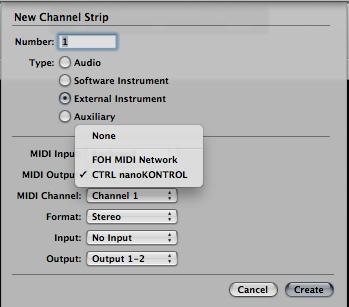 Paso 4 - Haciendo la conexión
Bueno ... ahora la parte divertida! La conexión desde el ordenador portátil de sala a la computadora portátil escenario con "Compartir pantalla". Basta con abrir una nueva ventana del Finder y en la columna de la izquierda, usted debe ver el portátil bajo el escenario "compartido" del menú. Haga clic en "Compartir pantalla" y si es necesario introducir el login y la contraseña de la computadora portátil etapa que se está conectando ... ¿No es su FOH portátil.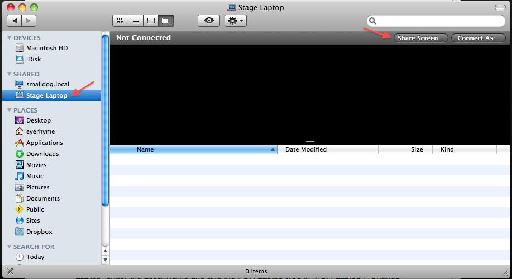 Una nueva ventana se abre pop y ahora debería ver la pantalla del portátil etapa y tener el control del cursor que es. Esto le permitirá cambiar presets, efectos, etc, si es necesario.
Paso 5 - Aprender el diseño
Etapa en la computadora portátil, en Mainstage usar la función "Learn" en el "Diseño" modo de ceder todos sus faders, sartenes, etc, para lo que quieras desde el controlador de hardware. Asegúrese de asignar el "dispositivo" a "Red de Laptop escenario" para que pueda comunicarse con el controlador.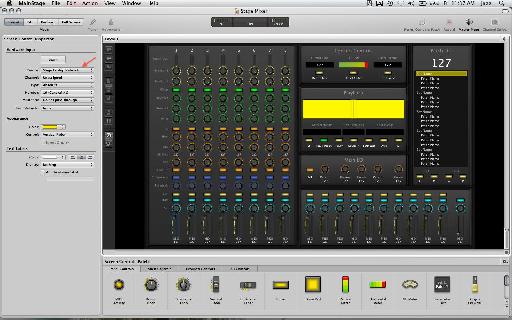 My Korg nano Controller has 4 "Scenes" which allow me to assign different things to the knobs and faders.


Of course bigger controllers will allow more settings. Now you could also do this wirelessly! BUT... do you want to take that chance of losing the wireless connection or somebody with their iPhone trying to "hack" in? Personally, one cable is easy and guarantees a connection.
Diviértete con esta configuración y pensar en todas las posibilidades de crear se puede lograr como ingeniero de sonido con plugins de efectos, ya no está limitado por el sistema de casa!
Obtenga más información sobre cómo configurar Mainstage para todas sus necesidades de vivir aquí .