당신은 아마 FOH 믹싱 보드에 이더넷 케이블을 통해 제어되는 밴드가 무대에서 패치 베이에 플러그 새로운 디지털 믹싱 보드를 봤어요. 이 한 케이블 디자인은 FOH 위치로 케이블의 거대한 뱀을를 실행하는 데에 많은 시간을 절약할 수 있습니다. 하지만 그 믹서가 비싼 얻을 수 있으며, 항상 우리에게 우리가 효과, 압축 등 원하는 모든 것을 우리가 MainStage과 같은 일을 할 수있다면 그래서, 하드웨어 컨트롤러 (예 : Korg nanoKontrol) 및 2 노트북은 이더넷을 통한 연결을주지 마십시오 케이블은 우리가 원하는대로 효과를 사용하고 계십니까?
On stage we will have a laptop with a soundcard that has enough inputs to put the band into the PA. I recommend getting at least an 8 XLR input soundcard with Firewire such as those from MOTU or Presonus. These soundcards can also be daisy chained for more inputs. From this stage laptop we are going to connect an ethernet cable to the laptop at the front of house. Whether you use a CAT5 or CAT6 cable is up to you but CAT6 is known to be faster and block out interference especially over long distances.

1 단계 - 화면 공유 설정
우리는 네트워크 MIDI 및 화면 공유를 사용하여 노트북과 통신하는 방법을 이해해야합니다. 화면 공유 (시스템 환경 설정에서) 우리가 FOH 노트북 및 네트워크 MIDI에서 무대 노트북을 볼 수 있습니다 저희가 하드웨어 컨트롤러와 함께 무대 노트북을 제어할 수 있습니다. 무대 노트북에서 "시스템 환경 설정"을 열고 "공유"로 이동하십시오. 우리가 무대 노트북의 화면을 볼 FOH 노트북을 사용할 수 있도록 "화면 공유"를 켭니다. 또한 스테이지 노트북을 이름을 지정합니다.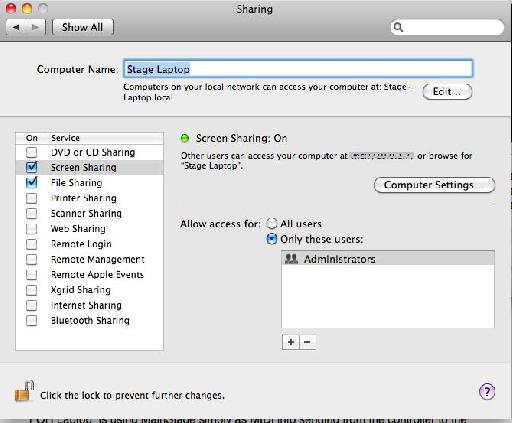 2 단계 - MIDI / 오디오 설정
지금은 모두 노트북에서 '유틸리티'폴더로 이동하여 "오디오 / MIDI 설정"을 엽니다. '네트워크'를 클릭하십시오. 사람이 아직없는 경우, 각 노트북에 세션을 추가합니다. 에 대한 로컬 및 Bonour 이름과 및 "노트북 FOH '의 FOH 노트북 종류 모두 아래의"스테이지 노트북 "의 무대 노트북, 입력합니다.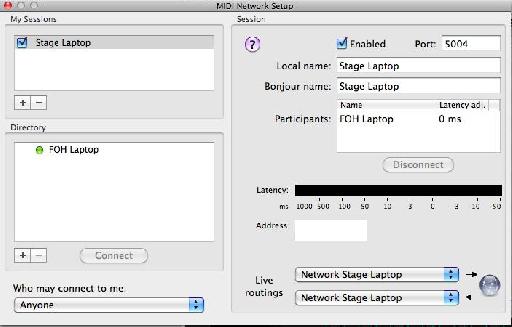 You should also see in the "Directory", your laptop that you can connect to. A green light shows who's on your network and be sure to hit connect. Once connected you will see "Participants".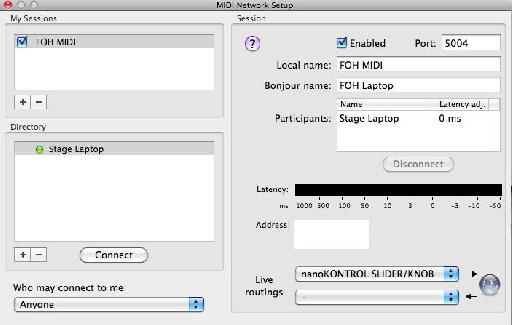 3 단계 - MIDI 출력. 컨트롤러를 만나보세요
두 노트북 MainStage 실행해야합니다. "무대 노트북은"모든 일반 마이크 입력, 효과, 모니터가 전송 등을 가지고 있으며 밴드는 아마 시작의 "믹서"템플릿을 이용하여 설치 먼저해야합니다. 는 "노트북 FOH '의"스테이지 노트북 "으로 하드웨어 컨트롤러에서 데이터를 전송하기만하면 MIDI 출력으로 MainStage 사용하고 있습니다. FOH 노트북 우리 무대 노트북 MIDI 보낼 수 있도록 외부 악기 채널을 추가해야합니다. 귀하의 컨트롤러로 MIDI 출력을 설정해야합니다!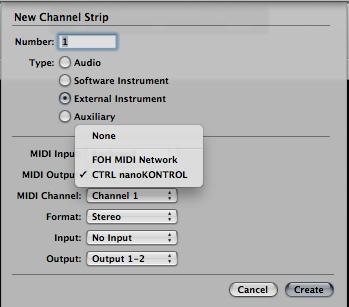 4 단계 - 연결 만들기
좋아요 ... 지금 멋진 부분입니다! "화면 공유"를 사용하여 스테이지 노트북 FOH 노트북에서 연결합니다. 단순히 새로운 파인더 창을 열고 왼쪽 칼럼에, 당신은 "공유"메뉴 아래에있는 스테이지 노트북 나타납니다. "공유 화면"버튼을 누르고 연결하는 스테이지 노트북의 로그인과 비밀 번호를 ... 아닌 FOH 노트북의 유형을 필요하면.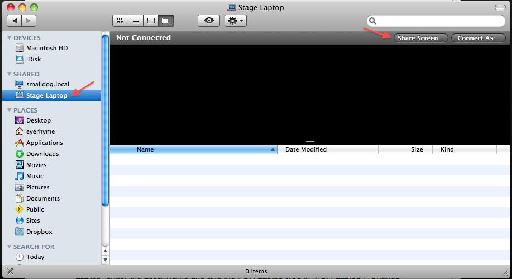 새 창이 열립니다 팝업해야하고 이제 스테이지 노트북의 화면을보고 그것의 커서의 컨트롤이 있어야합니다. 이것은 필요한 경우 사전, 효과 등을 변경할 수 있습니다.
5 단계 - 레이아웃 알아보기
무대 노트북에서 Mainstage에서 "레이아웃"모드에서 "학습"기능을 사용하여 모든 faders, 팬 등은 하드웨어 컨트롤러에서 원하는대로로 지정합니다. 그것이 당신의 컨트롤러와 통신하기 위해서 "무대 노트북 네트워크"에있는 "장치"를 지정해야합니다.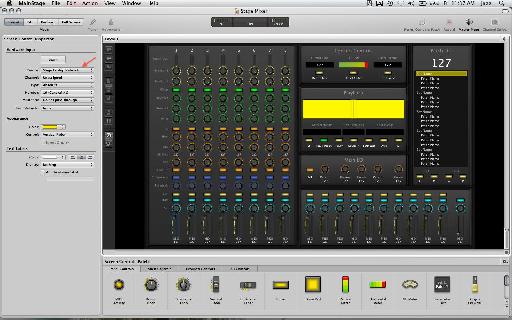 My Korg nano Controller has 4 "Scenes" which allow me to assign different things to the knobs and faders.


Of course bigger controllers will allow more settings. Now you could also do this wirelessly! BUT... do you want to take that chance of losing the wireless connection or somebody with their iPhone trying to "hack" in? Personally, one cable is easy and guarantees a connection.
이 설정과 함께 즐거운 시간을 가지고 집에 시스템에서 더 이상 제한 효과 플러그인과 사운드 엔지니어로 달성할 수있는 모든 만들 가능성이 있다고 생각!