Not enough bottom end in your mix? Kick drum a bit weedy, thin or disappointingly lightweight? Using Logic Pro's SubBass plug-in is a well documented method for synthesising very low frequencies where none previously exist, but its use is fraught with the danger of creating multiple clashing frequencies which can cause havoc and potentially wreck a mix with a mess of low end, some of which can't even be heard, unless you have monitors the size of a house. This article shows you how to double the kick drum with a pure sine tone (no harmonics to complicate matters) whose frequency you can control, in both Logic Pro and Pro Tools.

In Logic Pro:
مرحله 1 : نوسان ساز تست
دو راه آسان برای دسترسی به یک تن سینوسی خالص در طرفدار منطق وجود دارد. اول این است که استفاده از نمونه بردار EXS24 با دستگاه نمونه بردار لود شده ، اما این نیاز به اطلاعات توجه داشته باشید MIDI به بازی. دوم نوسان ساز آزمون ، یک ابزار مفید برای تست پاسخ از سیستم نظارت و خواص آکوستیک شما فضای گوش طراحی شده است. چرا هنگامی که یک نمونه بار شما را به اسلات ورودی از یک نرم افزار کانال ابزار I / O (سودمند از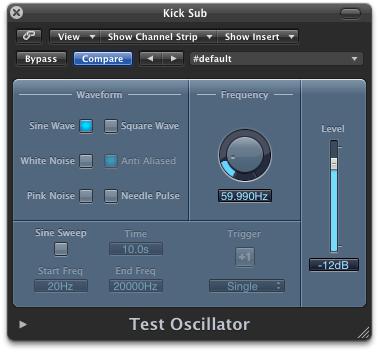 گام 2 : باز کردن دروازه
قرار دادن یک دروازه سر و صدا پلاگین را روی یک کانال به عنوان اسیلاتور تست ، سپس ورودی زنجیره جانبی خود را به آهنگ های صوتی که آهنگ پا زدن طبل شما می خواهید را به دو برابر ارتباط برقرار کنند. تنظیم آستانه دروازه سر و صدا طوری که آن را فقط وقتی که باز می شود درام و پا زدن بازی می کند.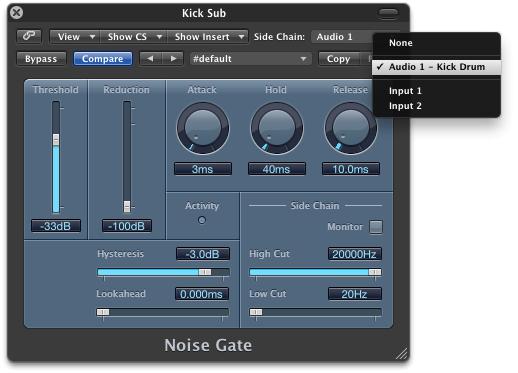 مرحله 3 : کوک فرعی
بررسی نوسان ساز تست یک موج سینوسی در حال پخش است ، و سپس تکرار آن را به چیزی مناسب 'subby برای ترکیب خود را (حدود 50 تا 60 هرتز شاید) پایین تر است -- اما مطمئن شوید که شما واقعا می تواند بشنود آنچه در آن است انجام می دهند ، به عنوان شما نمی خواهید برای آزادی مخلوط می شود که به سیستم سخنران گران را نابود!
برای کنترل دقیق تر ، شما می توانید کم کردن سرعت حرکت کنترل مانند شماره گیری فرکانس با نگه داشتن کلید Shift . متناوبا شما دستی می تواند یک مقدار با دوبار کلیک کردن بر روی فرکانس زمینه را وارد کنید ، تایپ کردن یک عدد و فشردن بازگشت. "پاکت" لحن زیر را می توان با استفاده از کنترل حمله و انتشار بر روی دروازه سر و صدا ، اما مراقب باشید به شکل ارزش ها ، بسیار پایین است به احتمال زیاد به علت کلیک کردن است.
در ابزارهای طرفدار
رویکرد ابزار نرم افزار بسیار شبیه است ، با یک یا دو تفاوت های جزئی است. امواج سینوسی سیگنال ژنراتور پلاگین -- با کلیک بر روی اولین اسلات درج در مسیر ورودی کمکی و رفتن به پلاگین
سپس اتوبوس استفاده نشده اتصال به ورودی های کلیدی. بعد از آن شما می توانید به این اتوبوس از یک اسلات ارسال در مسیر های صوتی و پا زدن درام را ارسال کنید. سرانجام در زنجیره جانبی با کلیک کردن بر روی آیکون کوچک کلید به سمت راست کلمات زنجیره جانبی در سمت راست از پلاگین در رابط تبدیل شود. تنظیم پارامترهای دروازه سر و صدا به طعم ، و همچنین فرکانس سیگنال ژنراتور.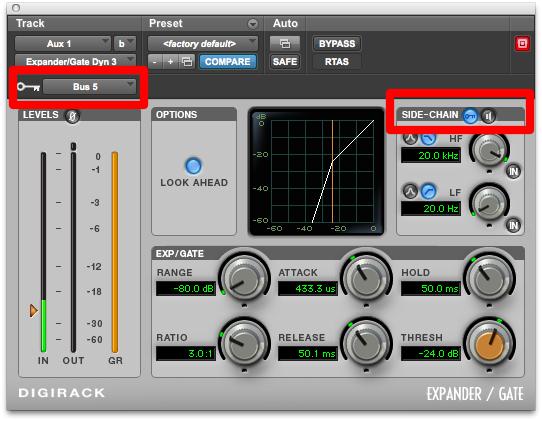 و این همه به آن وجود دارد!
علاقه مند به یادگیری بیشتر در مورد ابزارهای طرفدار و منطق ؟