Not enough bottom end in your mix? Kick drum a bit weedy, thin or disappointingly lightweight? Using Logic Pro's SubBass plug-in is a well documented method for synthesising very low frequencies where none previously exist, but its use is fraught with the danger of creating multiple clashing frequencies which can cause havoc and potentially wreck a mix with a mess of low end, some of which can't even be heard, unless you have monitors the size of a house. This article shows you how to double the kick drum with a pure sine tone (no harmonics to complicate matters) whose frequency you can control, in both Logic Pro and Pro Tools.

In Logic Pro:
Passo 1: o oscilador de ensaio
Há duas maneiras fáceis de acessar um tom senoidal pura em Pro Logic. A primeira é usar o sampler EXS24 com nenhum instrumento sampler carregado, mas isso requer informações das notas MIDI para jogar. O segundo é o oscilador de ensaio, um dispositivo acessível projetado para testar a resposta do seu sistema de monitoramento e as propriedades acústicas de seu espaço de escuta. Quando você carrega uma instância na abertura de entrada de um canal de Instrumento Software de E / S Utility (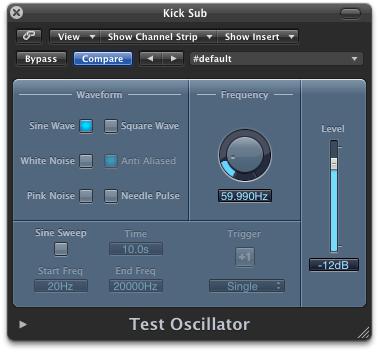 Passo 2: Abrir a Porta
Inserir um Noise Gate plug-in no mesmo canal como o oscilador de teste, em seguida, conecte o seu contributo cadeia lateral para a faixa de áudio cujo pontapé faixa de bateria você quiser dobrar. Ajustar o limite do Noise Gate para que ele só abre quando o bumbo toca.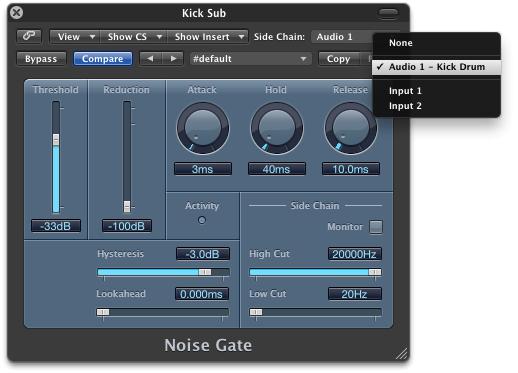 Passo 3: Ajuste seu Sub
Verificar o oscilador de ensaio está jogando uma onda senoidal, então abaixe sua freqüência para algo adequadamente "subby 'para o seu mix (cerca de 50 a 60 Hz, talvez) - mas certifique-se que você pode realmente ouvir o que está fazendo, como você não quer para liberar uma mistura que vai destruir sistemas de som caro!
Para um controle mais preciso, você pode diminuir o movimento de controles como o dial de freqüência segurando a tecla Shift. Alternativamente, você pode inserir manualmente um valor, clicando duas vezes no campo Frequency, digitando um número e pressionando Return. O "envelope" do tom sub pode ser moldado usando o ataque e controles Versão na Noise Gate, mas, cuidado, valores muito baixos são susceptíveis de causar clicando.
Em Pro Tools
A abordagem em Pro Tools é muito semelhante, com uma ou duas pequenas diferenças. Ondas senoidais são geradas pelo gerador de sinais plug-in - clique em Inserir no slot primeiro em uma pista de entrada auxiliar e vá para o plug-in
Em seguida, conecte um ônibus não utilizados para a entrada de chave. Você pode então enviar para este ônibus de um slot de envio em faixa de áudio do bumbo é. Finalmente ligar a cadeia lateral, clicando no pequeno ícone chave para a direita das palavras "Side-Chain" no lado direito da interface do plug-in. Ajustar os parâmetros do Noise Gate a gosto, bem como a freqüência do gerador de sinais.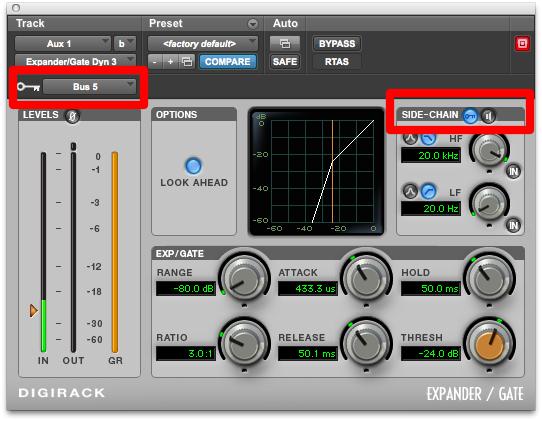 E isso é tudo que há para fazer!
Interessados ​​em aprender mais sobre o Pro Tools e Logic ?