Not enough bottom end in your mix? Kick drum a bit weedy, thin or disappointingly lightweight? Using Logic Pro's SubBass plug-in is a well documented method for synthesising very low frequencies where none previously exist, but its use is fraught with the danger of creating multiple clashing frequencies which can cause havoc and potentially wreck a mix with a mess of low end, some of which can't even be heard, unless you have monitors the size of a house. This article shows you how to double the kick drum with a pure sine tone (no harmonics to complicate matters) whose frequency you can control, in both Logic Pro and Pro Tools.

In Logic Pro:
Etape 1: Le Oscillateur de test
Il ya deux façons faciles d'accès une tonalité sinusoïdale pure dans Logic Pro. La première consiste à utiliser l'échantillonneur EXS24 sans instruments échantillonnés chargés, mais cela nécessite des informations de note MIDI à jouer. La seconde est l'Oscillateur de test, un gadget pratique conçu pour tester la réponse de votre système de surveillance et les propriétés acoustiques de votre espace d'écoute. Lorsque vous chargez une instance dans la fente d'entrée d'E / S d'un canal instrument logiciel (utilitaire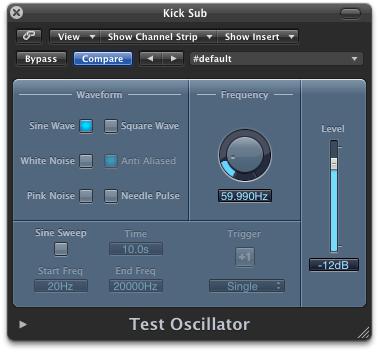 Étape 2: Ouverture de la porte
Insérez un Noise Gate plug-in sur le même canal que l'Oscillateur de test, puis connecter son entrée latérale de la piste audio dont les coup piste de batterie vous voulez doubler. Ajustez le seuil du Noise Gate pour qu'il s'ouvre uniquement lorsque la grosse caisse joue.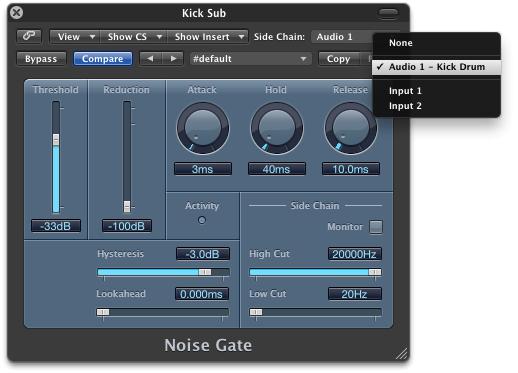 Etape 3: Réglez votre Sub
Vérifiez l'Oscillateur de test joue une onde sinusoïdale, puis baisser sa fréquence à quelque chose convenablement "Subby» pour votre mix (environ 50 à 60 Hz peut-être) - mais assurez-vous que vous pouvez vraiment entendre ce qu'il fait, comme vous ne voulez pas pour libérer un mélange qui va détruire les systèmes d'enceintes cher!
Pour un contrôle plus précis, vous pouvez ralentir le mouvement des contrôles comme le cadran de fréquence en maintenant la touche Maj. Sinon, vous pouvez entrer manuellement une valeur en double-cliquant sur le champ de fréquence, en tapant un numéro et en appuyant sur Retour. Le «enveloppe» de la tonalité peut être façonné sous l'aide de l'attaque et des commandes de presse sur le Noise Gate, mais méfiez-vous, les valeurs très faibles sont susceptibles de causer cliquant.
Dans Pro Tools
L'approche dans Pro Tools est très similaire, avec une ou deux différences mineures. Les ondes sinusoïdales sont générés par le générateur de signaux de plug-in - cliquez sur le premier emplacement d'insertion sur une piste d'entrée auxiliaire et d'aller au plug-in
Ensuite, connectez un bus à l'entrée inutilisée clés. Vous pouvez ensuite envoyer à ce bus à partir d'un emplacement Envoyer sur la piste audio de la grosse caisse est. Enfin, tourner sur la chaîne latérale en cliquant sur la petite icône clé à droite de la mention «Side-Chain" sur le côté droit de l'interface plug-in. Ajustez les paramètres de la porte de bruit au goût, ainsi que la fréquence du générateur de signaux.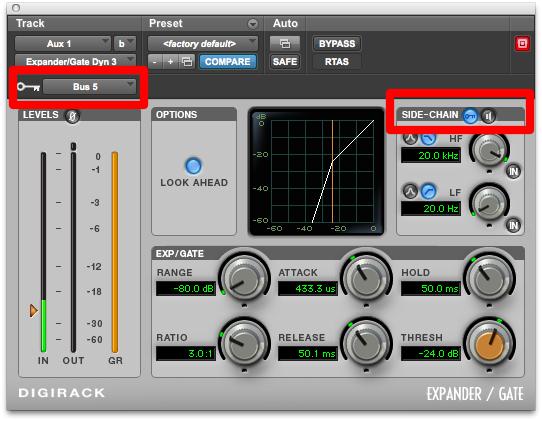 Et c'est tout ce qu'il ya à faire!