Genelec sind einer der führenden Audio-Monitor-Hersteller der Welt. Sie haben gerade die Veröffentlichung der angekündigten SpeakerAngle , eine Anwendung für iOS-Geräte, die die erste digitale Werkzeug, das jemand richtig eingestellt und passen Sie die Angeln ("toe-in") von Stereo-und 7.1 Surround-Sound-Lautsprecher ermöglicht sein vorgibt. Lets herauszufinden.
Am Herzen liegt, ist SpeakerAngle eine einfache Anwendung. Es nutzt die iDevices eingebaute Gyroskop-Sensor zur Messung von Winkeln.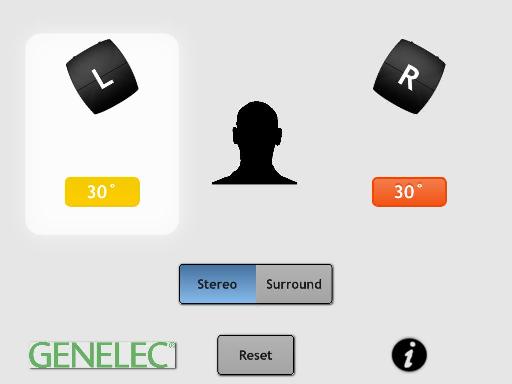 SpeakerAngle dauert weniger als 5 Minuten zu bedienen und kann drastisch verbessern Sie Ihre Stereo-Imaging.
Hier sind die grundlegenden Anweisungen für die Verwendung SpeakerAngle für ein Stereo-Setup. Die Anwendung setzt voraus, dass Lautsprecher gleich weit von der Hörposition und von der Wand hinter ihnen.
Position both speakers at "zero-axis" (facing directly ahead - not angled)

Place the iPhone (or iPad) on top of the left speaker and align the edges of the speaker and iDevice.

Touch the left speaker in the app and "zero" it. This lets the app know that your speaker is at zero-axis.

Physically rotate the speaker inwards whilst the iDevice sits on top. The speakers in the app will rotate too. When the speaker is in, the "industry recommended zone" (from 20 to 45 degrees) the app will alert you.

Repeat for the right speaker. The app will alert you when both speakers are at the same angle.

Theoretisch, wenn beide Lautsprecher den gleichen Abstand sind voneinander weg, wie sie aus dem Hörer (denken 3 Punkte auf einem gleichseitigen Dreieck) sind, wird ein Winkel von 30 Grad die beste Räumlichkeit.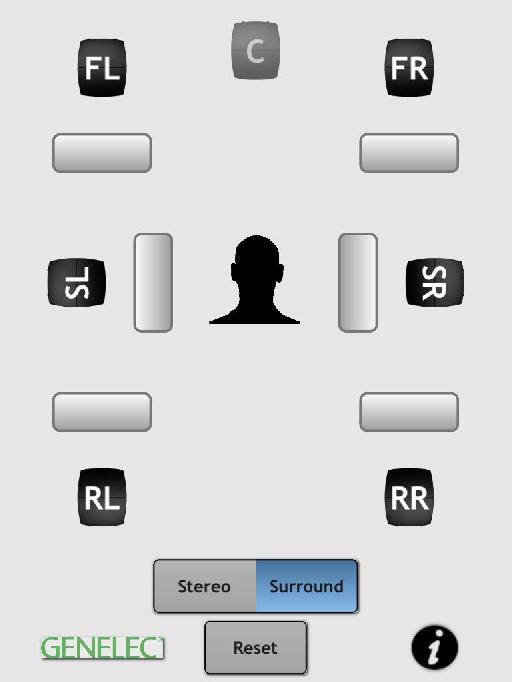 Einrichten eines 7,1-Surround-System ist ein ähnlicher Prozess, nur mit mehr Lautsprechern.
In der Praxis
Ich versuchte SpeakerAngle über die obigen Schritte, um meine beiden Referenten genau 30 Grad-Winkel aufstellen. Es wurde sofort klar, dass ich sitzen zu nah an den Lautsprechern zu schließen, dh. der Abstand zwischen den beiden Lautsprechern ist größer als der Abstand zwischen mir und den Lautsprechern. Es war offensichtlich, da beide Redner auf einer Hörposition irgendwo hinter mir zeigt wurden.
Als Ergebnis hiervon bewegt I jeweils Lautsprecher leicht nach innen aufeinander zu, nicht Ändern des Winkels, aber die Änderung der Distanz zwischen ihnen, um ein gleichschenkliges Dreieck zu erstellen. Die Lautsprecher sind immer noch bei 30 Grad abgewinkelt, sondern sind jetzt näher zueinander und daher meine Hörposition ist richtig.
Abschluss
Für die meisten Menschen, die Einrichtung ihrer Sprecher ist ein Fall von Sitzen in der Hörposition und Anwinkeln der Lautsprecher, bis sie die Hörposition direkt gegenüberliegen. Dies ist in den meisten Fällen in Ordnung, aber SpeakerAngle kann bei dem Verfahren durch schnelles Aufzeigen von Problemen mit entweder Abstand oder Winkel zu unterstützen.
SpeakerAngle nicht tun sehr technisch, und es gibt keine wirkliche Voodoo-Magie in immer Überwachung Positionen richtig, aber der ganze Prozess dauert weniger als fünf Minuten (vielleicht zehn, wenn Sie das Lesen der Bedienungsanleitung) und könnte Ihnen helfen, Ihre Setup. Für 99 Cent, seine schwer, nicht zu empfehlen.
SpeakerAngle ist kompatibel mit iPhone 4 und höher, iPad 2 und höher und iPod Touch 4. Generation und höher. Es ist ab sofort im iTunes App Store zu einem Preis von nur 99 Cent.