Genelec sont l'un des principaux fabricants de contrôle audio dans le monde. Ils viennent d'annoncer la sortie de SpeakerAngle , une application pour les appareils iOS qui prétend être le premier outil numérique qui permet à quiconque de définir correctement et correspondre à la pêche à la ligne ("pincement") à la fois stéréo et 7.1 enceintes surround. Permet de savoir.
Au fond, SpeakerAngle est une application simple. Il utilise les iDevices intégré capteur gyroscopique pour mesurer les angles.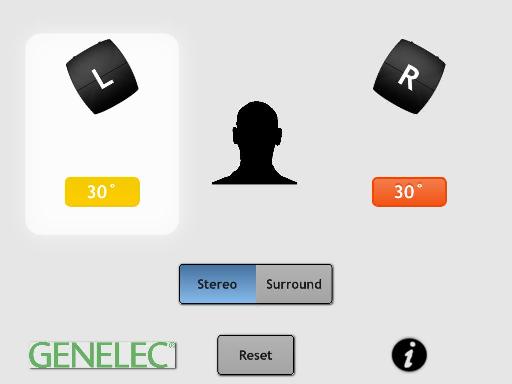 SpeakerAngle prend moins de cinq minutes à utiliser et peut considérablement améliorer votre image stéréo.
Voici les instructions de base pour utiliser SpeakerAngle pour une configuration stéréo. L'application suppose que les locuteurs sont à égale distance de la position d'écoute et de la paroi derrière eux.
Position both speakers at "zero-axis" (facing directly ahead - not angled)

Place the iPhone (or iPad) on top of the left speaker and align the edges of the speaker and iDevice.

Touch the left speaker in the app and "zero" it. This lets the app know that your speaker is at zero-axis.

Physically rotate the speaker inwards whilst the iDevice sits on top. The speakers in the app will rotate too. When the speaker is in, the "industry recommended zone" (from 20 to 45 degrees) the app will alert you.

Repeat for the right speaker. The app will alert you when both speakers are at the same angle.

Théoriquement, si les deux haut-parleurs sont à la même distance les uns des autres comme ils sont de l'auditeur (pensez à 3 points d'un triangle équilatéral), un angle de 30 degrés donnera la meilleure image stéréo.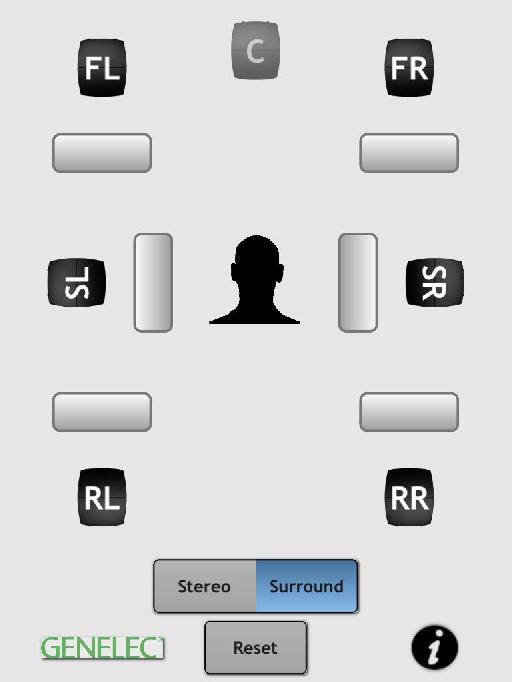 Mise en place d'un système surround 7.1 est un processus similaire, mais avec plus de haut-parleurs.
En pratique
J'ai essayé SpeakerAngle en utilisant les étapes ci-dessus pour régler mes deux haut-parleurs à exactement 30 degrés angles. Il devient immédiatement évident que je suis assis trop près de mes haut-parleurs, c'est à dire. la distance entre les deux enceintes est supérieure à la distance entre moi et les haut-parleurs. Il était évident que les deux haut-parleurs ont été pointant vers une position d'écoute, quelque part derrière moi.
À la suite de cela, je me suis déplacé chaque enceinte légèrement vers l'intérieur vers l'autre, sans changer l'angle, mais en changeant la distance entre eux pour créer un triangle équilatéral plus. Les haut-parleurs sont toujours un angle de 30 degrés, mais ils sont maintenant plus proches les uns des autres et donc ma position d'écoute est correcte.
Conclusion
Pour la plupart des gens, la mise en place de leurs haut-parleurs est un cas d'être assis en position d'écoute et les haut-parleurs pêche jusqu'à ce que ils font face à la position d'écoute directement. C'est très bien dans la plupart des cas, mais SpeakerAngle peut aider dans le processus en mettant en évidence les problèmes rapidement avec la distance ou l'angle.
SpeakerAngle ne fait rien très technique, et il ya pas de magie vaudou réel à obtenir des postes de contrôle correct, mais l'ensemble du processus prend moins de cinq minutes (peut-être dix si l'on inclut la lecture des instructions) et peut vous aider à améliorer votre installation. Pour 99 cents, c'est difficile de ne pas le recommander.
SpeakerAngle est compatible avec l'iPhone 4 et, plus tard, l'iPad 2 et la génération plus tard et tactile iPod 4ème et versions ultérieures. Il est maintenant disponible sur l'iTunes App Store au prix de seulement 99 cents.