Genelec son uno de los principales fabricantes de monitores de audio en el mundo. Acaban de anunciar el lanzamiento de SpeakerAngle , una aplicación para dispositivos iOS que presume de ser la primera herramienta digital que permite a cualquier persona para configurar correctamente y que coincida con la pesca ("toe-in") de ambos estéreo y 7.1 altavoces de sonido surround. Vamos a averiguarlo.
En el fondo, SpeakerAngle es una sencilla aplicación. Utiliza los iDevices sensor giroscópico para medir ángulos.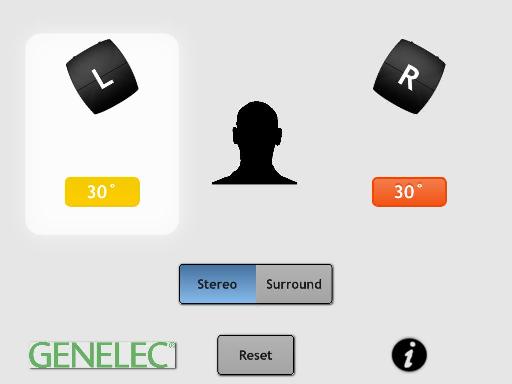 SpeakerAngle toma menos de cinco minutos de usar y puede mejorar drásticamente su imagen estéreo.
Aquí están las instrucciones básicas para usar SpeakerAngle para una configuración estéreo. La aplicación supone que los hablantes son equidistantes de la posición de escucha y de la pared detrás de ellos.
Position both speakers at "zero-axis" (facing directly ahead - not angled)

Place the iPhone (or iPad) on top of the left speaker and align the edges of the speaker and iDevice.

Touch the left speaker in the app and "zero" it. This lets the app know that your speaker is at zero-axis.

Physically rotate the speaker inwards whilst the iDevice sits on top. The speakers in the app will rotate too. When the speaker is in, the "industry recommended zone" (from 20 to 45 degrees) the app will alert you.

Repeat for the right speaker. The app will alert you when both speakers are at the same angle.

Teóricamente, si los dos altavoces a la misma distancia unos de otros, ya que son parte del oyente (creo que 3 puntos de un triángulo equilátero), un ángulo de 30 grados será la mejor imagen estéreo.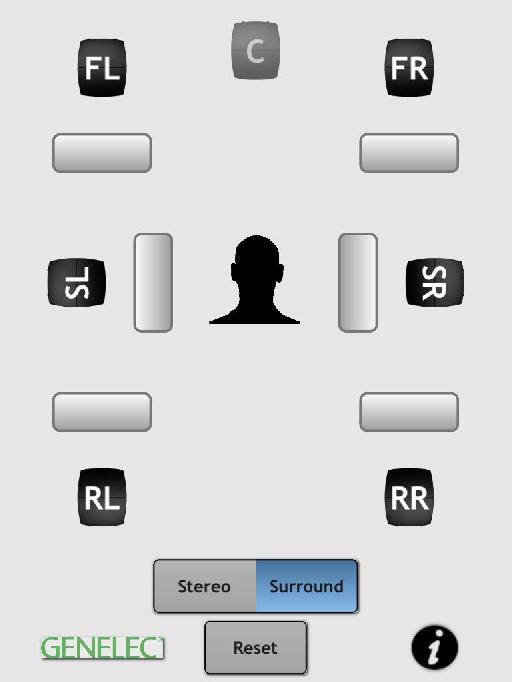 La creación de un sistema de sonido envolvente 7.1 es un proceso similar, sólo que con más hablantes.
En la práctica
Traté SpeakerAngle siguiendo los pasos descritos anteriormente para ajustar mis dos oradores en exactamente 30 ángulos de grado. De inmediato se hizo evidente que me siento demasiado cerca de los altavoces, es decir. la distancia entre los dos altavoces es mayor que la distancia entre mí y los altavoces. Era obvio porque ambos altavoces se señala en una posición de escucha en alguna parte detrás de mí.
Como resultado de esto, cada uno movido altavoces ligeramente hacia dentro una hacia la otra, no se cambia el ángulo, pero cambiando la distancia entre ellos para crear un triángulo equilátero más. Los altavoces están todavía en un ángulo de 30 grados, pero están ahora más cerca el uno al otro y por lo tanto mi posición de escucha es correcta.
Conclusión
Para la mayoría, la creación de sus altavoces es un caso de sentarse en la posición de escucha y los altavoces con caña hasta que se enfrentan a la posición de escucha directamente. Esto es suficiente en la mayoría de los casos, pero SpeakerAngle puede ayudar en el proceso mediante la rápida resaltar los problemas con la distancia o ángulo.
SpeakerAngle no hace nada muy técnico, y hay ninguna magia vudú reales para conseguir puestos de control correcto, pero tiene todo el proceso sea inferior a cinco minutos (tal vez diez si se incluye la lectura de las instrucciones) y podría ayudarle a mejorar su configuración. Por 99 centavos de dólar, no es difícil de recomendar.
SpeakerAngle es compatible con el iPhone 4 y posteriores, iPad 2 y la generación más tarde y el iPod Touch 4 y versiones posteriores. Es ya está disponible en la iTunes App Store a un precio de sólo 99 centavos de dólar.