Cada plug-in tiene su propio conjunto amplio de opciones, pero también
1. Utilize the Displays
FabFilter
2. Process in M-S (Mid-Side) Mode
La mayor parte del Pro-series plug-in proporcionan la opción para el procesamiento de la EM. MS, o de mitad de Side procesamiento, toma una señal estéreo y lo divide en sus componentes a medio y lateral
Audio Ejemplo 1 MS (Mid-Side) EQ aplicó a una mezcla:
[id de audio = "36670"]
3. Assign External MIDI Control with MIDI Learn
Todos los FabFilter plug-ins tienen una función MIDI Learn, que permite asignar rápidamente el control MIDI externo a cualquier control en el plug-in, para la manipulación en tiempo real. Esto puede ser útil tanto para aplicaciones correctivas
Ejemplo Audio 2 un efecto de retroalimentación aplicado en tiempo real con un controlador MIDI externo:
[id de audio = "36671"]
4. Make use of the Advanced/Expert Controls
Muchos de los plug-ins tienen controles ocultos adicionales, que se revelan mediante la apertura o bien una ficha Experto Avanzado o. Esto es a menudo donde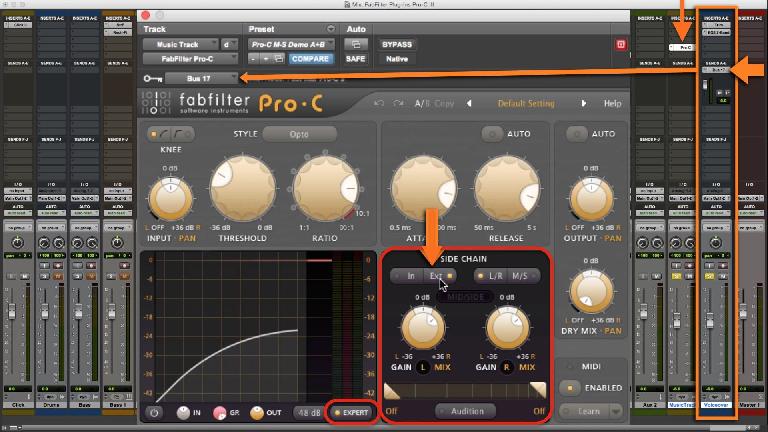 Fig 4 Pro-C configurado con una entrada de cadena lateral en la sección de control de Expertos para Agachándose música bajo una voz en off.
5. Employ the Creative plug-ins' Modulation Options
Los tres plug-ins Creative-series tienen una sección de modulación integral, lo que permite una variedad de efectos, además de los efectos principales (como la adición de trémolo a un sim amp en Saturno), o se pueden utilizar para generar efectos clásicos que lo requieran , como flanger y chorus (en Timeless). Pero modulación también se puede poner a usos más interesantes y creativas, como la generación de filtro barre-sintetizador como (en el Volcán).
Audio Ejemplo 3 Volcán
[id de audio = "36669"]
Todos FabFilter
Watch the full video course on the FabFilter Pro Series Plugins
HERE