1. Utilize the Displays
FabFilter
2. Process in M-S (Mid-Side) Mode
A maior parte da Pro-série plug-in oferecem a opção para o processamento de MS. MS, ou Mid-Side processamento, leva um sinal estéreo e divide-o em seus componentes de idade e secundários
Áudio Exemplo 1 MS (Mid-Side) EQ aplicada a um Mix:
[id áudio = "36670"]
3. Assign External MIDI Control with MIDI Learn
Todos os plug-ins FabFilter ter um MIDI Saiba recurso, que permite atribuir rapidamente controle MIDI externo a qualquer controlo no plug-in, para manipulação em tempo real. Isto pode vir a calhar para ambas as aplicações corretivas
Exemplo Audio 2 um efeito de feedback aplicada em tempo real com um controlador MIDI externo:
[id áudio = "36671"]
4. Make use of the Advanced/Expert Controls
Muitos dos plug-ins têm controles ocultos adicionais, que são reveladas através da abertura de qualquer uma guia Avançado ou Especialista. Isso é muitas vezes onde você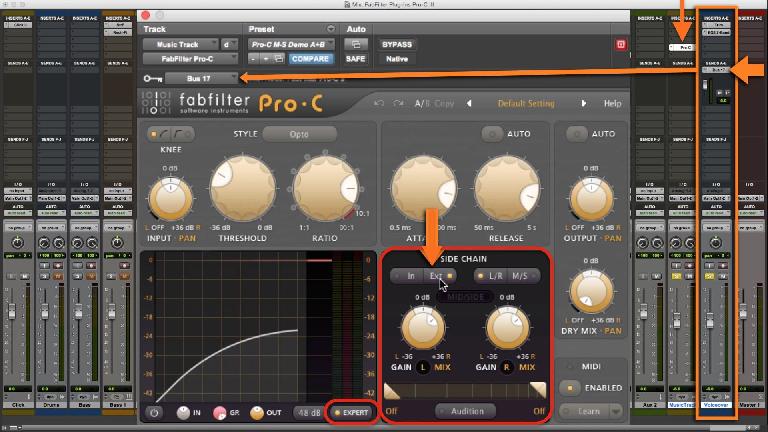 Fig 4 Pro-C configurado com uma entrada de cadeia lateral na seção de controle de especialistas para Esquivando música sob uma narração.
5. Employ the Creative plug-ins' Modulation Options
Os três plug-ins criativa da série têm uma secção de modulação global, o que permite uma variedade de efeitos para além dos efeitos principais (como a adição de vibração para uma SIM amplificador em Saturn), ou pode ser utilizada para gerar efeitos clássicos que necessitam dele , como Flanging e coro (em Timeless). Mas Modulation também pode ser colocado para usos mais interessantes e criativas, como a geração de filtros de varreduras synth-like (no vulcão).
Áudio Exemplo 3 Volcano
[id áudio = "36669"]
Todos FabFilter
Watch the full video course on the FabFilter Pro Series Plugins
HERE