Jedes Plug-in verfügt über eine eigene umfangreiche Reihe von Optionen, aber auch
1. Utilize the Displays
FabFilter
2. Process in M-S (Mid-Side) Mode
Die meisten der Pro-Serie Plug-in bieten die Möglichkeit, für MS-Verarbeitung. MS oder Mid-Side-Verarbeitung, nimmt ein Stereosignal und teilt es in seinen Mid und Side-Komponenten
Audio Beispiel 1 MS (Mid-Side) EQ angewendet auf einen Mix:
[Audio-id = "36670"]
3. Assign External MIDI Control with MIDI Learn
Alle FabFilter PlugIns haben eine MIDI-Learn-Funktion, die Sie schnell externe MIDI-Steuerung auf jede Kontrolle in der Plug-In für Echtzeit-Manipulation zuweisen können. Dies kann sich als nützlich für beide Korrektur Anwendungen kommen
Audio Beispiel 2 Eine Rückkopplungseffekt in Echtzeit mit einem externen MIDI-Controller angewandt:
[Audio-id = "36671"]
4. Make use of the Advanced/Expert Controls
Viele der Plug-ins verfügen über zusätzliche versteckte Kontrollen, die durch das Öffnen entweder eine erweiterte oder Register Experte enthüllt werden. Dies ist oft, wo man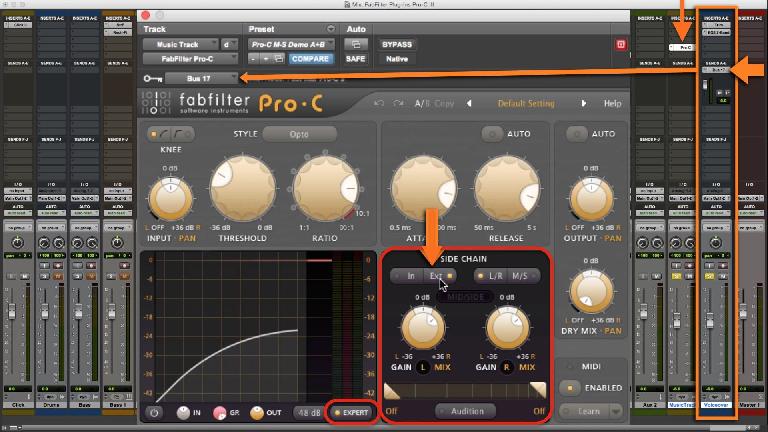 Bild 4 Pro-C Einrichtung mit einem Sidechain-Eingang in der Experten-Steuerabschnitt zum Ducking Musik unter einem Voiceover.
5. Employ the Creative plug-ins' Modulation Options
Die drei Kreativ-Serie Plug-ins verfügen über ein umfassendes Modulationsabschnitt, der für eine Vielzahl von Wirkungen zusätzlich zu den wichtigsten Effekte (wie das Hinzufügen von Tremolo an einen Verstärker sim in Saturn) ermöglicht, oder kann verwendet werden, um klassischen Effekte, die sie benötigen zu erzeugen wie Flanger und Chorus (in Zeitlose). Aber Modulation kann auch auf weitere interessante und kreative Anwendungen wie die Erzeugung Synth-ähnliche Filter-Sweeps (in Volcano) gesetzt werden.
Audio Beispiel 3 Volcano
[Audio-id = "36669"]
Alle FabFilter
Watch the full video course on the FabFilter Pro Series Plugins
HERE