هر پلاگین در است مجموعه گسترده خود را از گزینه، اما آنها نیز
1. Utilize the Displays
FabFilter
2. Process in M-S (Mid-Side) Mode
بسیاری از نرم افزار های سری پلاگین در گزینه برای پردازش MS فراهم می کند. MS، یا اواسط جانبی پردازش، طول می کشد یک سیگنال استریو و تقسیم آن را به اواسط و سمت اجزای آن
صوتی مثال 1 MS (اواسط سمت) EQ اعمال شده به یک مخلوط:
[شناسه صوتی = "36670"]
3. Assign External MIDI Control with MIDI Learn
همه FabFilter پلاگین یک MIDI بدانید ویژگی، که اجازه می دهد تا شما به سرعت به هر کنترل در پلاگین، برای دستکاری در زمان واقعی اختصاص کنترل MIDI خارجی. این می تواند در مفید برای هر دو کاربرد اصلاحی آمده
به عنوان مثال صوتی 2 اثر فیدبک با یک کنترل MIDI خارجی اعمال در زمان واقعی:
[شناسه صوتی = "36671"]
4. Make use of the Advanced/Expert Controls
بسیاری از پلاگین کنترل مخفی اضافی، که با باز کردن هم پیشرفته و یا تب کارشناس نشان داد. این است که اغلب در آن شما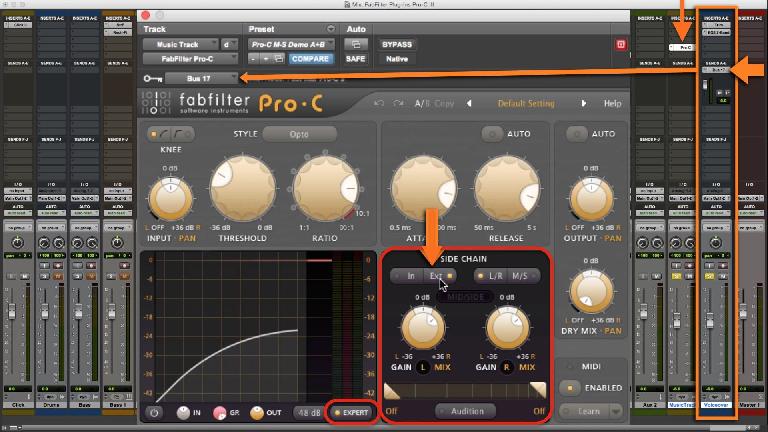 شکل 4 نرم افزار-C با یک ورودی sidechain در بخش کنترل کارشناس برای اجتناب موسیقی زیر یک صدای خارج از قاب راه اندازی.
5. Employ the Creative plug-ins' Modulation Options
سه خلاق سری پلاگین یک بخش مدولاسیون جامع، که اجازه می دهد تا برای انواع اثرات علاوه بر اثرات اصلی (مانند اضافه کردن لرزش صدا به یک سیم آمپر در زحل)، و یا می تواند مورد استفاده برای تولید اثر کلاسیک که آن را نیاز مانند بست فلنج و Chorusing (در بی انتها). اما از مدولاسیون میتوان به استفاده جالب تر و خلاق قرار داده می شود، مانند تولید نوردد فیلتر مانند مصنوعی (در آتشفشان).
صوتی مثال 3 آتشفشان
[شناسه صوتی = "36669"]
همه FabFilter
Watch the full video course on the FabFilter Pro Series Plugins
HERE