Ogni plug-in dispone di un proprio ampio set di opzioni, ma anche
1. Utilize the Displays
FabFilter
2. Process in M-S (Mid-Side) Mode
La maggior parte dei plug-in di Pro-Series forniscono l'opzione per l'elaborazione di MS. MS, o Mid-Side di elaborazione, prende un segnale stereo e divide nelle sue componenti Mid e Side
Audio Esempio 1 MS (Mid-Side) EQ applicato a un Mix:
[id audio = "36670"]
3. Assign External MIDI Control with MIDI Learn
Tutti i plug-in FabFilter hanno un MIDI Learn caratteristica, che consente di assegnare rapidamente il controllo MIDI esterno a qualsiasi controllo nel plug-in, per la manipolazione in tempo reale. Ciò può rivelarsi utile per entrambe le applicazioni correttive
Audio Esempio 2 Un effetto di feedback applicata in tempo reale con un controller MIDI esterno:
[id audio = "36671"]
4. Make use of the Advanced/Expert Controls
Molti dei plug-in sono controlli aggiuntivi nascosti, che si rivelano aprendo scheda Livello avanzato o un Advanced o. Questo è spesso dove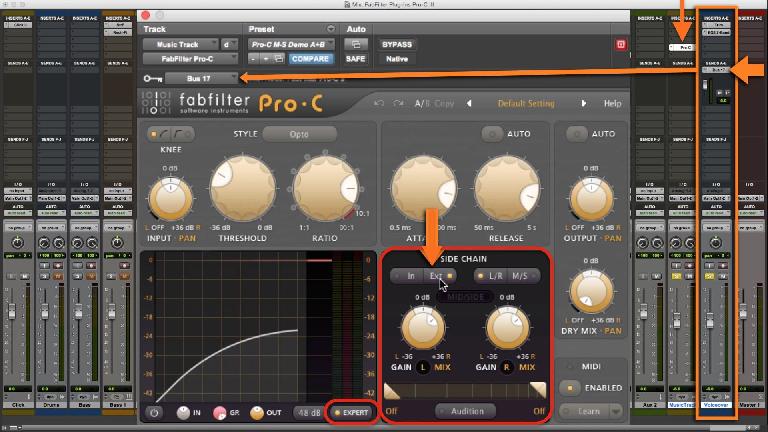 Figura 4 Pro-C impostato con un ingresso sidechain nella sezione di controllo di esperti per Ducking musica sotto una voce fuori campo.
5. Employ the Creative plug-ins' Modulation Options
I tre plug-in Creative-serie hanno una sezione Modulation completo, che permette una varietà di effetti, oltre agli effetti principali (come l'aggiunta di tremolo a un sim amplificatore in Saturn), oppure possono essere utilizzati per generare effetti classici che lo richiedono , come Flangiatura e chorus (in Timeless). Ma modulazione può anche essere messo a usi più interessanti e creative, come la generazione di spazza filtro synth-like (a Volcano).
Audio Esempio 3 Vulcano
[id audio = "36669"]
Tutti FabFilter
Watch the full video course on the FabFilter Pro Series Plugins
HERE