Chaque plug-in a son propre ensemble complet d'options, mais ils ont aussi
1. Utilize the Displays
FabFilter
2. Process in M-S (Mid-Side) Mode
La plupart des plug-in Pro-series offrent l'option pour le traitement MS. MS, ou Mid-Side traitement, prend un signal stéréo et le divise en ses composants Mid et Side
Audio Exemple 1 MS (Mid-Side) EQ appliqué à un Mix:
[id audio = "36670"]
3. Assign External MIDI Control with MIDI Learn
Tous les plug-ins FabFilter ont une fonction MIDI, ce qui vous permet d'assigner rapidement le contrôle MIDI externe à aucun contrôle dans le plug-in, pour la manipulation en temps réel savoir. Cela peut être utile pour des applications correctives
Exemple audio 2 Un effet de rétroaction appliqué en temps réel avec un contrôleur MIDI externe:
[id audio = "36671"]
4. Make use of the Advanced/Expert Controls
Beaucoup de plug-ins ont contrôles cachés supplémentaires, qui sont révélées par l'ouverture soit une avancée ou un onglet Expert. Cela est souvent où vous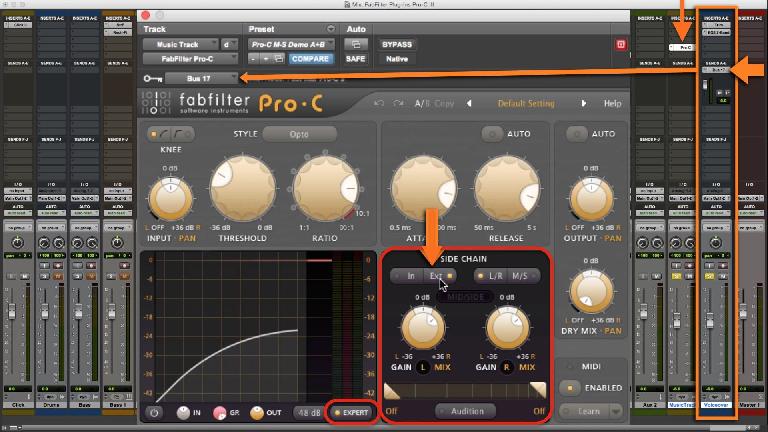 Fig 4 Pro-C a mis en place avec une entrée sidechain dans la section de contrôle d'experts pour Esquiver la musique sous une voix off.
5. Employ the Creative plug-ins' Modulation Options
Les trois plug-ins Creative-série ont une section de modulation complète, qui permet une variété d'effets, en plus des principaux effets (comme l'ajout de vibrato à un sim ampli à Saturn), ou peuvent être utilisés pour générer des effets classiques qui en ont besoin , comme flanger et chorus (en Timeless). Mais modulation peut également être mis aux utilisations les plus intéressantes et créatives, comme générer des balayages de filtre synthé-like (Volcano).
Audio Exemple 3 Volcano
[id audio = "36669"]
Toutes FabFilter
Watch the full video course on the FabFilter Pro Series Plugins
HERE