논리 구의 속도 페이드이 트랙 ì•"ë' 로그 ì"¤ì • 테이블 또는 테이프 스타일 효과를 ê°€ì ¸ì˜¬ 수 있습니다. 스피드 페이드은 ê¸°ë³¸ì ìœ¼ë¡œ 음성 지역에 페이드 매개 변수를 사용하는 것과 동일하지만, 하나의 중요한 차이 ... 페이드는 속도를하거나 각각의 페이드 또는 페이드를 ì" 택 여부에 따라 천천히 ë³€ê²½í•  수 있습니다. 갑자기 ... 사용 속도 최대은 / 효과 노래 내에서 소리를 향상시킬 수 느리게. 초과 사용 그들은 ìžì‹ ì˜ 사용자 ì§€ì • 음향 효과를 만드는 좋은 방법이 ë  수 있습니다. 그것을 사용하는 방법은 다음과 같습니다 ...

1 단계 - 오디오 ì "ìš©ì"¸ìš"!

크로스 페이드 도구 또는 경감의 지역 매개 변수 상자에서 직ì ' 사용하여 페이드은, 오디오 지역 및 오디오 ì• í"Œ 루프에 ì ìš©í•  수 있습니다. 되í'€ì´í•˜ë ¤ë©´ 페이드 도구는 MIDI 지역에서 ì'¬ìš©í•  수 없습니다. ë‹¹ì‹ ì€ MIDI 영역에 페이드 또는 속도 페이드를 ì ìš©í•˜ë ¤ë©´, 장소에서 오디오 파일에 소프트웨어 악기 트랙의 MIDI 영역을 ë Œë"링하ëŠ" 편리한 방법입니다 반송. ë‹¹ì‹ ì´ 그린 ì• í"Œ 루프에이 효과를 ì ìš©í•˜ë ¤ëŠ" 경우 오디오 트랙에 루프 ë¸Œë¼ìš°ì €ì—ì"œ 루프를 드래그합니다.
ì œê°€ 루프를 ì" 택하셨습니다 엉덩이는 로직 스튜디오 루프 ë¸Œë¼ìš°ì €ì—ì"œ ì  í‹€ 피아노를 타세요. ë‹¹ì‹ ì€ 오늘의 팁은에 대한 오디오 영역을 ì'¬ìš©í•  수 있습니다.
2 단계 - 속도에 대한 필요성

ë'œ 로직의 오디오 영역에 페이드를 만ë"¤ê³  ìˆ˜ì •í•˜ëŠ" 방법에 대한 사랑이 í•œ 가지 ë'´ê°€ 페이드 도구를 ì" 택해야되지 않습니다. 일부 ìˆ˜ì •ìž 키의 도움으로 포인터 도구는 매우 ë¹ ë¥¸ 액세스를 ì œê³µí•©ë‹ˆë‹¤. 그건 나중에 올거야 ...
ë¨¼ì € 해당 지역을 ì" íƒí•˜ê³  경위가 ì—´ë ¤ 있는지 확인하십시오. 경감보기를 ì "í™˜í•˜ë ¤ë©´ 키보드에서 I를 누르십시오.

단어의 지역 매개 변수 상자 클릭 드롭 다운 메뉴를 í'œì‹œí•˜ê³  속도를 ì" íƒí•  수 페이드. 매개 변수 아웃 페이드에 대해 동일한 작업을 ìˆ˜í–‰í•˜ê³  천천히 그것을 변경합니다.

The traditional Fades and new Speed Fades share the same parameters and cannot be used simultaneously on the same region. Though if you want to fade and speed fade a region use Hyper Draw or Track Automation to deal with traditional fades and key in the Speed Fades from the Region Parameters box.
3 단계 - 페이드 만들기

두 번 í´ë¦­í•˜ê³  속도 위 / 페이드의 길이를 만들 수 느리게의 오른쪽에있는 지역의 ê°' (또는 드래그 이상)을 ìž…ë ¥í•©ë‹ˆë‹¤.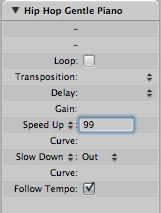 4 단계 - 페이드 길이 ì¡°ì •

페이드 값이 생성되면, 그것은 페이드 도구를 사용하여 지역의 희미한 영역에 드래그하거나 다음 ìˆ˜ì •ìž 키를 사용하여 길이와 페이드의 곡ì" ì" ì¡°ì •í•  쉽게 :
수직 ì˜¤ë Œì§€ 속도 퇴색 라인 위에 커서를 위치와 길이를 증가 / 감소 드래그합니다.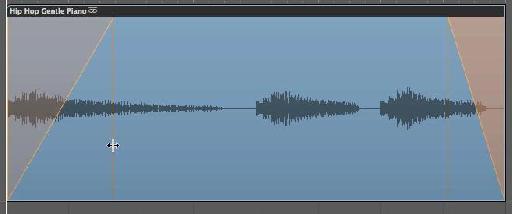 ë‹¹ì‹ ì˜ 속도 페이드 또는 페이드를 편집하는 경우 재생을 ì¤'ì§€í•˜ê³  변경 내용을 미리 다시 재생을 누르십시오. 음성 지역에 ì¡°ì • 페이드 실시간으로 작동하지 않습니다.
5 단계 - 곡ì"  - A - licious

속도 페이드 곡ì" ì" 만ë"¤ë ¤ë©´ 단순히 ì" 택한 포인터 도구를 사용하여 컨트롤 시프트 키를 누른 상태에서 ì˜¤ë Œì§€ 속도 퇴색 영역 내에있는 왼쪽 / 오른쪽으로 원하는 위치로 드래그합니다.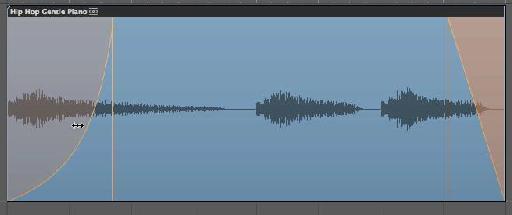 속도 페이드 영역에 페이드 또는 속도 퇴색 마우스 오른쪽 버튼으로 클릭을 ì'­ì œí•˜ê³  드롭 다운 메뉴에서 페이드 ì œê±°ë¥¼ ì" 택합니다. 이 드롭 다운 메뉴 이내에이 옵션이해야 í•  것을 ì•Œ 수
귀하의 트랙에서 네 차례 테이블 스타일 속도 효과를 만들어 즐기십시오! 체크 아웃 논리에 대한 자세한 내용을 ë³´ë ¤ë©´ 여기 íŠœí† ë¦¬ì–¼ .