Fondus de vitesse Logic 9 peut apporter un effet de style analogique table tournante ou de bandes à vos pistes. Fondus de vitesse sont essentiellement les mêmes que l'aide des paramètres Fade sur les régions audio, mais avec une distinction importante ... Les Fondus peuvent être modifiés pour accélérer ou ralentir selon si vous choisissez un fade in ou un fade out, respectivement. Utilisé subtilement, l'accélération / ralentir l'effet peut améliorer les sons dans votre chanson. Utilisé en excès, ils peuvent être excellente façon de créer vos propres effets sonores personnalisés. Voici comment l'utiliser ...

Étape 1 - Audio uniquement S'il vous plaît!

Fades, en utilisant l'outil de fondu enchaîné ou directement auprès de la boîte de l'Inspecteur Région paramètre, peuvent être appliqués à des régions audio et boucles Apple Loops. Pour réitérer, l'outil dégradé ne peut pas être utilisé sur des régions MIDI. Si vous souhaitez appliquer fondus ou fondus de vitesse pour une région MIDI, rebondissent en place est un moyen pratique pour rendre votre région MIDI piste d'instrument logiciel à un fichier audio. Si vous souhaitez appliquer cet effet à une boucle de pomme verte, faites glisser la boucle depuis le navigateur de boucles sur une piste audio.
J'ai choisi la boucle, Hip Hop piano doux à partir du navigateur de boucles de Logic Studio. Vous pouvez utiliser n'importe quelle région audio pour la pointe d'aujourd'hui.
Étape 2 - Le Need for Speed

Une chose que j'aime créer et éditer des fondus sur les régions audio dans Logic est je n'ai jamais besoin de sélectionner l'outil Fondu. L'outil Pointeur avec l'aide de quelques touches de modification fournit un accès extrêmement rapide. Nous reviendrons à cela plus tard ...
D'abord assurez-vous que votre région est sélectionné et l'Inspecteur est ouvert. Appuyez sur I sur votre clavier pour basculer l'affichage inspecteur.

Dans la boîte de cliquer sur Paramètres Région sur le mot Fade In pour afficher le menu déroulant et choisissez Speed ​​Up. Faites la même chose pour le paramètre Fade Out et le changer à ralentir.

The traditional Fades and new Speed Fades share the same parameters and cannot be used simultaneously on the same region. Though if you want to fade and speed fade a region use Hyper Draw or Track Automation to deal with traditional fades and key in the Speed Fades from the Region Parameters box.
Étape 3 - Création d'un fondu

Double-cliquez dessus et tapez une valeur (ou la hausse glisser) dans la zone à droite de Speed ​​Up / Slow Down pour créer la durée du fondu.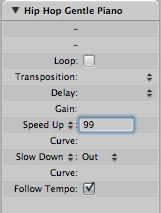 Étape 4 - Réglage de la longueur Fade

Une fois qu'une valeur fondu a été créé, il est facile d'ajuster la longueur et la courbe du fondu en faisant glisser sur la zone floue dans la région en utilisant l'outil Fondu, ou en utilisant les touches de modification suivante:
Placez le curseur sur la ligne verticale de vitesse d'orange fondu et faites glisser pour augmenter / diminuer la longueur.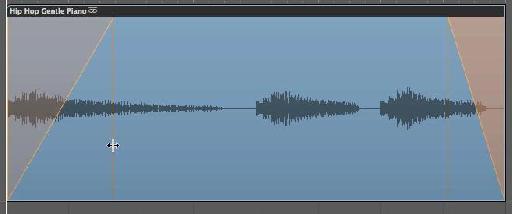 Lors de l'édition de votre s'estompe vitesse ou fondus, arrêter la lecture et appuyez sur Play pour un aperçu des modifications. Réglage s'estompe sur les régions audio ne fonctionne pas en temps réel.
Étape 5 - Courbe-a-licious

Pour créer une courbe de fondu de vitesse tout simplement maintenez enfoncées les touches Maj contrôle avec l'outil Pointeur sélectionnée et faites glisser vers la gauche / droite n'importe où dans la zone de fondu de vitesse orange.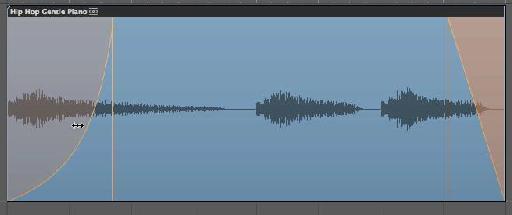 Pour supprimer un fondu ou un fondu de vitesse clic-droit sur la zone de fondu de vitesse et dans le menu déroulant choisissez Supprimer Fade. Vous remarquerez que dans ce menu déroulant, vous avez le choix de
Profitez de la création de votre table tournante effets de vitesse style sur vos pistes! Pour en savoir plus sur Logic vérifier les tutoriels ici .