A inovação é uma palavra que se perde em muitos desenvolvedores, fabricantes, designer, e muito mais. Vivemos em uma sociedade que começou a regurgitar, modificar e alterar ligeiramente os projetos dos outros para o dinheiro rápido. Ou, talvez, a tecnologia é apenas fazer-nos todos os preguiçosos, e nós simplesmente "não têm a energia" pensar fora da caixa mais.
Synplant , lançado cerca de um ano atrás por Carregue o Sonic recentemente mudei de idéia no parágrafo acima. Inovação ainda permanece!
For years we saw synth plug-in after synth plug-in that resembled our favorite classic synthesizer. And, like everyone else, I loved the nostalgia of it all, and the familiarity of the user interfaces, etc. And ultimately, I believe it was this familiarity that kept manufacturers in this mode of design. You want your end-user to understand what they are doing!

The interface is where the designers of Synplant truly achieved an amazing feat. They made a synthesizer that a child could program, because it simply doesn't behave like a synthesizer at all!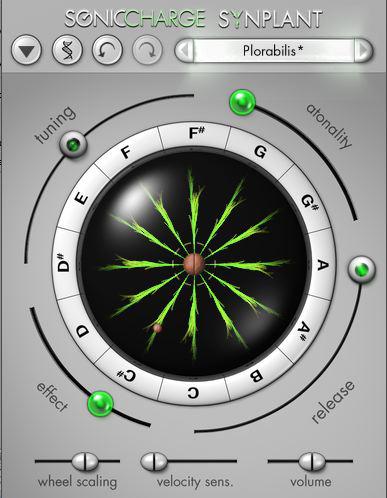 Para programar um som em Synplant realmente não requer nenhuma programação. Você cresce como uma planta e os caules das plantas crescem, um som evolui. Cada haste é acionada por uma chave diferente no seu teclado, ou também a partir dos botões pequenos em torno dos ramos. Se você escolher para mapear o som de um ramo em todo o teclado, simplesmente clonar o ramo direito do mouse sobre o tronco, e escolhendo 'Branch Clone Selected ".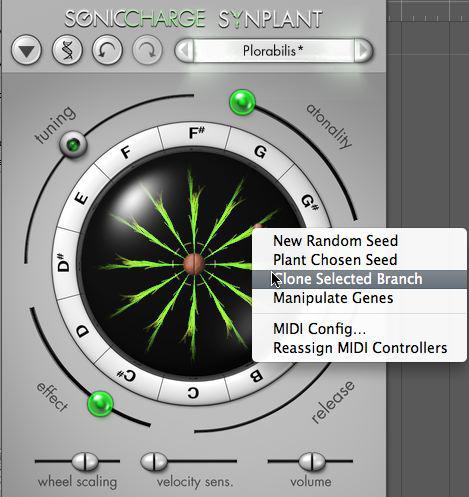 Instantaneamente, o seu som agora abrange todo o teclado. Alternativamente, você pode optar por plantar o tronco de sua escolha como uma semente, e depois veja quantas variedades do som vai ser cultivada de forma aleatória.
Se você preferir se profundamente em programação com Synplant, a opção está disponível. Simplesmente pressionando o botão Strand DNA, o DNA de seu som é apresentado a você. Modificar partes do DNA em seu lazer, sendo alguns "Attack Envelope", etc Acredite, você pode ficar muito profunda com a programação, mas é a interface real e é abordagem horticultura para 'sons crescente "que fornece a verdadeira diversão.

De igual importância é o desempenho geral do Synplant. Como toda a carga de Sonic plug-ins, Synplant é extremamente leve no processador do seu computador. Mesmo com a sua built-in efeitos a pleno vapor, com um longo tempo de decaimento, longo, eu mal colocar um ponto no meu medidor de CPU. No entanto, ainda soa incrível.
Meu contras só para Synplant seria que não é necessariamente um synth feita para todos os fins. Eu, pessoalmente, não iria usá-lo como um synth bass. Eu tendem a preferir maior, menor e synths growlier. Synplant parece operar melhor como chumbo, pad, ou efeito.
Vou colocar especial ênfase no efeito embora. Este plug-in é um sonho tornado realidade para os designers de som por causa de sua capacidade de gerar constantemente novos efeitos perfeito para atmosferas, bytes de pequeno porte, as rusgas, swells e muito mais. Você pode gerar uma grande biblioteca soando rapidamente e é royalty free!
Synplant é oferecido em uma forma de demonstração, por isso, se você não acredita em mim em primeiro lugar sobre o quão grande é, você pode tomar seu tempo e decidir por si mesmo. Então, vá baixá-lo agora e postar seus comentários abaixo!